Hyundai Venue: Vehicle load limit / Certification label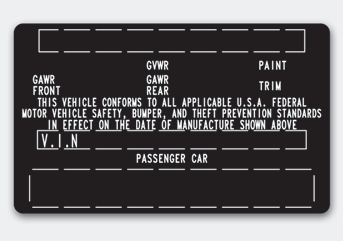 The certification label is located on the driver's door sill at the center pillar and shows the maximum allowable weight of the fully loaded vehicle. This is called the GVWR (Gross Vehicle Weight Rating). The GVWR includes the weight of the vehicle, all occupants, fuel and cargo.
This label also tells you the maximum weight that can be supported by the front and rear axles, called Gross Axle Weight Rating (GAWR).
The total weight of the vehicle, including all occupants, accessories, cargo, and trailer tongue load must not exceed the Gross Vehicle Weight Rating (GVWR) or the Gross Axle Weight Rating (GAWR). To find out the actual loads on your front and rear axles, you need to go to a weigh station and weigh your vehicle. Be sure to spread out your load equally on both sides of the centerline.
WARNING
Overloading
Never exceed the GVWR for your vehicle, the GAWR for either the front or rear axle and vehicle capacity weight. Exceeding these ratings can affect your vehicle's handling and braking ability, and cause an accident.
Do not overload your vehicle. Overloading your vehicle can cause heat buildup in your vehicle's tires and possible tire failure, increased stopping distances and poor vehicle handling-all of which may result in a crash.
NOTICE
Overloading your vehicle may cause damage. Repairs would not be covered by your warranty. Do not overload your vehicle.
WARNING
If you carry items inside your vehicle (e.g., suitcases, tools, packages, or anything else), they are moving as fast as the vehicle. If you have to stop or turn quickly, or if there is a crash, the items will keep going and can cause an injury if they strike the driver or a passenger.
Put items in the cargo area of your vehicle. Try to spread the weight evenly.
Do not stack items, like suitcases, inside the vehicle above the tops of the seats.
Do not leave an unsecured child restraint in your vehicle.
When you carry something inside the vehicle, secure it.
1. Locate the statement "The combined weight of occupants and cargo should never exceed XXX kg or XXX lbs." on your vehicle's placard. 2...
Other information:
(1) Low Tire Pressure / TPMS Malfunction Indicator Lamp WARNING Over-inflation or under-inflation can reduce tire life, adversely affect vehicle handling, and lead to sudden tire failure that may cause loss of vehicle control resulting in an accident...
Removal 1. Turn OFF ignition switch and disconnect the negative (-) battery cable. 2. Remove the shift lever knob & boots (A) pull both of it up. 3. Remove the floor console assembly...