Hyundai Venue: Evaporative Emission Control System / Description and operation
Evaporative Emission Control System prevents fuel vapor stored in fuel tank from vaporizing into the atmosphere. When the fuel evaporates in the fuel tank, the vapor passes through vent hoses or tubes to the canister filled with charcoal and the canister temporarily holds the vapor in the charcoal.
If ECM determines to draw the gathered vapor into the combustion chambers during certain operating conditions, it will use vacuum in intake manifold to move it.
Schematic Diagram Canister Canister is filled with charcoal and absorbs evaporated vapor in fuel tank. The gathered fuel vapor in canister is drawn into the intake manifold by the ECM/PCM when appropriate conditions are set...
Categories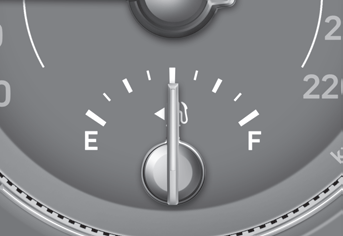 This gauge indicates the approximate amount of fuel remaining in the fuel tank.
Information
The fuel tank capacity is given in chapter 2. The fuel gauge is supplemented by a low fuel warning light, which will illuminate when the fuel tank is nearly empty. On inclines or curves, the fuel gauge pointer may fluctuate or the low fuel warning light may come on earlier than usual due to the movement of fuel in the tank.