Hyundai Venue: While Driving / Drive Mode Integrated Control System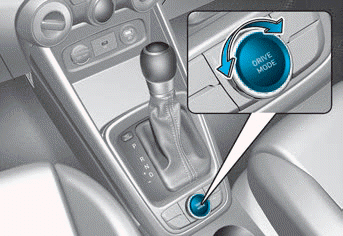 The drive mode may be selected according to the driver's preference or road condition.
The system resets to be in the NORMAL mode, when the engine is restarted.
Information
If there is a problem with the instrument cluster, the drive mode will be in NORMAL mode and may not change to SPORT mode.
The mode changes, as below, whenever the DRIVE MODE button is pressed.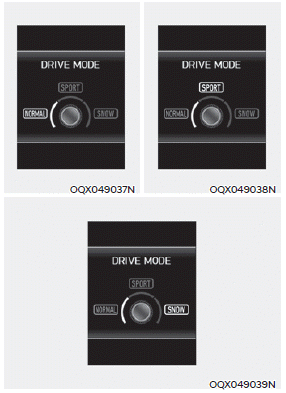 NORMAL mode
In NORMAL mode the engine and transmission control logic work together to provide regular daily driving performance with some fuel efficiency.
• When NORMAL mode is selected, it is not displayed on the instrument cluster.
SPORT mode

SPORT mode manages the driving dynamics by automatically adjusting the steering effort, and the engine and transmission control logic for enhanced driving performance.
When SPORT mode is selected by pressing the DRIVE MODE button, the SPORT indicator will illuminate.
Whenever the engine is restarted, the Drive Mode will revert back to NORMAL mode. If SPORT mode is desired, re-select SPORT mode from the DRIVE MODE button.
When SPORT mode is activated:
-- The engine rpm will tend to remain a little higher for a brief time even after releasing the accelerator. This is a typical when the SPORT mode is activated.
-- Upshifts are delayed when accelerating
Information
In SPORT mode, the fuel efficiency may decrease.
SNOW mode

SNOW mode offers special traction tuning for snow optimizing available traction in adverse conditions. Traction mode adjusts left and right wheel slip control, engine torque and shift patterns according to available traction levels.
WARNING
Traction mode is designed base on 2WD (2 Wheel Drive), Do not drive in condition that exceed the vehicles intended design.
Invalid mode selection can lead to loss of traction and skidding, particularly on slippery roads, this can cause you to lose control of the vehicle, which can lead to accidents and serious injuries.
WARNING Whenever leaving the vehicle or parking, always come to a complete stop and continue to depress the brake pedal. Move the shift lever into P (Park) position, then apply the parking brake, and place the ignition switch in the LOCK/OFF position...
Other information:
Special Service Tools Tool (Number and name) Illustration Use Crankshaft front oil seal installer (09455-21200) Installation of the front oil seal Valve stem oil seal installer (09222-2B100) Installation of the valve stem oil seal Valve spring compressor and holder A : (09222-3K000) B : (09222-3K100) Removal and installation of the intake or exhaust valve Crankshaft rear oil seal installer A : (09231-H1100) B : (09231-2B200) Installation of the crankshaft rear oil seal Ring gear stoppper A : (09231-3N100) B : (09231-2B100) Removal and installation of crankshaft pulley bolt...
Description – Clutch operation is detected through clutch switch signal. This signal enables ECM to cope with instant change of load condition. – Clutch switch signal is used to detect engaged gear with vehicle speed and engine speed...
Categories
WARNING
To reduce the risk of an air bag deploying unexpectedly and causing serious injury or death:
Do not hit or allow any objects to impact the locations where air bags or sensors are installed. Do not perform maintenance on or around the air bag sensors. If the location or angle of the sensors is altered, the air bags may deploy when they should not or may not deploy when they should. Do not install bumper guards or replace the bumper with a nongenuine HYUNDAI parts. This may adversely affect the collision and air bag deployment performance. Place the ignition switch in the LOCK/OFF or ACC position when the vehicle is being towed to prevent inadvertent air bag deployment. Have all air bag repairs conducted by an authorized HYUNDAI dealer.