Hyundai Venue: Speedometer & Tachometer / Fuel gauge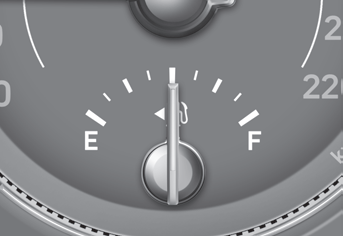 This gauge indicates the approximate amount of fuel remaining in the fuel tank.
Information
The fuel tank capacity is given in chapter 2.
The fuel gauge is supplemented by a low fuel warning light, which will illuminate when the fuel tank is nearly empty.
On inclines or curves, the fuel gauge pointer may fluctuate or the low fuel warning light may come on earlier than usual due to the movement of fuel in the tank.
WARNING
Running out of fuel can expose vehicle occupants to danger.
You must stop and obtain additional fuel as soon as possible after the warning light comes on or when the gauge indicator comes close to the "E (Empty)" level.
NOTICE
Avoid driving with an extremely low fuel level. Running out of fuel could cause the engine to misfire and damage the catalytic converter.
This gauge indicates the temperature of the engine coolant when the ignition switch is in the ON position. NOTICE If the gauge pointer moves beyond the normal range area toward the "H" position, it indicates overheating that may damage the engine...
This gauge indicates the current outside air temperature by 1°F (1°C). -- Temperature range: -40°F ~ 140°F (40°C ~ 60°C) Note that the temperature indicated on the LCD display may not change as quickly as the outside temperature (there may be a slight delay before the temperature changes...
Categories
The vehicle's front and rear seats have adjustable head restraints. The head restraints provide comfort for passengers, but more importantly they are designed to help protect passengers from whiplash and other neck and spinal injuries during an accident, especially in a rear impact collision.
WARNING
To reduce the risk of serious injury or death in an accident, take the following precautions when adjusting your head restraints:
Always properly adjust the head restraints for all passengers BEFORE starting the vehicle. NEVER let anyone ride in a seat with the head restraints removed or reversed.