Hyundai Venue: Mirrors / Side View Mirrors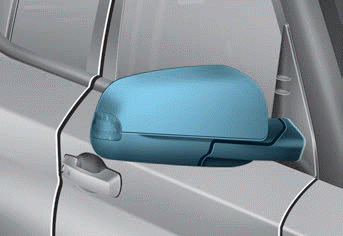 Make sure to adjust the side view mirrors to your desired position before you begin driving.
Your vehicle is equipped with both left-hand and right-hand side view mirrors. The mirrors can be adjusted remotely with the remote switch. The side view mirrors can be folded to help prevent damage when going through an automatic car wash or when passing through a narrow street.
The right side view mirror is convex. Objects seen in the mirror are closer than they appear.
Use the inside rear view mirror or look back directly to determine the actual distance of other vehicles prior to changing lanes.
WARNING
Do not adjust or fold the side view mirrors while driving. This may cause loss of vehicle control resulting in an accident.
NOTICE
Do not scrape ice off the mirror face; this may damage the surface of the glass.
If the mirror is jammed with ice, do not adjust the mirror by force. Use an approved spray de-icer (not radiator antifreeze) spray, or a sponge or soft cloth with very warm water, or move the vehicle to a warm place and allow the ice to melt.
Side View Mirror Adjustment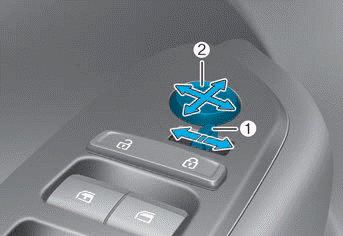 Adjusting the side view mirrors:
1. Press either the L (driver's side) or R (passenger's side) button (1) to select the side view mirror you would like to adjust.
2. Use the mirror adjustment control switch to position the selected mirror up, down, left or right.
3. After adjustment, put the button into neutral (center) position to prevent inadvertent adjustment.
NOTICE
The mirrors stop moving when they reach the maximum adjusting angles, but the motor continues to operate while the switch is pressed. Do not press the switch longer than necessary, because this can damage the motor.
Do not attempt to adjust the side view mirrors by hand, because this can damage the motor.
Folding the side view mirrors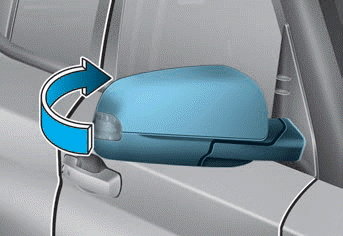 To fold the side view mirrors, grasp the housing of the mirror and then fold it inwards.
Inside Rearview Mirror Before driving your vehicle, check to see that your inside rearview mirror is properly positioned. Adjust the rearview mirror so that the view through the rear window is properly centered...
Categories
The vehicle's front and rear seats have adjustable head restraints. The head restraints provide comfort for passengers, but more importantly they are designed to help protect passengers from whiplash and other neck and spinal injuries during an accident, especially in a rear impact collision.
WARNING
To reduce the risk of serious injury or death in an accident, take the following precautions when adjusting your head restraints:
Always properly adjust the head restraints for all passengers BEFORE starting the vehicle. NEVER let anyone ride in a seat with the head restraints removed or reversed.