Hyundai Venue: General Information / Specifications
Item

Specification

Clutch operation method

Hydraulic type

Clutch cover assembly

Type

Diaphragm spring strap

Clutch disc

Type

Single dry with diaphragm

Facing diameter
(Outer × inner)

Ø210 ± 1 × Ø140 ± 1(Ø8.2677 ± 0.0394 × Ø5.5118 ± 0.0394)

| | |
| --- | --- |
| Item | Specification |
| Clutch disc thickness [When free] | 8.3 ± 0.3 mm (0.3268 ± 0.012 in.) |
| Clutch disc rivet depth | 1.1 - 1.6 mm (0.0433 - 0.0630 in.) |
| Clutch disc rivet depth (Service standard) | 0.3 mm (0.0118 in.) |
| | | | |
| --- | --- | --- | --- |
| Item | N.m | kgf.m | lb-ft |
| Clutch pedal mounting bolt & nut | 16.7 - 25.5 | 1.7 - 2.6 | 12.3 - 18.8 |
| Concentric slave cylinder mounting bolt | 14.7 - 21.6 | 1.5 - 2.2 | 10.8 - 15.9 |
| Ignition lock & clutch switch mounting bolt | 2.0 - 3.9 | 0.2 - 0.4 | 1.4 - 2.9 |
| Clutch tube bracket mounting bolt | 9.8 - 14.7 | 1.0 - 1.5 | 7.2 - 10.8 |
| Clutch cover mounting bolt | 14.7 - 21.6 | 1.5 - 2.2 | 10.8 - 15.9 |
Items

Specified lubricants

Quantity

Input shaft spline

CASMOLY L9508

0.1 - 0.3g

Concentric slave cylinder assembly

KLUBER 9R100

As required

Clutch pedal bush hinge spring

PDLV-1 (MS511-65)

0.2g - 2.0g

Clutch & ignition lock switch pin part

0.1g - 1.0g

Clutch pedal spring [Member side]

0.1g - 1.0g

Clutch pedal spring [Arm side]

0.1g - 1.0g

Special Service Tools Tool (Number and name) Illustration Use 09411-1P000 Clutch disc guide Installation of the clutch disc...
Other information:
Use the cover to hide items stored in the cargo area. The cargo area cover will lift when the liftgate is opened. Disconnect the strap (1) from the holder if you want to return the cover to the original position. To remove the cargo area cover completely, pull the cover backward and out from the rail...
Description The passenger airbag (PAB) is installed inside the crash pad and protects the front passenger in the event of a frontal crash. The SRSCM determines if and when to deploy the PAB. • Never attempt to measure the circuit resistance of the airbag module (squib) even if you are using a specified tester...
Categories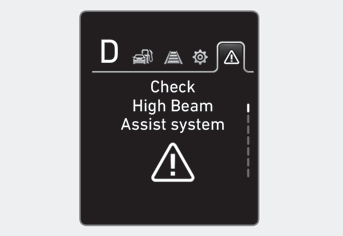 This warning light informs the driver the following situations.
-- Forward Collision-Avoidance Assist system malfunction (if equipped)
-- Forward Collision-Avoidance Assist radar blocked (if equipped)
-- Blind-Spot Collision Warning system malfunction (if equipped)
-- Blind-Spot Collision Warning radar blocked (if equipped)
-- Lamp malfunction (if equipped)
-- High Beam Assist malfunction (if equipped)
-- Tire Pressure Monitoring System (TPMS) malfunction (if equipped)