Hyundai Venue: Driveshaft and axle / Specifications
Engine

Tramsaxle

Max. permissible angle

Outer

Inner

Gamma 1.6 MPI

M/T & A/T

46.5°

26°

Gamma II 1.6 MPI

M/T & IVT

Item

N.m

kgf.m

lb-ft

Front

Hub nuts

107.9 - 127.5

11.0 - 13.0

79.6 - 94.0

Driveshaft caulking nut

274.6 - 294.2

28.0 - 30.0

202.5 - 217.0

Strut assembly to knuckle

157.0 - 176.6

16.0 - 18.0

115.7 - 130.1

Front caliper to knuckle

78.4 - 98.1

8.0 - 10.0

57.8 - 72.3

Wheel speed sensor mounting bolt

7.8 - 11.8

0.8 - 1.2

5.8 - 8.7

Disc fixing screw

4.9 - 5.9

0.5 - 0.6

3.6 - 4.3

Lower arm to knuckle

68.6 - 80.4

7.0 ~ 8.2

50.6 - 59.3

Tie rod end castle nut

34.3 - 44.1

3.5 ~ 4.5

25.3 - 32.5

Dust cover mounting bolt

3.9 - 5.9

0.4 ~ 0.6

2.9 - 4.3

Rear

Hub nuts

107.9 - 127.5

11.0 ~ 13.0

79.6 - 94.0

Disc fixing screw

4.9 - 5.9

0.5 - 0.6

3.6 - 4.3

Brake caliper mounting bolt

63.7 - 73.5

6.5 ~ 7.5

47.0 - 54.2

Hub assembly mounting bolt

49.0 - 58.8

5.0 ~ 6.0

36.2 - 43.4

| | |
| --- | --- |
| • | Replace self-locking nuts with new ones after removal. |
Engine

Tramsaxle

Joint type

Lubricants

Quantity

Gamma 1.6 MPI

M/T & A/T

BJ

MS511-50 CVBJ-2

95g + 10g

TJ

MS511-50 CVTJ

119g + 10g

Gamma II 1.6 MPI

M/T & IVT

BJ

MS511-50 CVBJ-2

90g + 10g

TJ

MS511-50 CVTJ

98g + 10g

Other information:
System Overview Parkin Distance Warning (PDW) is an electronic driving aid that warns the driver to be cautious while parking or driving at low speed. The sensor uses ultrasonic waves to detect objects within proximity of the vehicle...
Removal 1. Turn ignition switch OFF and disconnect the negative (-) battery cable. 2. Remove the battery and battery tray. (Refer to Engine Electrical System - "Battery") 3...
Categories
Seat belt warning light (for driver's seat)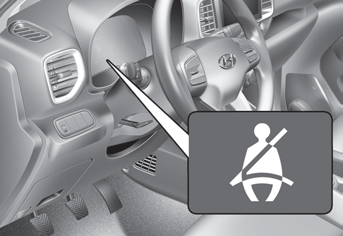 As a reminder to the driver, the seat belt warning light will illuminate for approximately 6 seconds each time you place the ignition switch to the ON position regardless of belt fastening. However, if the seat belt is unfasted, a warning chime will sound for approximately 6 seconds.