Hyundai Venue: Driveshaft and axle / Specifications
Engine

Tramsaxle

Max. permissible angle

Outer

Inner

Gamma 1.6 MPI

M/T & A/T

46.5°

26°

Gamma II 1.6 MPI

M/T & IVT

Item

N.m

kgf.m

lb-ft

Front

Hub nuts

107.9 - 127.5

11.0 - 13.0

79.6 - 94.0

Driveshaft caulking nut

274.6 - 294.2

28.0 - 30.0

202.5 - 217.0

Strut assembly to knuckle

157.0 - 176.6

16.0 - 18.0

115.7 - 130.1

Front caliper to knuckle

78.4 - 98.1

8.0 - 10.0

57.8 - 72.3

Wheel speed sensor mounting bolt

7.8 - 11.8

0.8 - 1.2

5.8 - 8.7

Disc fixing screw

4.9 - 5.9

0.5 - 0.6

3.6 - 4.3

Lower arm to knuckle

68.6 - 80.4

7.0 ~ 8.2

50.6 - 59.3

Tie rod end castle nut

34.3 - 44.1

3.5 ~ 4.5

25.3 - 32.5

Dust cover mounting bolt

3.9 - 5.9

0.4 ~ 0.6

2.9 - 4.3

Rear

Hub nuts

107.9 - 127.5

11.0 ~ 13.0

79.6 - 94.0

Disc fixing screw

4.9 - 5.9

0.5 - 0.6

3.6 - 4.3

Brake caliper mounting bolt

63.7 - 73.5

6.5 ~ 7.5

47.0 - 54.2

Hub assembly mounting bolt

49.0 - 58.8

5.0 ~ 6.0

36.2 - 43.4

| | |
| --- | --- |
| • | Replace self-locking nuts with new ones after removal. |
Engine

Tramsaxle

Joint type

Lubricants

Quantity

Gamma 1.6 MPI

M/T & A/T

BJ

MS511-50 CVBJ-2

95g + 10g

TJ

MS511-50 CVTJ

119g + 10g

Gamma II 1.6 MPI

M/T & IVT

BJ

MS511-50 CVBJ-2

90g + 10g

TJ

MS511-50 CVTJ

98g + 10g

Other information:
Compession Pressure Inspection • If the there is lack of power, excessive oil consumption or poor fuel economy, measure the compression pressure...
Description System Overview The System offers the following features: – Human machine interface through a 1-stage button, for terminal switching and engine start. – Control of external relays for ACC / IGN1 / IGN2 terminal switching and STARTER, without use of mechanical ignition switch...
Categories
Seat belt warning light (for driver's seat)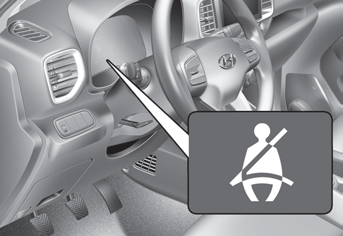 As a reminder to the driver, the seat belt warning light will illuminate for approximately 6 seconds each time you place the ignition switch to the ON position regardless of belt fastening. However, if the seat belt is unfasted, a warning chime will sound for approximately 6 seconds.