Hyundai Venue: Suspension System / Specifications
Front Suspension
| | |
| --- | --- |
| Item | Specification |
| Suspension type | MacPherson Strut |
| Shock absorber Type | General Valve |
Rear Suspension
| | |
| --- | --- |
| Item | Specification |
| Suspension type | Couple Torsion Beam Axle |
| Shock absorber Type | General Valve |
Wheel & Tire
Item

Specification

Wheel

Steel

6.0J * 15

Aluminum

6.0J * 15

6.5J * 17

Tire

185/65 R15

205/55 R17

Spare tire

TMK (Tire Mobility Kit)

T125/80 D15

T125/80 D16

Tire pressure

185/65 R15

230 kPa (33 psi)

205/55 R17

T125/80 D15

420 kPa (60 psi)

T125/80 D16

Wheel Alignment
Item

Specification

Front

Rear

Toe-in

Individual

0.075° ± 0.1°

0.15° ± 0.15°

Total

0.15° ± 0.2°

0.3° ± 0.3°

Camber angle

-0.5° ± 0.5°

-1.5° ± 0.5°

Caster angle

4.29° ± 0.5°

-

King-pin angle

13.93° ± 0.5°

-

Ride height

394 mm ± 10 mm
(15.51 ± 0.39 in.).

395 mm ± 10 mm
(15.55 ± 0.39 in.)

Tightening Torques
Front Suspension
Item

Tightening torque (kgf.m)

N.m

kgf.m

lb-ft

Hub nuts

107.9 - 127.5

11.0 - 13.0

79.6 - 94.0

Lower arm to sub frame (Front)

117.7 - 137.3

12.0 - 14.0

86.8 - 101.3

Lower arm to sub frame (Rear)

156.9 - 176.5

16.0 - 18.0

115.7 - 130.2

Lower arm to front axle

68.6 - 80.4

7.0 - 8.2

50.6 - 59.3

Tie rod end castle nut

34.3 - 44.1

3.5 - 4.5

25.3 - 32.5

Steering gear box to sub frame

88.3 - 107.9

9.0 - 11.0

65.1 - 79.6

Stabilizer bar to stabilizer link

98.1 - 117.7

10.0 - 12.0

72.3 - 86.8

Stabilizer bar to sub frame

44.1 - 53.9

4.5 - 5.5

32.5 - 39.8

Stabilizer link to front strut assembly

98.1 - 117.7

10.0 - 12.0

72.3 - 86.8

Front strut assembly to front axle

156.9 - 176.5

16.0 - 18.0

115.7 - 130.2

Front strut assembly upper mounting nut

49.0 - 58.8

5.0 - 6.0

36.2 - 43.4

Front strut assembly self lock nut

68.6 - 78.5

7.0 - 8.0

50.6 - 57.9

Steering column to Universal joint (M8 BOLT)

32.4 - 38.3

3.3 - 3.8

23.9 - 27.5

Steering column to Universal joint (M10 BOLT)

49.0 - 58.8

5.0 - 6.0

36.2 - 43.4

Sub frame mounting bolt & nut

176.5 - 196.1

18.0 - 20.0

130.2 - 144.7

Roll rod bracket mounting bolts

107.9 - 127.5

11.0 - 13.0

79.6 - 94.0

49.0 - 63.7

5.0 ~ 6.5

36.2 - 47.0

Rear Suspension
Item

Tightening torque (kgf.m)

N.m

kgf.m

lb-ft

Hub nuts

107.9 - 127.5

11.0 - 13.0

79.6 - 94.0

Shock absorber to body

49.0 - 63.7

5.0 ~ 6.5

36.2 - 47.0

Shock absorber to torsion beam axle

98.1 - 117.7

10.0 - 12.0

72.3 - 86.8

Torsion beam axle to rear axle

117.7 - 137.3

12.0 ~ 14.0

86.8 - 101.3

Other information:
Description TPMS Receiver : Integrated Body Control Unit (IBU) integrated management 1. Mode (1) Virgin State • The receiver as a sole part is shipped in this state...
The driver can change LKA to Lane Departure Warning system or change LKA system mode between Standard LKA and Active LKA from the LCD display. Go to the 'User Settings → Driver Assistance → Active Lane Keeping Assist/Lane Keeping Assist/Lane Departure Warning...
Categories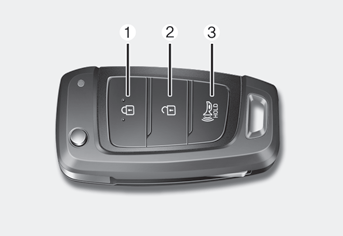 Your HYUNDAI uses a remote key, which you can use to lock or unlock the driver and passenger doors or the rear liftgate.
(1) Door Lock
(2) Door Unlock
(3) Panic
Locking Your Vehicle
To lock your vehicle:
1. Make sure all doors, the engine hood and the liftgate are closed.