Hyundai Venue: Indicators And Gauges / Components and components location
Standard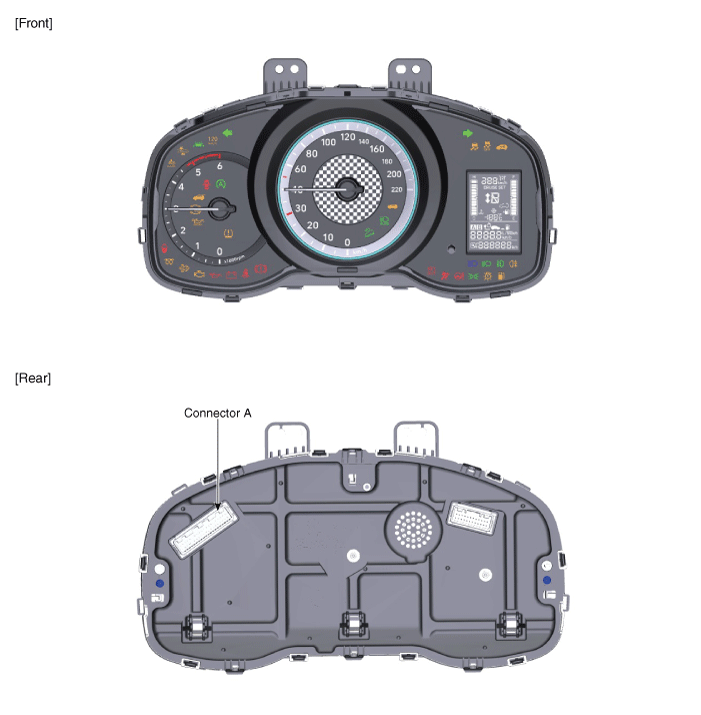 Supervision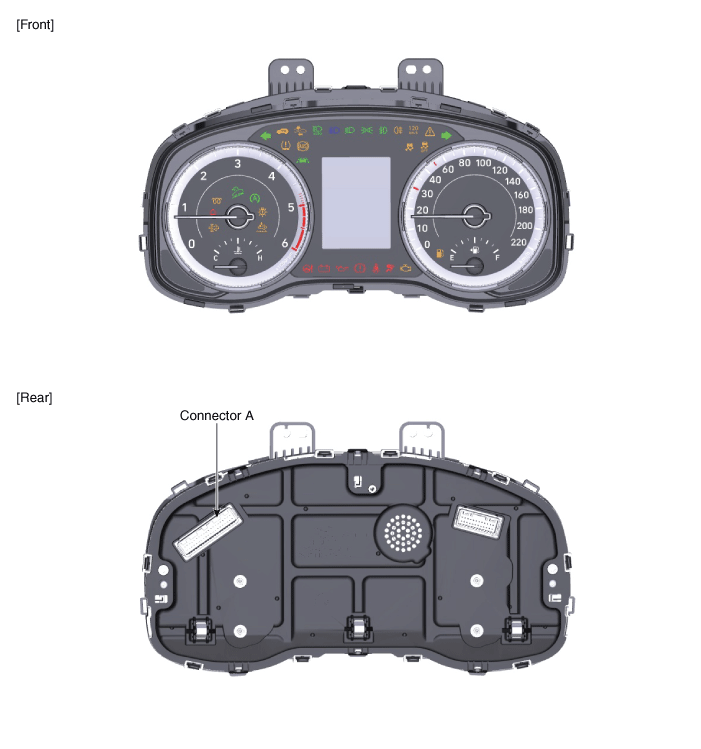 Connector Pin Information
No

Description

No

Description

Connector A

Connector B

Connector A

Connector B

1

Ground signal 3

-

21

Trip switch (-)

Rear defogger relay ouput

2

Illumination (-)

-

22

-

-

3

Rheostat switch (Down) input

-

23

Trip switch2 (+)

-

4

Rheostat switch (Up) input

-

24

Drive mode switch input (+)

-

5

Detent output

-

25

Drive mode switch input (-)

6

AT ('P' position)

-

26

-

7

AT ('R' position)

-

27

-

8

AT ('N' position)

-

28

MT ('N' position)

9

AT ('D' position)

-

29

B CAN (Low)

10

AT ('S' position)

-

30

B CAN (High)

11

-

-

31

Engine run state output

12

Vehicle speed output

Key in switch (-)

32

C CAN (High)

13

Alternator input

-

33

C CAN (Low)

14

Fuel sender input

Rear defogger switch input

34

-

15

-

-

35

-

16

Fuel sender input

-

36

-

17

-

Driver seat belt switch input

37

Ground signal

18

Airbag input

Aisst seat belt switch input

38

-

19

Oil pressure switch input

Aisst seat mat switch input

39

IGN (+)

20

-

Ground

40

Battery (+)

Other information:
Specifications Description Specifications Limit General Type In-line, DOHC   Number of cylinders 4   Bore 77 mm (3...
Important Safety Notice Proper service methods and repair procedures are essential for safe, reliable operation of all motor vehicles as well as personal safety of the operator. The service procedures and descriptions in this shop manual provide general directions for service and repair...
Categories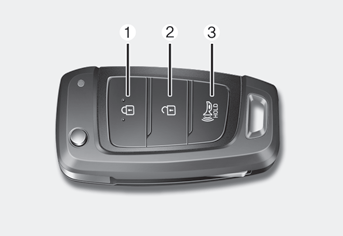 Your HYUNDAI uses a remote key, which you can use to lock or unlock the driver and passenger doors or the rear liftgate.
(1) Door Lock
(2) Door Unlock
(3) Panic
Locking Your Vehicle
To lock your vehicle:
1. Make sure all doors, the engine hood and the liftgate are closed.