Hyundai Venue: Cylinder Block / Components and components location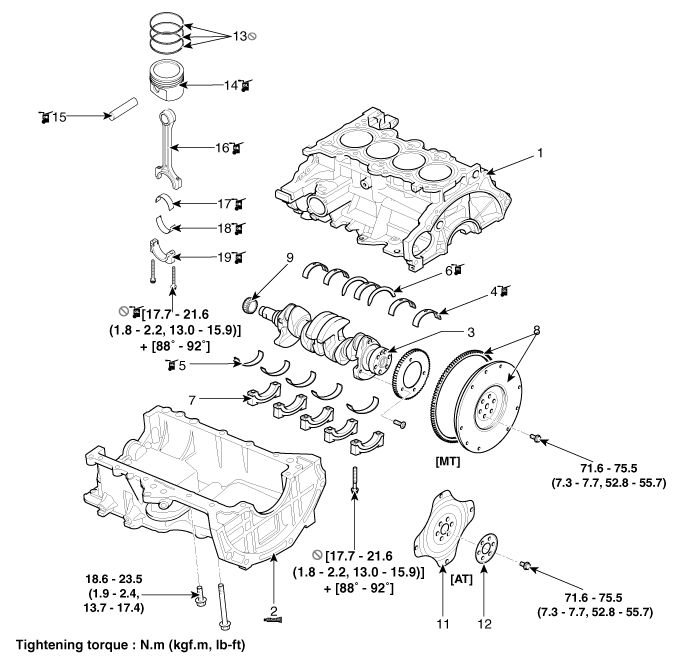 1. Cylinder block
2. Ladder frame
3. Crankshaft
4. Crankshaft upper bearing
5. Crankshaft lower bearing
6. Thrust bearing

7. Main bearing
8. Flywheel
9. Crankshaft sproket
10. Crankshaft pulley
11. Drive plate
12. Adapter plate

13. Piston ring
14. Piston
15. Piston pin
16. Connecting rod
17. Connecting rod upper bearing
18. Connecting rod lower bearing
19. Connecting rod bearing cap

Components 1. Crankshaft sprocket 2. Crankshaft thrust bearing 3. Crankshaft upper main bearing 4. Crankshaft 5...
Other information:
Fan speed control (1) The fan speed can be set as desired by pushing the fan speed control button. More air is delivered with higher fan speeds. Pressing the OFF button turns off the fan. Information For better sound quality, fan speed may automatically slow down for a couple of minutes when you activate voice recognition or hands free...
..
Categories
The vehicle's front and rear seats have adjustable head restraints. The head restraints provide comfort for passengers, but more importantly they are designed to help protect passengers from whiplash and other neck and spinal injuries during an accident, especially in a rear impact collision.
WARNING
To reduce the risk of serious injury or death in an accident, take the following precautions when adjusting your head restraints:
Always properly adjust the head restraints for all passengers BEFORE starting the vehicle. NEVER let anyone ride in a seat with the head restraints removed or reversed.