Hyundai Venue: Cylinder Block / Cylinder Block. Repair procedures
| | |
| --- | --- |
| • | Use fender covers to avoid damaging painted surfaces. |
| | |
| --- | --- |
| • | To avoid damaging the cylinder head, wait until the engine coolant temperature drops below normal temperature (20°C [68°F]) before removing it. |
| | |
| --- | --- |
| • | When handling a metal gasket, take care not to fold the gasket or damage the contact surface of the gasket. |
| | |
| --- | --- |
| • | To avoid damage, unplug the wiring connectors carefully while holding the connector portion. |
| | |
| --- | --- |
| • | Mark all wiring and hoses to avoid misconnection. |
| | |
| --- | --- |
| • | Turn the crankshaft damper pulley so that the piston of No. 1 cylinder is at TDC (top dead center) on compression stroke. |
1.

Remove the engine and transaxle assembly from the vehicle.

(Refer to Engine and Transaxle Assembly - "Engine and Transaxle Assembly")
2.

Remove the transaxle assembly from the engine assembly.

•

Manual Transaxle

(Refer to Manual Transaxle System - "Manual Transaxle")

•

Automatic Transaxle

(Refer to Automatic Transaxle System - "Automatic Transaxle")
3.

Remove the drive plate or flywheel.

•

Automatic Transaxle

(Refer to Cylinder Block Assembly - "Drive Plate")

•

Manual Transaxle

(Refer to Cylinder Block Assembly - "Flywheel")
4.

Remove the rear oil seal.

(Refer to Cylinder Block Assembly - "Rear Oil Seal")
| | |
| --- | --- |
| 5. | Install the engine assembly to engine stand for disassembly. |
6.

Remove the intake manifold with the electronic throttle control (ETC) module.

(Refer to Intake and Exhaust System - "Intake Manifold")
7.

Remove the exhaust manifold.

(Refer to Intake and Exhaust System - "Exhaust Manifold")
8.

Remove the timing chain.

(Refer to Timing System - "Timing Chain")
9.

Remove the cylinder head assembly.

(Refer to Cylinder Head Assembly - "Cylinder Head")
10.

Remove the oil filter.

(Refer to Lubrication System - "Oil Filter")
11.

Remove the oil pressure switch.

(Refer to Lubrication System - "Oil Pressure Switch")
12.

Remove the crankshaft position sensor.

(Refer to Engine Control/Fuel System - "Crankshaft Position Sensor (CKPS)")
13.

Remove the oil pan and the oil screen.

(Refer to Lubrication System - "Oil Pan")
14.

Remove the ladder frame.

(Refer to Cylinder Block Assembly - "Piston and Connecting Rod")
15.

Check the connecting rod side clearance.

(Refer to Cylinder Block Assembly - "Piston and Connecting Rod")
16.

Check the connecting rod bearing cap oil clearance.

(Refer to Cylinder Block Assembly - "Piston and Connecting Rod")
17.

Remove the piston and connecting rod assemblies.

(Refer to Cylinder Block Assembly - "Piston and Connecting Rod")
18.

Check the main bearing oil clearance.

(Refer to Cylinder Block Assembly - "Crankshaft")
19.

Check the crankshaft end play.

(Refer to Cylinder Block Assembly - "Crankshaft")
20.

Remove the crankshaft.

(Refer to Cylinder Block Assembly - "Crankshaft")
21.

Remove the water inlet fitting and thermostat.

(Refer to Cooling System - "Thermostat")
22.

Remove the knock sensor.

(Refer to Engine Control/Fuel System - "Knock Sensor (KS)")
| | |
| --- | --- |
| 1. | Using a gasket scraper, remove all the gasket material from the top surface of the cylinder block. |
| | |
| --- | --- |
| 2. | Using a soft brush and solvent, thoroughly clean the cylinder block. |
3.

Inspect the top surface of cylinder block for flatness.

Using a precision straight edge and feeler gauge, measure the surface contacting the cylinder head gasket for warpage.

Flatness of cylinder block gasket surface :

Less than 0.05 mm (0.0020 in) for total area

Less than 0.02 mm (0.0008 in) for a section of 100 mm x 100 mm (3.9370 in x 3.9370 in)
4.

Inspect the cylinder bore.

Visually check the cylinder for vertical scratchs.

If deep scratchs are present, replace the cylinder block.
5.

Inspect the cylinder bore diameter.

Using a cylinder bore gauge, measure the cylinder bore diameter at position in the thrust and axial direction.

Cylinder bore diameter :

77.00 - 77.03 mm (3.0315 - 3.0327 in)
1.

Install in the reverse order of disassembly.

| | |
| --- | --- |
| • | In case the cylinder block is replaced with a new one, select the proper crankshaft main bearing and the piston according to the crankshaft journal bore mark and the cylinder bore mark on the cylinder block. |

–

Crankshaft main bearing selection

(Refer to Cylinder Block Assembly - "Crankshaft")

–

Piston selection

(Refer to Cylinder Block Assembly - "Piston and Connecting Rod")
Disassembly • Use fender covers to avoid damaging painted surfaces...
Other information:
Inspection Wave Form 1. Check signal waveform of CKPS and CMPS using a diagnostic tool. Specification : Refer to "DTC Guide" Coil Resistance 1...
..
Categories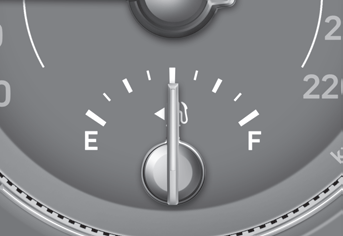 This gauge indicates the approximate amount of fuel remaining in the fuel tank.
Information
The fuel tank capacity is given in chapter 2. The fuel gauge is supplemented by a low fuel warning light, which will illuminate when the fuel tank is nearly empty. On inclines or curves, the fuel gauge pointer may fluctuate or the low fuel warning light may come on earlier than usual due to the movement of fuel in the tank.