Hyundai Venue: Rear Cross-Traffic Collision Warning (RCCW) / Detecting Sensor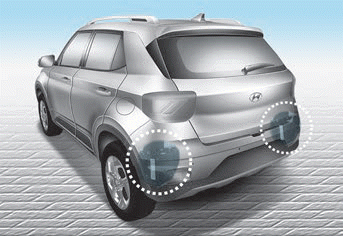 The rear corner radars are located inside the rear bumper for detecting the side and rear areas. Always keep the rear bumper clean for proper operation of the system.
NOTICE
The system may not work properly when the bumper has been damaged, or if the rear bumper has been replaced or repaired.
The system may turn off if interfered by electromagnetic waves.
Always keep the sensors clean.
NEVER disassemble the sensor component or apply any impact on the sensor component.
Be careful not to apply unnecessary force on the radar sensor or sensor cover. If the sensor is forcibly moved out of proper alignment, the system may not operate correctly. In this case, a warning message may not be displayed. Have the vehicle inspected by an authorized HYUNDAI dealer.
Do not apply foreign objects such as a bumper sticker or a bumper guard near the radar sensor or apply paint to the sensor area. Doing so may adversely affect the performance of the sensor.
Warning message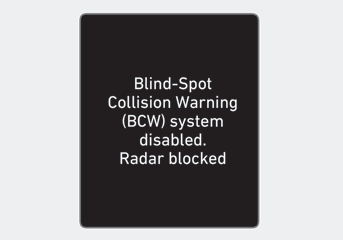 Blind-Spot Collision Warning system disabled. Radar blocked
This warning message may appear when:
-- One or both of the sensors on the rear bumper is blocked by dirt or snow or a foreign object.
-- Driving in rural areas where the sensor does not detect another vehicle for an extended period of time.
-- When there is inclement weather such as heavy snow or rain.
If any of these conditions occur, the light on BCW switch and the system will turn off automatically.
When BCW canceled warning message is displayed in the cluster, check to make sure that the rear bumper is free from any dirt or snow in the areas where the sensor is located. Remove any dirt, snow, or foreign material that could interfere with the radar sensors.
After any dirt or debris is removed, the system should operate normally after about 10 minutes of driving the vehicle.
If the system still does not operate normally have your vehicle inspected by an authorized HYUNDAI dealer.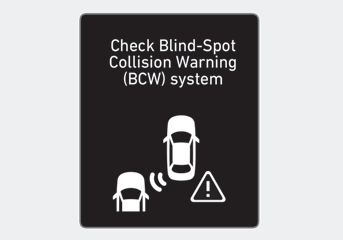 Check Blind-Spot Collision Warning system
If there is a problem with BCW system, a warning message will appear and the light on the switch will turn off. The system will turn off automatically. RCCW will not operate also if BCW system turns off due to a malfunction. Have your vehicle inspected by an authorized HYUNDAI dealer.
Categories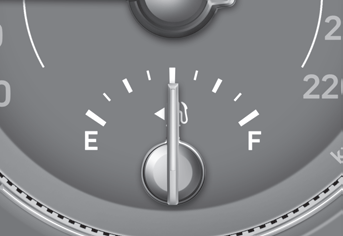 This gauge indicates the approximate amount of fuel remaining in the fuel tank.
Information
The fuel tank capacity is given in chapter 2. The fuel gauge is supplemented by a low fuel warning light, which will illuminate when the fuel tank is nearly empty. On inclines or curves, the fuel gauge pointer may fluctuate or the low fuel warning light may come on earlier than usual due to the movement of fuel in the tank.