Hyundai Venue: Engine And Transmission Assembly / Engine Mounting. Repair procedures
[Roll road Mounting]
1.

Remove the Roll rod mounting (A).

Tightening torque

Bolt (B) :

107.9 - 127.5 N.m (11.0 - 13.0 kgf.m, 79.6 - 94.0 lb-ft)

Bolts (C) :

49.0 - 63.7 N.m (5.0 - 6.5 kgf.m, 36.2 - 47.0 lb-ft)
2.

Remove the roll rod mounting suppot bracket (A).

Tightening torque :

49.0 - 68.6 N.m (5.0 - 7.0 kgf.m, 36.2 - 50.6 lb-ft)
| | |
| --- | --- |
| 3. | Installation is reverse order of removal. |
[Egnine mounting support bracket]
1.

Install the jack to the edge of upper oil pan to support the engine.

| | |
| --- | --- |
| • | Insert the rubber block between jack and oil pan. |
2.

Remove the engine mounting support bracket (A).

Tightening torque

Nut (B) :

88.3 - 107.9 N.m (9.0 - 11.0 kgf.m, 65.1 - 79.6 lb-ft)

Nuts (C) and bolt (D) :

58.8 - 73.5 N.m (6.0 - 7.5 kgf.m, 43.3 - 54.2 lb-ft)
3.

Removal the engine mounting bracket (A).

Tightening torque :

49.0 - 63.7 N.m (5.0 - 6.5 kgf.m, 36.2 - 47.0 lb-ft)
| | |
| --- | --- |
| 4. | Installation is reverse order of removal. |
[Transaxle mounting bracket]
1.

Remove the battery and battery tray.

(Refer to Engine Electrical System - "Battery")
| | |
| --- | --- |
| 2. | Install the jack to the edge of transaxle. |
| | |
| --- | --- |
| 3. | Remove the cover (A). |
4.

Remove the transaxle support bracket mounting bolt (A).

Tightening torque :

88.3 - 107.9 N.m (9.0 - 11.0 kgf.m, 65.1 - 79.6 lb-ft)
5.

Remove the transaxle mounting bracket (A).

Tightening torque :

49.0 - 63.7 N.m (5.0 - 6.5 kgf.m, 36.2 - 47.0 lb-ft)
| | |
| --- | --- |
| 6. | Installation is reverse order of removal. |
Removal • Use fender covers to avoid damaging painted surfaces...
Other information:
..
Forward Collision-Avoidance Assist system is designed to help detect and monitor the vehicle ahead or detect a pedestrian (if equipped) in the roadway through front view camera recognition and front radar signals to warn the driver that a collision is imminent, and if necessary, apply emergency braking...
Categories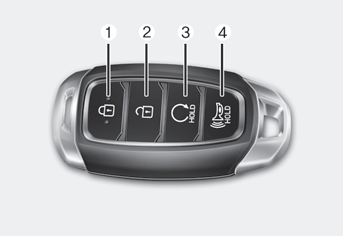 Your HYUNDAI uses a Smart Key, which you can use to lock or unlock the driver and passenger doors or the rear liftgate.
1. Door Lock
2. Door Unlock
3. Remote start