Hyundai Venue: Engine And Transmission Assembly / Engine Mounting. Repair procedures
[Roll road Mounting]
1.

Remove the Roll rod mounting (A).

Tightening torque

Bolt (B) :

107.9 - 127.5 N.m (11.0 - 13.0 kgf.m, 79.6 - 94.0 lb-ft)

Bolts (C) :

49.0 - 63.7 N.m (5.0 - 6.5 kgf.m, 36.2 - 47.0 lb-ft)
2.

Remove the roll rod mounting suppot bracket (A).

Tightening torque :

49.0 - 68.6 N.m (5.0 - 7.0 kgf.m, 36.2 - 50.6 lb-ft)
| | |
| --- | --- |
| 3. | Installation is reverse order of removal. |
[Egnine mounting support bracket]
1.

Install the jack to the edge of upper oil pan to support the engine.

| | |
| --- | --- |
| • | Insert the rubber block between jack and oil pan. |
2.

Remove the engine mounting support bracket (A).

Tightening torque

Nut (B) :

88.3 - 107.9 N.m (9.0 - 11.0 kgf.m, 65.1 - 79.6 lb-ft)

Nuts (C) and bolt (D) :

58.8 - 73.5 N.m (6.0 - 7.5 kgf.m, 43.3 - 54.2 lb-ft)
3.

Removal the engine mounting bracket (A).

Tightening torque :

49.0 - 63.7 N.m (5.0 - 6.5 kgf.m, 36.2 - 47.0 lb-ft)
| | |
| --- | --- |
| 4. | Installation is reverse order of removal. |
[Transaxle mounting bracket]
1.

Remove the battery and battery tray.

(Refer to Engine Electrical System - "Battery")
| | |
| --- | --- |
| 2. | Install the jack to the edge of transaxle. |
| | |
| --- | --- |
| 3. | Remove the cover (A). |
4.

Remove the transaxle support bracket mounting bolt (A).

Tightening torque :

88.3 - 107.9 N.m (9.0 - 11.0 kgf.m, 65.1 - 79.6 lb-ft)
5.

Remove the transaxle mounting bracket (A).

Tightening torque :

49.0 - 63.7 N.m (5.0 - 6.5 kgf.m, 36.2 - 47.0 lb-ft)
| | |
| --- | --- |
| 6. | Installation is reverse order of removal. |
Removal • Use fender covers to avoid damaging painted surfaces...
Other information:
WARNING Do not attempt to adjust the clock while driving. Doing so may result in distracted driving which may lead to an accident involving personal injury or death. Vehicles with Audio system Select the [SETUP] button on the audio system → Select [Date/Time]...
..
Categories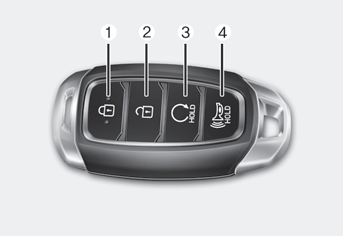 Your HYUNDAI uses a Smart Key, which you can use to lock or unlock the driver and passenger doors or the rear liftgate.
1. Door Lock
2. Door Unlock
3. Remote start