Hyundai Venue: Interior Lights / Front lamps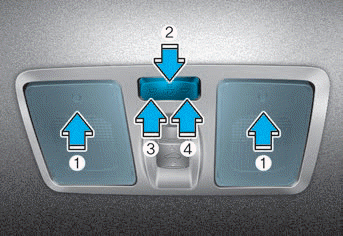 Type A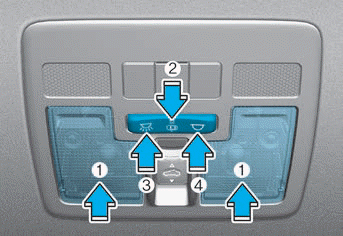 Type B
Front Map Lamp (1):
Press either lenses to turn the map lamp on or off. This light produces a spot beam for convenient use as a map lamp at night or as a personal lamp for the driver and the front passenger.
Front Door Lamp (2) (

):
The front or rear room lamps come on when the front or rear doors are opened if the engine is running or not. When doors are unlocked by the remote key or smart key, the front and rear lamps come on for approximately 30 seconds as long as any door is not opened. The front and rear room lamps go out gradually after approximately 30 seconds when the door is closed. However, if the ignition switch is in the ON position or all doors are locked, the front and rear lamps will turn off. If a door is opened with the ignition switch in the ACC position or the OFF position, the front and rear lamps stay on for about 20 minutes.
Front room lamp
•

(3):
Press the button to turn ON the room lamp for the front/rear seats.
•

(4):
Press the button to turn OFF the room lamp for the front/rear seats regardless of front or rear door open position.
Categories
WARNING
To reduce the risk of an air bag deploying unexpectedly and causing serious injury or death:
Do not hit or allow any objects to impact the locations where air bags or sensors are installed. Do not perform maintenance on or around the air bag sensors. If the location or angle of the sensors is altered, the air bags may deploy when they should not or may not deploy when they should. Do not install bumper guards or replace the bumper with a nongenuine HYUNDAI parts. This may adversely affect the collision and air bag deployment performance. Place the ignition switch in the LOCK/OFF or ACC position when the vehicle is being towed to prevent inadvertent air bag deployment. Have all air bag repairs conducted by an authorized HYUNDAI dealer.