Hyundai Venue: Tires and Wheels / Low Aspect Ratio Tires
The aspect ratio is lower than 50 on low aspect ratio tires.
Because low aspect ratio tires are optimized for handling and braking, their sidewall is a little stiffer than a standard tire. Also low aspect ratio tires tend to be wider and consequently have a greater contact patch with the road surface. In some instances they may generate more road noise compared with standard tires.
CAUTION
Because the sidewall of a low aspect ratio tire is shorter than a standard tire, the rim of the wheel and the tire itself is more easily susceptible to damage. Use caution when driving and follow the guidelines below to help minimize damage to the wheel and tire:
When driving on a rough road or off road, drive cautiously because tires and wheels may be damaged. And after driving, inspect tires and wheels.
When passing over a pothole, speed bump, manhole, or curb stone, drive slowly so that the tires and wheels are not damaged.
If the tire is subjected to a severe impact, have the tire and wheel inspected by an authorized HYUNDAI dealer.
Inspect the tire condition and pressure every 1,800 miles (3,000km).
CAUTION
It is not easy to recognize tire damage with your own eyes. But if there is the slightest hint of tire damage, have the tire checked or replaced because the tire damage may cause air leakage from the tire.
If the tire is damaged by driving on a rough road, off road, pothole, manhole, or curb stone, it will not be covered by the warranty.
Radial-ply tires provide improved tread life, road hazard resistance and smoother high speed ride. The radial-ply tires used on this vehicle are of belted construction, and are selected to complement the ride and handling characteristics of your vehicle...
A vehicle's electrical system is protected from electrical overload damage by fuses. This vehicle has 2 (or 3) fuse panels, one located in the driver's side panel bolster, the other in the engine compartment near the battery...
Other information:
The instrument panel vent air flow can be directed up/down or left/right using the vent adjustment lever. The air flow can also be CLOSED using the vent adjustment lever. The instrument panel air vents are the "clickto- close" type. To CLOSE the instrument panel vents perform the following: -- For the driver side vents, slide the vent adjustment lever to the left until it clicks...
..
Categories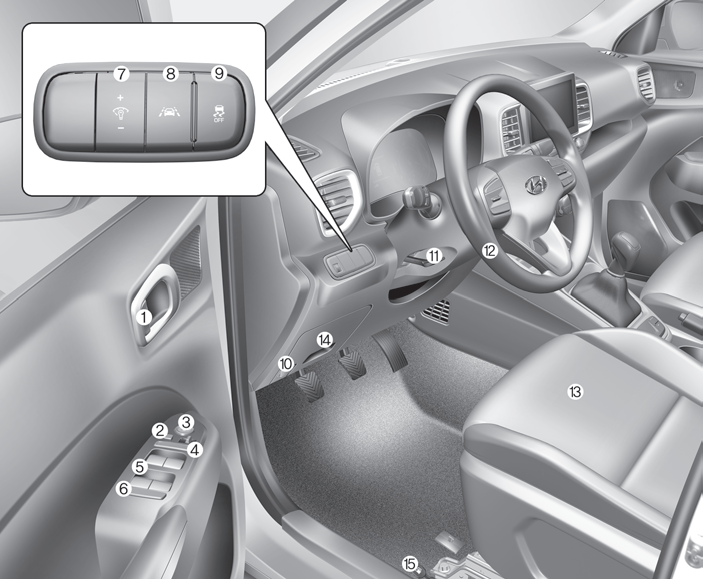 1. Door lock/unlock button
2. Outside rearview mirror control switch
3. Central door lock switch
4. Power window switches
5. Power window lock switch