Hyundai Venue: Heater / PTC Heater. Description and operation
The PTC (Positive Temperature Coefficient) heater is installed at the exit or the backside of heater core.
The PTC heater is an electric heater using a PTC element as an auxiliary heating device that supplements deficiency of interior heat source in highly effective diesel engine. The electric heater heats up the interior by directly heating the air that passes through the heater. The name itself implies that the element has a proportional resistance change sensitive to temperature.
Operation Principle
ECM outputs a PTC ON signal and operates PTC relay 1. Then heater controller operates PTC relay 2 and PTC relay 3 with an interval of 15 seconds.
However, PTC relay 3 can be operated while battery voltage is above 12.4V.
Operating Condition
PTC heater operates according to the following conditions.
| | |
| --- | --- |
| • | Battery voltage: 12.4V or above |
| | |
| --- | --- |
| • | Ambient temperature and coolant temperature |
Ambient
Temperature

Coolant
Temperature

PTC
Operation

Below -20°C
(-4°F)

Below 75°C (167°F)

ON

10°C (50°F)

Below 65°C (149°F)

ON

12°C (53.6°F) or above

-

OFF

-

80°C (176°F) or above

OFF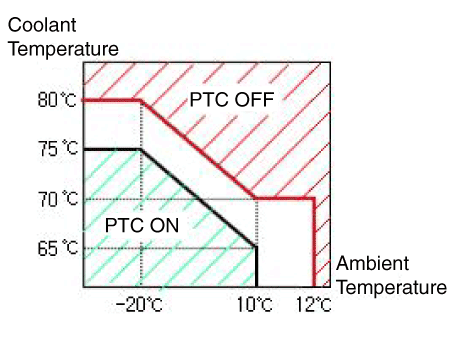 Categories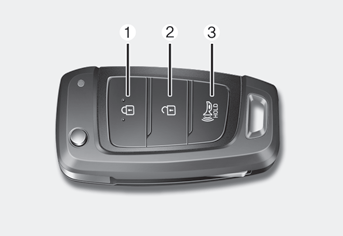 Your HYUNDAI uses a remote key, which you can use to lock or unlock the driver and passenger doors or the rear liftgate.
(1) Door Lock
(2) Door Unlock
(3) Panic
Locking Your Vehicle
To lock your vehicle:
1. Make sure all doors, the engine hood and the liftgate are closed.