Hyundai Venue: Power Windows / Power Window Switch. Repair procedures
Diagnosis with GDS
1.

In the body electrical system, failure can be quickly diagnosed by using the vehicle diagnostic system (GDS).

The diagnostic system (GDS) provides the following information.

| | |
| --- | --- |
| (1) | Fault Code Searching : Checking failure and code number (DTC) |

| | |
| --- | --- |
| (2) | Data Analysis : Checking the system input/output data state |

| | |
| --- | --- |
| (3) | Actuation test : Checking the system operation condition |

| | |
| --- | --- |
| (4) | S/W Management : Controlling other features including system option setting and zero point adjustment |
| | |
| --- | --- |
| 2. | If diagnose the vehicle by GDS, select "DTC Analysis" and "Vehicle". |
| | |
| --- | --- |
| 3. | Select the 'Data Analysis' and 'Car model'. |
| | |
| --- | --- |
| 4. | Select the 'DDM' to search the current state of the input/output data. |
| | |
| --- | --- |
| 5. | To forcibly actuate the input value of the module to be checked, select option 'Actuation Test'. |
Driver/Assist Power Window Switch
| | |
| --- | --- |
| 1. | Disconnect the negative (-) battery terminal. |
2.

Remove the front door trim.

(Refer to Body - "Front Door Trim")
3.

Remove the power window switch assembly (A) by pulling out both ends of the switch holders.

[Driver]

[Assist]
Rear Power Window Switch
| | |
| --- | --- |
| 1. | Disconnect the negative (-) battery terminal. |
2.

Remove the rear door trim.

(Refer to Body - "Rear Door Trim")
| | |
| --- | --- |
| 3. | Remove the power window switch assembly by pulling out both ends of the switch holders. |
Driver/Assist Power Window Switch
| | |
| --- | --- |
| 1. | Install the power window switch assembly. |
| | |
| --- | --- |
| 2. | Install the front door trim after connecting the connector. |
| | |
| --- | --- |
| 3. | Connect the negative (-) battery terminal. |
Rear Power Window Switch
| | |
| --- | --- |
| 1. | Install the power window switch assembly. |
| | |
| --- | --- |
| 2. | Install the rear door trim after connecting the connector. |
| | |
| --- | --- |
| 3. | Connect the negative (-) battery terminal. |
Other information:
..
Description • The inhibitor switch mounted on the upper of transaxle and connected with shifter lever. • The inhibitor switch has four points of contact and it makes the signals(S1, S2, S3, S4)...
Categories
Seat belt warning light (for driver's seat)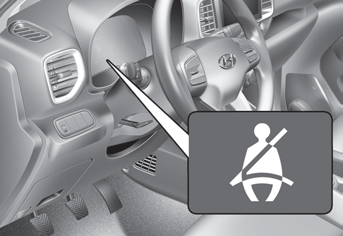 As a reminder to the driver, the seat belt warning light will illuminate for approximately 6 seconds each time you place the ignition switch to the ON position regardless of belt fastening. However, if the seat belt is unfasted, a warning chime will sound for approximately 6 seconds.