Hyundai Venue: Ignition System / Repair procedures
Inspect ignition coil assembly and Perform spark test
1.

Check for DTCs.

| | |
| --- | --- |
| • | If a DTC is present, perform troubleshooting in accordance with the procedure for that DTC. (Refer to DTC guide) |
2.

Check if sparks occur.

| | |
| --- | --- |
| (1) | Remove the engine cover. |

| | |
| --- | --- |
| (2) | Remove the ignition coils. |

| | |
| --- | --- |
| (3) | Using a spark plug wrench, remove the spark plugs. |

| | |
| --- | --- |
| (4) | Disconnect the 4 injector connectors. |

| | |
| --- | --- |
| (5) | Ground the spark plug to the engine. |

| | |
| --- | --- |
| (6) | Check if sparks occur at each spark plug while engine is being cranked. |

| | |
| --- | --- |
| • | Do not crank the engine for more then 5 seonds. |
| | |
| --- | --- |
| 3. | If sparks do not occur, perform the following test. |
| | |
| --- | --- |
| 4. | Using a spark plug wrench, install spark plugs. |
| | |
| --- | --- |
| 5. | Install the ignition coils. |
| | |
| --- | --- |
| 6. | Install the cylinder head center cover and the engine cover. |
Description Ignition timing is controlled by the electronic control ignition timing system. The standard reference ignition timing data for the engine operating conditions are pre-pro grammed in the memory of the ECM (Engine Control Module)...
Other information:
Description • The oil pump is powered by the engine. ATF passes through the oil filter and gets distributed along the oil channels. • The oil becomes highly pressurized as it exits the oil pump and passes through the line pressure valve before being fed to the clutch & brake control valve, clutch, and brakes...
Description Continuous Variable Valve Timing (CVVT) system advances or retards the valve timing of the intake and exhaust valve in accordance with the ECM control signal which is calculated by the engine speed and load. By controlling CVVT, the valve over-lap or under-lap occurs, which makes better fuel economy and reduces exhaust gases (NOx, HC) and improves engine performance through reduction of pumping loss, internal EGR effect, improvement of combustion stability, improvement of volumetric efficiency, and increase of expansion work...
Categories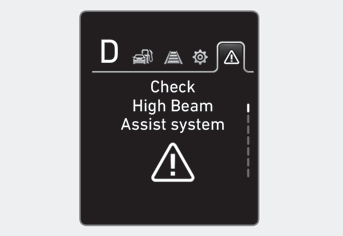 This warning light informs the driver the following situations.
-- Forward Collision-Avoidance Assist system malfunction (if equipped)
-- Forward Collision-Avoidance Assist radar blocked (if equipped)
-- Blind-Spot Collision Warning system malfunction (if equipped)
-- Blind-Spot Collision Warning radar blocked (if equipped)
-- Lamp malfunction (if equipped)
-- High Beam Assist malfunction (if equipped)
-- Tire Pressure Monitoring System (TPMS) malfunction (if equipped)