Hyundai Venue: Automatic Transaxle System / Specifications
Item

Specifications

Transaxle type

A6GF1 - 2

Engine type

Gasoline 1.6MPI

Torque converter type

3 - element, 1 - stage, 2 - phase type

Torque converter size

Ø236 mm (9.2913 in)

Oil pump system

Mechanical internal gear pump

Friction elements

Clutch : 2EA

Brake : 3EA

OWC : 1EA

Planetary gear

3EA

Gear ratio

1st

4.400

2nd

2.726

3rd

1.834

4th

1.392

5th

1.000

6th

0.774

Reverse

3.440

Final gear ratio

Nomal

Tire 15 in.

6.052

Tire 17 in.

6.483

High mountain

Tire 15 in.

6.483

Tire 17 in.

6.483

Low octain

Tire 15 in.

6.483

Tire 17 in.

6.483

Fluid pressure balance piston

2EA

Accumulator

4EA

Solenoid valve

7EA (VFS : 6EA, ON / OFF : 1EA)

Shift lever position

4 Range (P, R, N, D)

Oil filter

1EA

VFS : Variable Force Solenoid
▶ Sensors
Input Speed Sensor
▷ Type : Hall effect sensor
▷ Specifications
Items

Specifications

Operation condition (°C)°F

(-40 to 150) -40 to 302

Output voltage (V)

High

1.18 - 1.68

Low

0.59 - 0.84

Output Speed Sensor
▷ Type : Hall effect sensor
▷ Specifications
Items

Specifications

Operation condition (°C)°F

(-40 to 150) -40 to 302

Output voltage (V)

High

1.18 - 1.68

Low

0.59 - 0.84

Oil Temperature Sensor
▷ Type : Negative Thermal Coefficient (NTC)
▷ Specifications
| | | | |
| --- | --- | --- | --- |
| Temp.[(°C)°F] | Resistance (Ω) | Min | Max |
| (-40) -40 | 48153 | 45301 | 51006 |
| (-20) -4.0 | 15614 | 14785 | 16443 |
| (0) 32.0 | 5887 | 5605 | 6168 |
| (20) 68.0 | 2510.6 | 2401.9 | 2619.3 |
| (40) 104.0 | 1199.6 | 1152.4 | 1246.7 |
| (60) 140.0 | 612.3 | 590.3 | 634.2 |
| (80) 176.0 | 329.5 | 318.7 | 340.3 |
| (100) 212.0 | 186 | 180.4 | 191.6 |
| (120) 248.0 | 109.7 | 106.1 | 113.2 |
| (140) 284.0 | 67.16 | 64.82 | 69.5 |
| (150) 302.0 | 53.24 | 51.32 | 55.16 |
▶ Inhibitor Switch
▷ Type : Combination of output signals from 4 terminals
▷ Specifications
| | |
| --- | --- |
| Items | Specifications |
| Power supply (V) | 12 |
| Output type | Combination of output signals |
▶ Solenoid Valves
ON / OFF Solenoid Valve (SS - A)
▷ Control type : Normally low type
Shape

Items

Specifications


Control current (voltage) [mA]

9 - 16

Supply pressure [kpa (kgf / cm², psi)]

490.33 (5.0, 71.12)

Control pressure [kpa (kgf / cm², psi)]

0 - 490.33 (0 - 5.0, 0 - 71.12)

Internal resistance (Ω)

10 - 11

Clutch / Brake control VFS [T / CON]
▷ Control type : Normally low type
Shape

Items

Specifications


Control current(voltage) [mA]

0 - 850

Supply pressure [kpa (kgf/cm², psi)]

539.36 (5.5, 78.23)

Control pressure [kpa (kgf/cm², psi)]

0 - 519.75 (0 - 5.3, 0 - 75.38)

Internal resistance(Ω)

4.8 - 5.4

Line Pressure Control VFS[Line pressure]
▷ Control type : Normally high type
Shape

Items

Specifications


Control current(voltage) [mA]

0 - 850

Supply pressure [kpa (kgf/cm², psi)]

539.36 (5.5, 78.23)

Control pressure [kpa (kgf/cm², psi)]

0 - 519.75 (0 - 5.3, 0 - 75.38)

Internal resistance(Ω)

4.8 - 5.4

Clutch/Brake control VFS[26/B,35R/C]
▷ Control type : Normally low type
Shape

Items

Specifications


Control current(voltage) [mA]

0 - 1100

Supply pressure [kpa (kgf/cm², psi)]

1569.06 (16, 227.57)

Control pressure [kpa (kgf/cm², psi)]

0 - 1569.06 (0 - 16, 0 - 227.57)

Internal resistance(Ω)

5.0 - 5.6

Clutch/Brake control VFS[UD/B, OD/C]
▷ Control Type : Normally high type
Shape

Items

Specifications


Control current(voltage) [mA]

0 - 1100

Supply pressure [kpa (kgf/cm², psi)]

1569.06 (16, 227.57)

Control pressure [kpa (kgf/cm², psi)]

0 - 1569.06 (0 - 16, 0 - 227.57)

Internal resistance(Ω)

5.0 - 5.6

▶ Solenoid Valve Operation Table
| | | | | | |
| --- | --- | --- | --- | --- | --- |
| | UD | OD & LR | 35 R | 26 | SS - A |
| P | ● | | | | ● |
| N | ● | | | | ● |
| 1 st | | Δ | | | Δ |
| 2 nd | | ● | | ● | |
| 3 rd | | ● | ● | | |
| 4 th | | | | | |
| 5 th | ● | | ● | | |
| 6 th | ● | | | ● | |
| REV | ● | | ● | | ● |
● : Connected status
Δ : Connected at vehicle speed above 8km/h
▶ Tightening Torques
Item

N.m

kgf.m

lb-ft

Shift cable bracket mounting bolt

14.7 - 21.6

1.5 - 2.2

10.8 - 15.9

Fixing nut of shift cable in the manual lever

9.8 - 13.7

1.0 - 1.4

7.2 - 10.1

Automatic transaxle upper mounting bolt (TM=>Eng)

42.2 - 53.9

4.3 - 5.5

31.1 - 39.8

Automatic transaxle mounting bracket bolt

88.3 - 107.9

9.0 - 11.0

65.1 - 79.6

Automatic transaxle support bracket mounting bolt

58.9 - 78.5

6.0 - 8.0

43.4 - 57.8

Torque converter mounting bolt

45.1 - 52.0

4.6 - 5.3

33.3 - 38.3

Automatic transaxle lower mounting bolt (Eng=>TM)

42.2 - 48.1

4.3 - 4.9

31.1 - 35.4

42.2 - 53.9

4.3 - 5.5

31.1 - 39.8

TCM mounting nut

9.8 - 11.8

1.0 - 1.2

7.2 - 8.7

Input shaft speed sensor mounting bolt

9.8 - 11.8

1.0 - 1.2

7.2 - 8.7

Output shaft speed sensor mounting bolt

9.8 - 11.8

1.0 - 1.2

7.2 - 8.7

Shift lever assembly bolt

8.8 - 13.7

0.9 - 1.4

9.4 - 10.1

Inhibitor switch mounting bolt

9.8 - 11.8

1.0 - 1.2

7.2 - 8.7

Valve body cover mounting bolt

11.8 - 13.7

1.2 - 1.4

8.7 - 10.1

ATF drain plug

33.3 - 43.1

3.4 - 4.4

24.6 - 31.8

Starter mounting bolt

49.0 - 63.7

5.0 - 6.5

36.2 - 47.0

▶ Fluid
ATF Grade

Recommended

Allowed

ATF SP-Ⅳ

SK ATF SP-Ⅳ, MICHANG ATF SP-Ⅳ,NOCA ATF SP-Ⅳ,
Hyundai Genuine ATF SP-Ⅳ

ATF Quantity

6.7L(1.77 U.S gal., 7.08 U.S.qt., 5.90 Imp.qt.)

▶ Sealant
| | |
| --- | --- |
| Item | Specified sealant |
| Torque converter housing | LOCTITE FMD-546 |
Special Service Tools Tools (Number and name) Illustration Use 09200-3N000 Engine support fixture (Beam) Removal and installation of the transaxle...
Other information:
Replacement • When installing the belt, make sure not to damage the pretensioner. 1. Loosen the mounting bolt and remove the front seat belt lower anchor (A)...
..
Categories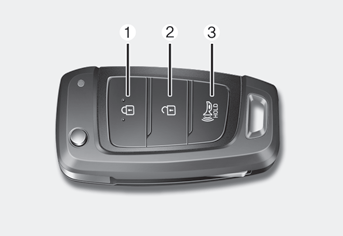 Your HYUNDAI uses a remote key, which you can use to lock or unlock the driver and passenger doors or the rear liftgate.
(1) Door Lock
(2) Door Unlock
(3) Panic
Locking Your Vehicle
To lock your vehicle:
1. Make sure all doors, the engine hood and the liftgate are closed.