Hyundai Venue: Automatic Climate Control System / System Maintenance
Cabin air filter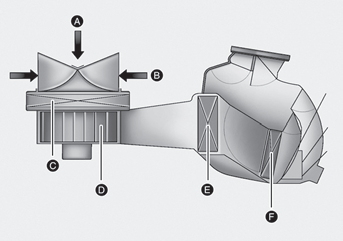 [A] : Outside air, [B] : Recirculated air [C] : Cabin air filter, [D] : Blower [E] : Evaporator core, [F] : Heater core
The cabin air filter is installed behind the glove box. It filters the dust or other pollutants that enter the vehicle through the heating and air conditioning system.
Have the The cabin air filter replaced by an authorized HYUNDAI dealer according to the maintenance schedule. If the vehicle is being driven in severe conditions such as dusty or rough roads, more frequent cabin air filter inspections and changes are required.
If the air flow rate suddenly decreases, the system should be checked at an authorized HYUNDAI dealer.
Checking the amount of air conditioner refrigerant and compressor lubricant
When the amount of refrigerant is low, the performance of the air conditioning is reduced. Overfilling also reduces the performance of the air conditioning system.
Therefore, if abnormal operation is found, have the system inspected by an authorized HYUNDAI dealer.
NOTICE
It is important that the correct type and amount of oil and refrigerant is used. Otherwise, damage to the compressor and abnormal system operation may occur.
WARNING

Because the refrigerant is mildly inflammable at very high pressure, the air conditioning system should only be serviced by trained and certified technicians. It is important that the correct type and amount of oil and refrigerant is used.
Otherwise, it may cause damage to the vehicle and personal injury.
The air conditioning system should be serviced by an authorized HYUNDAI dealer.
Air conditioning refrigerant label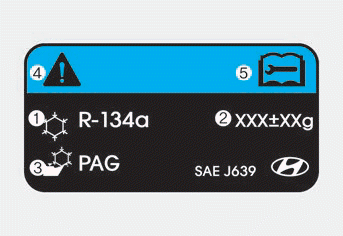 The actual Air Conditioning refrigerant label in the vehicle may differ from the illustration.
Each symbols and specification on air conditioning refrigerant label means as below:
1. Classification of refrigerant
2. Amount of refrigerant
3. Classification of Compressor lubricant
4. Caution
5. Service manual
Refer to chapter 2 for more detail location of the air conditioning refrigerant label.
Cooling / Ventilation 1. Select the Face Level mode. 2. Set the air intake control to fresh mode. 3. Set the temperature control to the desired position...
WARNING Windshield heating Do not use the or position during cooling operation in extremely humid weather. The difference between the temperature of the outside air and that of the windshield could cause the outer surface of the windshield to fog up, causing loss of visibility could cause an accident resulting in serious injury or death...
Other information:
Driver's and passenger's front air bags Your vehicle is equipped with an Advanced Supplemental Restraint System (SRS) and lap/shoulder belts at both the driver and passenger seating positions. The SRS consists of air bags which are located in the center of the steering wheel, in the driver's side lower crash pad below the steering wheel column and the passenger's side front panel pad above the glove box...
..