Hyundai Venue: Vehicle Information / Tires and Wheels

NOTICE
It is permissible to add 3 psi to the standard tire pressure specification if colder temperatures are expected soon. Tires typically loose 1psi (7kPa) for every 12°F temperature drop. If extreme temperature variations are expected, recheck your tire pressure as necessary to keep them properly inflated.
An air pressure generally decreases, as you drive up to a high-altitude area above sea level. Thus, if you plan to drive a high-altitude area, check the tire pressures in advance. If necessary, inflate them to a proper level. (Air inflation per altitude: +2.4 psi/1 mile)
CAUTION
When replacing tires, use the same size originally supplied with the vehicle. Using tires of a different size can damage the related parts or not work properly.
When replacing tires, ALWAYS use the same size, type, construction and tread pattern supplied with the vehicle for all tires.
Volume and Weight M/T: Manual transmission IVT: Intelligent variable transmission Air Conditioning System Contact an authorized HYUNDAI dealer for more details...
Other information:
Shift to P to edit settings This warning message appears if you try to adjust the User Settings while driving. For your safety, change the User Settings after parking the vehicle, applying the parking brake and moving the shift lever to P (Park)...
A vehicle's electrical system is protected from electrical overload damage by fuses. This vehicle has 2 (or 3) fuse panels, one located in the driver's side panel bolster, the other in the engine compartment near the battery. If any of your vehicle's lights, accessories, or controls do not work, check the appropriate circuit fuse...
Categories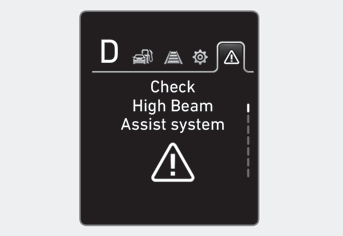 This warning light informs the driver the following situations.
-- Forward Collision-Avoidance Assist system malfunction (if equipped)
-- Forward Collision-Avoidance Assist radar blocked (if equipped)
-- Blind-Spot Collision Warning system malfunction (if equipped)
-- Blind-Spot Collision Warning radar blocked (if equipped)
-- Lamp malfunction (if equipped)
-- High Beam Assist malfunction (if equipped)
-- Tire Pressure Monitoring System (TPMS) malfunction (if equipped)