Hyundai Venue: General Information / Troubleshooting
Symptom

Suspect Area

Remedy

Engine will not start or is hard to
start (Cranks OK)

Ignition lock switch

Inspect ignition lock switch, or replace as required

Ignition coil

Inspect ignition coil, or replace as required

Spark plugs

Inspect spark plugs, or replace as required

Ignition wiring disconnected or broken

Repair wiring, or replace as required

Rough idle or stalls

Ignition wiring

Repair wiring, or replace as required

Ignition coil

Inspect ignition coil, or replace as required

Engine hesitates/poor acceleration

Spark plugs and spark plug cables

Inspect spark plugs / cable, or replace as required

Ignition wiring

Repair wiring, or replace as required

Poor mileage

Spark plugs and spark plug cables

Inspect spark plugs / cable, or replace as required

Symptom

Suspect Area

Remedy

Charging warning indicator does not
light with ignition switch "ON" and
engine off.

Fuse blown

Check fuses

Light burned out

Replace light

Wiring connection loose

Tighten loose connection

Electronic voltage regulator

If light turns off, replace voltage regulator.

Charging warning indicator does not
go out with engine running. (Battery
requires frequent recharging)

Drive belt loose or worn

Adjust belt tension or replace belt

Battery cable loose, corroded or worn

Inspect cable connection, repair or replace cable

Electronic voltage regulator or alternator

If light turns off, replace voltage regulator or alternator

Wiring

Repair or replace wiring

Overcharge

Electronic voltage regulator

If light turns off, replace voltage regulator.

Voltage sensing wire

Repair or replace wiring

Discharge

Drive belt loose or worn

Adjust belt tension or replace belt

Wiring connection loose or short circuit

Inspect wiring connection, repair or replace wiring

Electronic voltage regulator or alternator

If light turns off, replace voltage regulator or alternator

Poor grounding

Inspect ground or repair

Worn battery

Replace battery

Symptom

Suspect Area

Remedy

Engine will not crank

Battery charge low

Charge or replace battery

Battery cables loose, corroded or worn out

Repair or replace cables

Transaxle range switch
(Vehicle with automatic transaxle only)

Refer to AT group-automatic transaxle

Fuse blown

Replace fuse

Starter motor faulty

Replace

Ignition switch faulty

Replace

Engine cranks slowly

Battery charge low

Charge or replace battery

Battery cables loose, corroded or worn out

Repair or replace cables

Starter motor faulty

Replace

Starter keeps running

Starter motor faulty

Replace

Ignition switch

Replace

Starter spins but engine will not crank

Short in wiring

Repair or replace wiring

Pinion gear teeth broken or starter motor

Replace

Ring gear teeth broken

Replace fly wheel or torque converter

Specification Ignition System Ignition Coil Item Specification Primary Coil Resistance (Ω) 0...
Other information:
..
Replacement • Put on gloves to prevent hand injuries. • When removing with a flat-tip screwdriver or remover, wrap protective tape around the tools to prevent damage to components...
Categories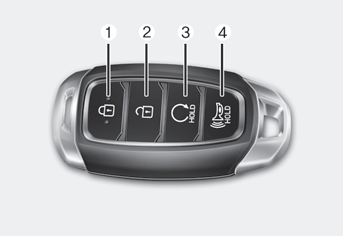 Your HYUNDAI uses a Smart Key, which you can use to lock or unlock the driver and passenger doors or the rear liftgate.
1. Door Lock
2. Door Unlock
3. Remote start