Hyundai Venue: Maintenance / Washer Fluid
Checking the Washer Fluid Level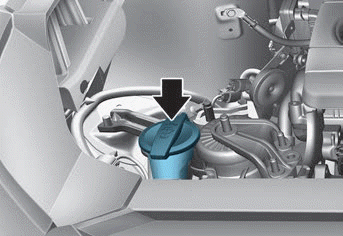 Check the fluid level in the washer fluid reservoir and add fluid if necessary. Plain water may be used if washer fluid is not available. However, use washer solvent with antifreeze characteristics in cold climates to prevent freezing.
WARNING
To prevent serious injury or death, take the following safety precautions when using washer fluid:
Do not use engine coolant or antifreeze in the washer fluid reservoir. Engine coolant can severely obscure visibility when sprayed on the windshield and may cause loss of vehicle control resulting in an accident or damage to paint and body trim.
Do not allow sparks or flames to contact the washer fluid or the washer fluid reservoir. Washer fluid may contain alcohol and can be flammable.
Do not drink washer fluid and avoid contact with skin. Washer fluid is harmful to humans and animals.
Keep washer fluid away from children and animals.
Categories
The vehicle's front and rear seats have adjustable head restraints. The head restraints provide comfort for passengers, but more importantly they are designed to help protect passengers from whiplash and other neck and spinal injuries during an accident, especially in a rear impact collision.
WARNING
To reduce the risk of serious injury or death in an accident, take the following precautions when adjusting your head restraints:
Always properly adjust the head restraints for all passengers BEFORE starting the vehicle. NEVER let anyone ride in a seat with the head restraints removed or reversed.