Hyundai Venue: Maintenance / Wiper Blades
Blade Inspection
Contamination of either the windshield or the wiper blades with foreign matter can reduce the effectiveness of the windshield wiper functionality. Common sources of contamination are insects, tree sap, and hot wax treatments used by some commercial car washes. If the blades are not wiping properly, clean both the window and the blades with a clean cloth dampened with washer fluid.
NOTICE
To prevent damage to the wiper blades, arms or other components, do not:
Use gasoline, kerosene, paint thinner, or other solvents on or near them.
Attempt to move the wipers manually.
Use non-specified wiper blades.
Information
Commercial hot waxes applied by automatic car washes have been known to make the windshield difficult to clean.
Categories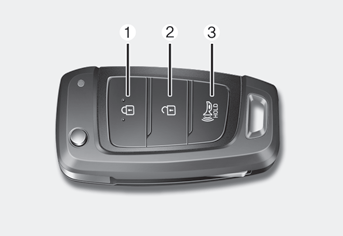 Your HYUNDAI uses a remote key, which you can use to lock or unlock the driver and passenger doors or the rear liftgate.
(1) Door Lock
(2) Door Unlock
(3) Panic
Locking Your Vehicle
To lock your vehicle:
1. Make sure all doors, the engine hood and the liftgate are closed.