Hyundai Venue: Hydraulic System / 26 Brake Control Solenoid Valve (26/B_VFS). Repair procedures
| | |
| --- | --- |
| • | Refer to the DTC manual for the check procedure. |
| | |
| --- | --- |
| • | When the solenoid valve Diagnostic Trouble Codes (DTC) is on, perform the following procedure to replace it. |
| | |
| --- | --- |
| • | Automatic transaxle is composed of delicate components. Be careful not to cause any damage on the component in the course of assembly and disassembly. |
| | |
| --- | --- |
| • | Maintain clean condition so that foreign substance does not get into the automatic transaxle. |
| | |
| --- | --- |
| • | Use a coated apron, latex gloves, and stainless tray to prevent foreign substance from getting into the transaxle. |
| | |
| --- | --- |
| • | Automatic transaxle fluid (ATF) can be reused. Collect it using a clean 10-liter beaker. |
| | |
| --- | --- |
| 1. | Turn ignition switch OFF and disconnect the negative (-) battery cable. |
2.

Remove the air cleaner and air duct.

| | |
| --- | --- |
| (1) | Remove the air duct (A). |

| | |
| --- | --- |
| (2) | Disconnect the breather hose (B) and air intake hose (C). |

(3)

Remove the air cleaner assembly (D).

Tightening torque :

Hose clamp bolt (C):

2.9 - 4.9 N.m (0.3 - 0.5 kgf.m, 2.1 - 3.6 lb-ft)

Air cleaner assembly bolts (D) :

3.9 - 5.9 N.m (0.4 - 0.6 kgf.m, 2.9 - 4.3 Ib-ft)
3.

Discharge the automatic transaxle fluid (ATF).

(Refer to Automatic Transaxle Syatem - "Automatic Transaxle Fluid (ATF)")
| | |
| --- | --- |
| 4. | Disconnect the wiring fixing clip (A). |
| | |
| --- | --- |
| 5. | Disconnect the air bleeder hose (B). |
6.

Disconnect the ATF cooler hose (A).

| | |
| --- | --- |
| • | Be careful not to cause any damage on the hose when tightening the clamp. |

| | |
| --- | --- |
| • | Mount the clamp tightening part in the designated direction so that interference does not occur with the adjacent parts. |

| | |
| --- | --- |
| • | After connecting the hose, check for oil leakage on the connecting part while the engine is on. |
7.

Unscrew the bolts and remove the valve body cover (A).

Tightening torque :

11.8 - 13.7 N.m (1.2 - 1.4 kgf.m, 8.7 - 10.1 lb-ft)

| | |
| --- | --- |
| • | When re-mounting the valve body cover, replace the gasket with a new one. |

| | |
| --- | --- |
| • | After mounting the valve body cover, check for oil leakage on the connecting part while the engine is on. |
8.

Unscrew the bolts and disconnect the solenoid valve connector (A).

Tightening torque :

9.8 - 11.8 N.m (1.0 - 1.2 kgf.m, 7.2 - 8.7 lb - ft)
9.

Remove the support bracket (A).

Tightening torque :

9.8-11.8N.m (1.0 - 1.2 kgf.m, 7.2 - 8.7 lb-ft)
10.

Remove the roller (A) and bolt (B).

Tightening torque :

9.8 - 11.8N.m (1.0 - 1.2 kgf.m, 7.2 - 8.7 lb-ft)
| | |
| --- | --- |
| 11. | Remove the 26 brake control solenoid valve (A). |
| | |
| --- | --- |
| • | Note the value carefully and check the value again before assembly. |
| | |
| --- | --- |
| • | Inputting an invalid value (A) may cause the abnormal shifting shock while TCM learning. |
| | |
| --- | --- |
| 1. | To install, reverse the removal procedure. |
2.

Inject the automatic transaxle oil and inspect the oil level.

(Refer to Automatic Transaxle System - "Automatic Transaxle Fluid (ATF)")
3.

Clear the diagnostic trouble codes (DTC) using the diagnostic tool.

| | |
| --- | --- |
| • | Even though disconnecting the battery negative terminal, the DTCs will not be cleared. So, be sure to clear the DTCs using the diagnostic tool. |
| | |
| --- | --- |
| 4. | Reset the automatic transaxle adaptive values using the diagnostic tool. |
5.

Input the oil pressure characteristics using the diagnostic tool.

| | |
| --- | --- |
| (1) | Select 'Oil-pressure Characteristics (Solenoid Valve Replacement)' in the S/W Management. |

| | |
| --- | --- |
| (2) | Select the replaced solenoid valve. |

(3)

Check the code marked on the solenoid valve.

(※ Caution : Check the code at first before replacement)

| | |
| --- | --- |
| (4) | If the code is inputted 2 times correctly, the procedure is completed. |
6.

In order to prevent start delay and gear shift shock during acceleration and start, perform TCM learning after replacing the solenoid valve.

(Refer to Automatic Transaxle Control System - "Repair Procedures")
Component Location (1)_Valve Body Cover 1. Valve Body Cover 3. Solenoid Valve Connector 2. Valve Body Cover Gasket Component Location (2)_Solenoid Valve 1...
Description • Line pressure control solenoid valve is attached to the valve body. • This variable force solenoid valve indirectly controls the hydraulic pressure inside the line pressure...
Other information:
Replacement • When installing the belt, make sure not to damage the pretensioner. 1. Remove the rear seat assembly...
..
Categories
Vehicle Identification Number (vin)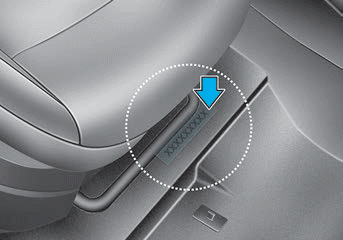 Frame number