Hyundai Venue: Hydraulic System / 26 Brake Control Solenoid Valve (26/B_VFS). Repair procedures
| | |
| --- | --- |
| • | Refer to the DTC manual for the check procedure. |
| | |
| --- | --- |
| • | When the solenoid valve Diagnostic Trouble Codes (DTC) is on, perform the following procedure to replace it. |
| | |
| --- | --- |
| • | Automatic transaxle is composed of delicate components. Be careful not to cause any damage on the component in the course of assembly and disassembly. |
| | |
| --- | --- |
| • | Maintain clean condition so that foreign substance does not get into the automatic transaxle. |
| | |
| --- | --- |
| • | Use a coated apron, latex gloves, and stainless tray to prevent foreign substance from getting into the transaxle. |
| | |
| --- | --- |
| • | Automatic transaxle fluid (ATF) can be reused. Collect it using a clean 10-liter beaker. |
| | |
| --- | --- |
| 1. | Turn ignition switch OFF and disconnect the negative (-) battery cable. |
2.

Remove the air cleaner and air duct.

| | |
| --- | --- |
| (1) | Remove the air duct (A). |

| | |
| --- | --- |
| (2) | Disconnect the breather hose (B) and air intake hose (C). |

(3)

Remove the air cleaner assembly (D).

Tightening torque :

Hose clamp bolt (C):

2.9 - 4.9 N.m (0.3 - 0.5 kgf.m, 2.1 - 3.6 lb-ft)

Air cleaner assembly bolts (D) :

3.9 - 5.9 N.m (0.4 - 0.6 kgf.m, 2.9 - 4.3 Ib-ft)
3.

Discharge the automatic transaxle fluid (ATF).

(Refer to Automatic Transaxle Syatem - "Automatic Transaxle Fluid (ATF)")
| | |
| --- | --- |
| 4. | Disconnect the wiring fixing clip (A). |
| | |
| --- | --- |
| 5. | Disconnect the air bleeder hose (B). |
6.

Disconnect the ATF cooler hose (A).

| | |
| --- | --- |
| • | Be careful not to cause any damage on the hose when tightening the clamp. |

| | |
| --- | --- |
| • | Mount the clamp tightening part in the designated direction so that interference does not occur with the adjacent parts. |

| | |
| --- | --- |
| • | After connecting the hose, check for oil leakage on the connecting part while the engine is on. |
7.

Unscrew the bolts and remove the valve body cover (A).

Tightening torque :

11.8 - 13.7 N.m (1.2 - 1.4 kgf.m, 8.7 - 10.1 lb-ft)

| | |
| --- | --- |
| • | When re-mounting the valve body cover, replace the gasket with a new one. |

| | |
| --- | --- |
| • | After mounting the valve body cover, check for oil leakage on the connecting part while the engine is on. |
8.

Unscrew the bolts and disconnect the solenoid valve connector (A).

Tightening torque :

9.8 - 11.8 N.m (1.0 - 1.2 kgf.m, 7.2 - 8.7 lb - ft)
9.

Remove the support bracket (A).

Tightening torque :

9.8-11.8N.m (1.0 - 1.2 kgf.m, 7.2 - 8.7 lb-ft)
10.

Remove the roller (A) and bolt (B).

Tightening torque :

9.8 - 11.8N.m (1.0 - 1.2 kgf.m, 7.2 - 8.7 lb-ft)
| | |
| --- | --- |
| 11. | Remove the 26 brake control solenoid valve (A). |
| | |
| --- | --- |
| • | Note the value carefully and check the value again before assembly. |
| | |
| --- | --- |
| • | Inputting an invalid value (A) may cause the abnormal shifting shock while TCM learning. |
| | |
| --- | --- |
| 1. | To install, reverse the removal procedure. |
2.

Inject the automatic transaxle oil and inspect the oil level.

(Refer to Automatic Transaxle System - "Automatic Transaxle Fluid (ATF)")
3.

Clear the diagnostic trouble codes (DTC) using the diagnostic tool.

| | |
| --- | --- |
| • | Even though disconnecting the battery negative terminal, the DTCs will not be cleared. So, be sure to clear the DTCs using the diagnostic tool. |
| | |
| --- | --- |
| 4. | Reset the automatic transaxle adaptive values using the diagnostic tool. |
5.

Input the oil pressure characteristics using the diagnostic tool.

| | |
| --- | --- |
| (1) | Select 'Oil-pressure Characteristics (Solenoid Valve Replacement)' in the S/W Management. |

| | |
| --- | --- |
| (2) | Select the replaced solenoid valve. |

(3)

Check the code marked on the solenoid valve.

(※ Caution : Check the code at first before replacement)

| | |
| --- | --- |
| (4) | If the code is inputted 2 times correctly, the procedure is completed. |
6.

In order to prevent start delay and gear shift shock during acceleration and start, perform TCM learning after replacing the solenoid valve.

(Refer to Automatic Transaxle Control System - "Repair Procedures")
Component Location (1)_Valve Body Cover 1. Valve Body Cover 3. Solenoid Valve Connector 2. Valve Body Cover Gasket Component Location (2)_Solenoid Valve 1...
Description • Line pressure control solenoid valve is attached to the valve body. • This variable force solenoid valve indirectly controls the hydraulic pressure inside the line pressure...
Other information:
Replacement 1. Turn the steering wheel so that the front wheels are placed in the straight ahead position. • If the steering wheel and the front tires are not set straight ahead together, it may affect the number of circulation of steering wheel and damage the cable inside the clock spring...
..
Categories
Vehicle Identification Number (vin)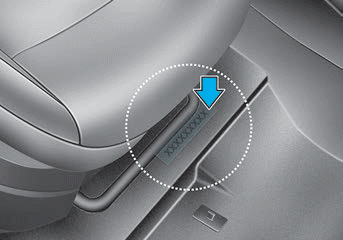 Frame number