Hyundai Venue: Blower / Blower Unit. Repair procedures
| | |
| --- | --- |
| 1. | Disconnect the negative (-) battery terminal. |
| | |
| --- | --- |
| 2. | Recover the refrigerant with a recovery / recycling / charging station. |
3.

When the engine is cool, drain the engine coolant from the radiator.

(Refer to Engine Mechanical System - "Coolant")
4.

Remove the engine cover.

(Refer to Engine Mechanical System - "Engine Cover")
5.

Remove the bolts and the expansion valve (A) from the evaporator core.

Tightening torque :

8.8 - 13.7 N.m (0.9 - 1.4 kgf.m, 6.5 - 10.1 Ib-ft)

| | |
| --- | --- |
| • | Plug or cap the lines immediately after disconnecting them to avoid moisture and dust contamination. |

| | |
| --- | --- |
| • | When installing, replace with a new O-ring. |
6.

Press the lock pin and separate the heater hoses (A) from the heater unit.

| | |
| --- | --- |
| • | Engine coolant will run out when the hoses are disconnected; drain it into a clean drip pan. Be sure not to let coolant spill on electrical parts or painted surfaces. If any coolant spills, rinse it off immediately. |
| | |
| --- | --- |
| 7. | Loosen the cowl cross member mounting bolts. |
8.

Remove the floor console assembly.

(Refer to Body - "Floor Console Assembly")
9.

Remove the crash pad lower panel.

(Refer to Body - "Crash Pad Lower Panel")
10.

Remove both sides of the front pillar trim.

(Refer to Body - "Front Pillar Trim")
11.

Remove the cowl side trim.

(Refer to Body - "Cowl Side Trim")
12.

Remove the steering column shroud lower panel.

(Refer to Body - "Steering Column Shroud Panel")
13.

Remove the steering wheel.

(Refer to Steering System - "Steering Wheel")
14.

Remove the multifunction switch.

(Refer to Body Electrical System - "Multifunction Switch")
15.

Lower the steering column after loosening the mounting bolts.

(Refer to Steering System - "Steering Column and Shaft")
16.

Remove the shift lever assembly.

(Refer to Automatic Transmission System - "Shift Lever")
17.

Loosen the cowl cross bar mounting bolt.

Tightening torque :

18.6 - 25.5 N.m (1.9 - 2.6 kgf.m, 13.7 - 18.8 Ib-ft)
18.

Disconnect the connectors (A) and the mounting clips in the front pillar.

[LH]

[RH]
| | |
| --- | --- |
| 19. | Disconnect the junction box connectors (A). |
20.

Disconnect the multi box connectors (A).

[LH]

[RH]
| | |
| --- | --- |
| 21. | Disconnect the airbag control module (SRSCM) connector (A). |
| | |
| --- | --- |
| 22. | Separate the blower motor connector (A) and loosen the blower unit mounting bolts. |
| | |
| --- | --- |
| 23. | Remove the drain hose (A). |
24.

Loosen the bolts and remove the main crash pad and cowl cross bar assembly (A) together.

Tightening torque :

(A) : 16.7 - 25.5 N.m (1.9 - 2.6 kgf.m, 12.7 - 18.8 Ib-ft)

Remaining :

6.9 - 10.8 N.m (0.7 - 1.1 kgf.m, 5.1 - 8.0 Ib-ft)
25.

Disconnect the heater & blower unit connectors.

| | |
| --- | --- |
| 1) | Disconnect the intake actuator connector (A). |

| | |
| --- | --- |
| 2) | Disconnect the mode actuator connector (A). |

| | |
| --- | --- |
| 3) | Disconnect the cluster ionizer connector (A), power mosfet connector (B) and temperature control actuator connector (C.). |
26.

Loosen the heater & blower unit mounting bolt.

Tightening torque :

3.9 - 5.9 N.m (0.4 - 0.6 kgf.m , 2.9 - 4.3 lb-ft)
27.

Loosen the mounting nuts and remove the heater & blower unit (A) from the crash pad.

Tightening torque :

3.9 - 5.9 N.m (0.4 - 0.6 kgf.m , 2.9 - 4.3 lb-ft)
| | |
| --- | --- |
| 28. | Loosen the mounting screw and separate the heater unit (B) from the blower unit (A). |
| | |
| --- | --- |
| 29. | Install in the reverse order of removal. |
Component Location 1. Blower unit assembly Component Location 1. Intake seal 2...
Inspection 1. Connect the battery voltage and check the blower motor rotation. 2. If the blower motor does not operate well, substitute with a known-good blower motor and check for proper operation...
Other information:
Inspection 1. Disconnect the negative (-) battery terminal. 2. Remove the crash pad lower panel (A). (Refer to Body - "Crash Pad Lower Panel") 3. Remove the crash pad lower switch (A)...
..
Categories
Seat belt warning light (for driver's seat)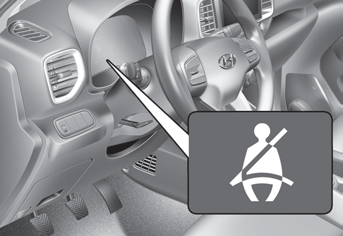 As a reminder to the driver, the seat belt warning light will illuminate for approximately 6 seconds each time you place the ignition switch to the ON position regardless of belt fastening. However, if the seat belt is unfasted, a warning chime will sound for approximately 6 seconds.