Hyundai Venue: Engine Control System / Components and components location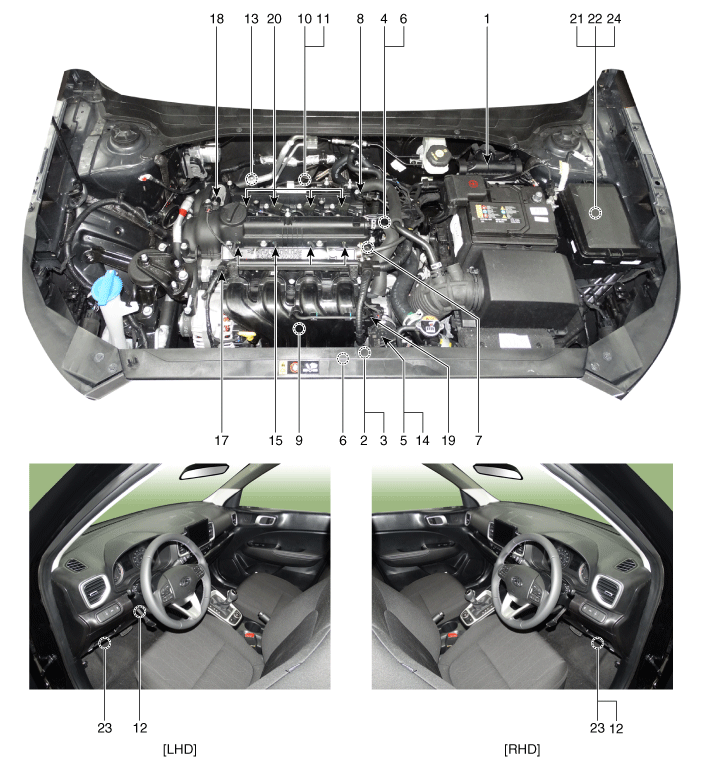 1. ECM (Engine Control Module)
2. Manifold Absolute Pressure Sensor (MAPS)
3. Intake Air Temperature Sensor (IATS)
4. Engine Coolant Temperature Sensor (ECTS)
5. Throttle Position Sensor (TPS) [integrated into ETC Module]
6. Crankshaft Position Sensor (CKPS)
7. Camshaft Position Sensor (CMPS) [Bank 1 / Intake]
8. Camshaft Position Sensor (CMPS) [Bank 1 / Exhaust]
9. Knock Sensor (KS)
10. Heated Oxygen Sensor (HO2S) [Bank 1 / Sensor 1]
11. Heated Oxygen Sensor (HO2S) [Bank 1 / Sensor 2]
12. Accelerator Position Sessor (APS)

13. A/C Pressure Transducer (APT)
14. ETC Motor [integrated into ETC Module]
15. Injector
16. Purge Control Solenoid Valve (PCSV)
17. CVVT Oil Control Valve (OCV) [Bank 1 / Intake]
18. CVVT Oil Control Valve (OCV) [Bank 1 / Exhaust]
19. Variable Intake Solenoid (VIS) Valve
20. Ignition Coil
21. Main Relay
22. Fuel Pump Relay
23. Data Link Connector (DLC) [16 pin]
24. Multi-Purpose Connector [6 pin]

1. ECM (Engine Control Module)

2. Manifold Absolute Pressure Sensor (MAPS)
3. Intake Air Temperature Sensor (IATS)


4. Engine Coolant Temperature Sensor (ECTS)


5. Throttle Position Sensor (TPS) [Integrated into ETC Module]
14. ETC Motor [integrated into ETC Module]


6. Crankshaft Position Sensor (CKPS)

7. Camshaft Position Sensor (CMPS) [Bank 1 / Intake]


8. Camshaft Position Sensor (CMPS) [Bank 1 / Exhaust]

9. Knock Sensor (KS)


10. Heated Oxygen Sensor (HO2S) [Bank 1 / Sensor 1]

11. Heated Oxygen Sensor (HO2S) [Bank 1 / Sensor 2]


12. Accelerator Position Sessor (APS)

13. A/C Pressure Transducer (APT)


15. Injector
20. Ignition Coil

16. Purge Control Solenoid Valve (PCSV)


17. CVVT Oil Control Valve (OCV) [Bank 1 / Intake]

18. CVVT Oil Control Valve (OCV) [Bank 1 / Exhaust]


19. Variable Intake Solenoid (VIS) Valve

21. Main Relay
22. Fuel Pump Relay


23. Data Link Connector (DLC) [16 pin]

24. Multi-Purpose Check Connector [6 pin]

Description If the Gasoline Engine Control system components (sensors, ECM, injector, etc.) fail, interruption to the fuel supply or failure to supply the proper amount of fuel for various engine operating conditions will result...
Other information:
If the driver removes the ignition key (key type) or turns off the engine (button start type) when the sunroof is not fully closed, the warning chime will sound for a few seconds and a warning image will appear in the LCD window. Close the sunroof securely when leaving your vehicle...
Important Safety Notice Proper service methods and repair procedures are essential for safe, reliable operation of all motor vehicles as well as personal safety of the operator. The service procedures and descriptions in this shop manual provide general directions for service and repair...
Categories
Seat belt warning light (for driver's seat)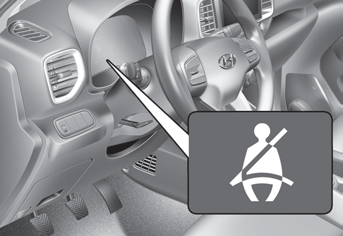 As a reminder to the driver, the seat belt warning light will illuminate for approximately 6 seconds each time you place the ignition switch to the ON position regardless of belt fastening. However, if the seat belt is unfasted, a warning chime will sound for approximately 6 seconds.