Hyundai Venue: Manual Transaxle Control System / Control Shaft Complete. Repair procedures
| | |
| --- | --- |
| 1. | Set shift lever to N position. |
| | |
| --- | --- |
| 2. | Turn OFF ignition switch and disconnect the negative (-) battery cable. |
3.

Remove the air cleaner and air duct.

| | |
| --- | --- |
| (1) | Remove the air duct (A). |

| | |
| --- | --- |
| (2) | Disconnect the breather hose (B) and air intake hose (C). |

(3)

Remove the air cleaner assembly (D).

Tightening torque :

Hose clamp bolt (C):

2.9 - 4.9 N.m (0.3 - 0.5 kgf.m, 2.1 - 3.6 lb-ft)

Air cleaner assembly bolts (D) :

3.9 - 5.9 N.m (0.4 - 0.6 kgf.m, 2.9 - 4.3 Ib-ft)
4.

Remove the battery (+) terminal (A).

Tightening torque :

7.8 - 9.8 N.m (0.8 - 1.0 kgf.m, 5.8 - 7.2 lb-ft)
5.

Remove the battery mounting bracket (A) and the battery (B).

Tightening torque :

9.0 - 14.0 N.m (0.9 - 1.4 kgf.m, 6.6 - 10.3 Ib-ft)
6.

Remove the ECM.

| | |
| --- | --- |
| (1) | Disconnect the ECM connector (A). |

| | |
| --- | --- |
| (2) | Loosen the mounting bolts (B) and then removing the ECM bracket assembly. |

Tightening torque :

9.8 - 11.8 N.m (1.0 - 1.2 kgf.m, 7.2 - 8.7 lb-ft)
7.

Remove the battery tray.

(1)

Loosen the mounting bolt (A) and then removing the battery (+) terminal bracket.

Tightening torque :

8.0 - 10.0 N.m (0.8 - 1.0 kgf.m, 5.9 - 7.4 lb-ft)

(2)

Loosen the bolts and then removing the battery tray (A).

Tightening torque :

8.8 - 13.7 N.m (0.9 - 1.4 kgf.m, 6.5 - 10.1 Ib-ft)
8.

Separate the control cable.

| | |
| --- | --- |
| 1) | Remove the snap pin (A). |

| | |
| --- | --- |
| 2) | Separate the select cable (B) and then shift cable (C). |
9.

Remove the control shaft assembly (A) after loosening the bolts.

Tightening torque :

19.6 - 26.5 N.m (2.0 - 2.7 kgf.m,14.5 - 19.5 lb-ft)
1.

To install, reverse the removal procedures.

| | |
| --- | --- |
| • | When installing, set control shaft lever to neutral position (A). |

•

Apply the sealant to the contact surface of transaxle and control shaft.

Specified sealant : MS721-40 or MS721-38
| | |
| --- | --- |
| 2. | After installing, check to be sure that this part operates as designed at each range of transaxle side corresponding to each position of shift lever. |
Other information:
..
Components 1. Housing - Oil pump 2. Cover - Oil pump 3. Gear - Oil pump drive 4. Gear - Oil pump driven 5. Shaft - Reaction 6. Oil - Seal 7. Sleeve 8. Bearing - Housing 9. Cap - Sealing 10. Needle roller bearing 11...
Categories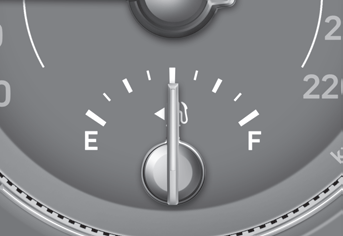 This gauge indicates the approximate amount of fuel remaining in the fuel tank.
Information
The fuel tank capacity is given in chapter 2. The fuel gauge is supplemented by a low fuel warning light, which will illuminate when the fuel tank is nearly empty. On inclines or curves, the fuel gauge pointer may fluctuate or the low fuel warning light may come on earlier than usual due to the movement of fuel in the tank.