Hyundai Venue: Cooling System / Cooling Fan. Repair procedures
Cooling Fan Assembly
| | |
| --- | --- |
| 1. | Disconnect the battery negative terminal. |
2.

Remove the air duct.

(Refer to Intake and Exhaust System - "Air Cleaner")
| | |
| --- | --- |
| 3. | Disconnect the over flow hose (A). |
4.

Disconnect the radiator upper hose (A) and then remove the filler neck assembly (B).

Tightening torque:

7.8 - 11.8 Nm (0.8 - 1.2 kgf.m, 5.8 - 8.7 lb-ft)
| | |
| --- | --- |
| 5. | Disconnect the wiring harness connector (A). |
6.

Remove the front bumper.

(Refer to Body (Interior and Exterior) - "Front Bumper")
7.

Remove the intake shield (A).

Tightening torque:

7.8 - 11.8 Nm (0.8 - 1.2 kgf.m, 5.8 - 8.7 lb-ft)
8.

Remove the radiator upper mounting bracket (A).

Tightening torque :

7.8 - 11.8 Nm (0.8 - 1.2 kgf.m, 5.8 - 8.7 lb-ft)

[LH]

[RH]
9.

Remove the front bumper beam.

(Refer to Body (Interior and Exterior) - "Front Bumper Beam Assembly")
| | |
| --- | --- |
| 10. | Disconnect the ATF cooler hoses (A). |
| | |
| --- | --- |
| 11. | Remove the cooling fan (A) from the radiator. |
| | |
| --- | --- |
| 12. | Install in the reverse order of removal. |
13.

Fill with engine coolant.

(Refer to Cooling System - "Coolant")

| | |
| --- | --- |
| • | The coolant must be injected according to the integrated thermal management module (ITM) coolant filling method. |
Resistor
| | |
| --- | --- |
| 1. | Disconnect the battery terminals. |
| | |
| --- | --- |
| 2. | Disconnect the wire harness connector (A) and fan motor connector (B). |
3.

Remove the resistor (A) from fan shroud.

Tightening torque :

1.7 - 2.4 (0.18 - 0.25 kgf.m, 1.3 - 1.8 lb-ft)
| | |
| --- | --- |
| 4. | Install in the reverse order of removal. |
Disassembly
1.

Remove the cooling fan (A) from the cooling fan shroud.

Tightening torque :

2.8 - 3.2 N.m (0.28 - 0.33 kgf.m, 2.1 - 2.4 lb-ft)
| | |
| --- | --- |
| 2. | Disconnect the fan motor connector (A) from the resistor. |
3.

Loosen the screws and then remove the fan motor (B) from the cooling fan shroud.

Tightening torque :

3.9 - 5.8 N.m (0.4 - 0.6 kgf.m, 2.8 - 4.3 lb-ft)
| | |
| --- | --- |
| 4. | Assemble in the reverse order of disassembly. |
Removal and Installation • Never remove the radiator cap when the engine is hot...
Other information:
WARNING Before installing your child restraint system always: Read and follow the instructions provided by the manufacturer of the child restraint. Read and follow the instructions regarding child restraint systems in this manual. Failure to follow all warnings and instructions could increase the risk of the SERIOUS INJURY or DEATH if an accident occurs...
..
Categories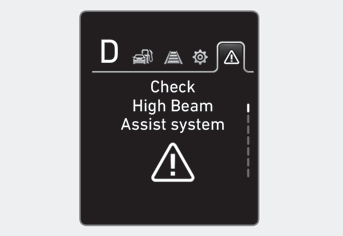 This warning light informs the driver the following situations.
-- Forward Collision-Avoidance Assist system malfunction (if equipped)
-- Forward Collision-Avoidance Assist radar blocked (if equipped)
-- Blind-Spot Collision Warning system malfunction (if equipped)
-- Blind-Spot Collision Warning radar blocked (if equipped)
-- Lamp malfunction (if equipped)
-- High Beam Assist malfunction (if equipped)
-- Tire Pressure Monitoring System (TPMS) malfunction (if equipped)