Hyundai Venue: Cooling System / Cooling Fan. Repair procedures
Cooling Fan Assembly
| | |
| --- | --- |
| 1. | Disconnect the battery negative terminal. |
2.

Remove the air duct.

(Refer to Intake and Exhaust System - "Air Cleaner")
| | |
| --- | --- |
| 3. | Disconnect the over flow hose (A). |
4.

Disconnect the radiator upper hose (A) and then remove the filler neck assembly (B).

Tightening torque:

7.8 - 11.8 Nm (0.8 - 1.2 kgf.m, 5.8 - 8.7 lb-ft)
| | |
| --- | --- |
| 5. | Disconnect the wiring harness connector (A). |
6.

Remove the front bumper.

(Refer to Body (Interior and Exterior) - "Front Bumper")
7.

Remove the intake shield (A).

Tightening torque:

7.8 - 11.8 Nm (0.8 - 1.2 kgf.m, 5.8 - 8.7 lb-ft)
8.

Remove the radiator upper mounting bracket (A).

Tightening torque :

7.8 - 11.8 Nm (0.8 - 1.2 kgf.m, 5.8 - 8.7 lb-ft)

[LH]

[RH]
9.

Remove the front bumper beam.

(Refer to Body (Interior and Exterior) - "Front Bumper Beam Assembly")
| | |
| --- | --- |
| 10. | Disconnect the ATF cooler hoses (A). |
| | |
| --- | --- |
| 11. | Remove the cooling fan (A) from the radiator. |
| | |
| --- | --- |
| 12. | Install in the reverse order of removal. |
13.

Fill with engine coolant.

(Refer to Cooling System - "Coolant")

| | |
| --- | --- |
| • | The coolant must be injected according to the integrated thermal management module (ITM) coolant filling method. |
Resistor
| | |
| --- | --- |
| 1. | Disconnect the battery terminals. |
| | |
| --- | --- |
| 2. | Disconnect the wire harness connector (A) and fan motor connector (B). |
3.

Remove the resistor (A) from fan shroud.

Tightening torque :

1.7 - 2.4 (0.18 - 0.25 kgf.m, 1.3 - 1.8 lb-ft)
| | |
| --- | --- |
| 4. | Install in the reverse order of removal. |
Disassembly
1.

Remove the cooling fan (A) from the cooling fan shroud.

Tightening torque :

2.8 - 3.2 N.m (0.28 - 0.33 kgf.m, 2.1 - 2.4 lb-ft)
| | |
| --- | --- |
| 2. | Disconnect the fan motor connector (A) from the resistor. |
3.

Loosen the screws and then remove the fan motor (B) from the cooling fan shroud.

Tightening torque :

3.9 - 5.8 N.m (0.4 - 0.6 kgf.m, 2.8 - 4.3 lb-ft)
| | |
| --- | --- |
| 4. | Assemble in the reverse order of disassembly. |
Removal and Installation • Never remove the radiator cap when the engine is hot...
Other information:
Adjustment Glass Adjustment • Check the glass run channel for damage or deterioration, and replace it if necessary. 1...
Removal 1. Turn the ignition switch OFF and disconnect the battery negative (-) cable. 2. Remove the crash pad lower panel. (Refer to Body - "Crash Pad Lower Panel") 3...
Categories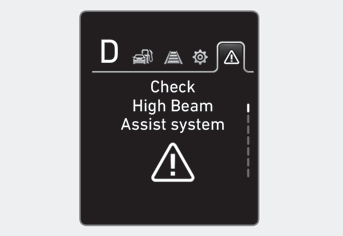 This warning light informs the driver the following situations.
-- Forward Collision-Avoidance Assist system malfunction (if equipped)
-- Forward Collision-Avoidance Assist radar blocked (if equipped)
-- Blind-Spot Collision Warning system malfunction (if equipped)
-- Blind-Spot Collision Warning radar blocked (if equipped)
-- Lamp malfunction (if equipped)
-- High Beam Assist malfunction (if equipped)
-- Tire Pressure Monitoring System (TPMS) malfunction (if equipped)