Hyundai Venue: ESP(Electronic Stability Program) System / ESP Control Module. Repair procedures
| | |
| --- | --- |
| 1. | Turn ignition switch OFF and disconnect the negative (-) battery cable. |
2.

Remove the battery and battery tray.

(Refer to Engine Electrical System - "Battery")
3.

In case of diesel vehicle, remove the fuel filter.

(Refer to Engine Control / Fuel System - "Fuel Filter")
| | |
| --- | --- |
| 4. | Pull up the lock of the ABS control module connector and then disconnect the connector (A). |
5.

Separate the brake tubes from the ABS by unlocking the nuts (6-ea) couterclockwise using a spanner.

Tightening torque :

12.7 - 16.7 N.m (1.3 - 1.7 kgf.m, 9.4 - 12.3 lb-ft)

Tightening torque :

18.6 - 22.6 N.m (1.9 - 2.3 kgf.m, 13.7 - 16.6 lb-ft)
6.

Loosen the ABS control module mounting nut (A) and then remove the ESP control module from the vehicle.

Tightening torque :

16.7 - 25.5 N.m (1.7 - 2.6 kgf.m, 12.3 - 18.8 lb-ft)
| | |
| --- | --- |
| 7. | Separate the bracket (B) after remove the mounting bolt from the ABS control module (A). |
| | |
| --- | --- |
| 1. | To install, reverse the removal procedure. |
| | |
| --- | --- |
| 2. | Tighten the HECU mounting bolts and nuts to the specified torque. |
3.

After installation, bleed the brake system.

(Refer to Brake System - "Brake Bleeding Prcoedures")
| | |
| --- | --- |
| 4. | Conduct the Variant coding. |
| | |
| --- | --- |
| 5. | Conduct the Auto Detected Sensor Calibration. |
| | |
| --- | --- |
| 6. | Conduct the Longitudinal G Sensor Calibration. |
Diagnosis procedure by using diagnostic device
As manual for diagnosis methods by using diagnosis device, the main contents are as follows :
Connect self-diagnosis connector (16pins) located in the lower of driver side crash pad to self-diagnosis device, and then turn the self-diagnosis device after key is ON.
Select the "vehicle model" and "ABS/ESC" on diagnostic tool vehicle selection screen, then select OK.
[Variant Code Reset]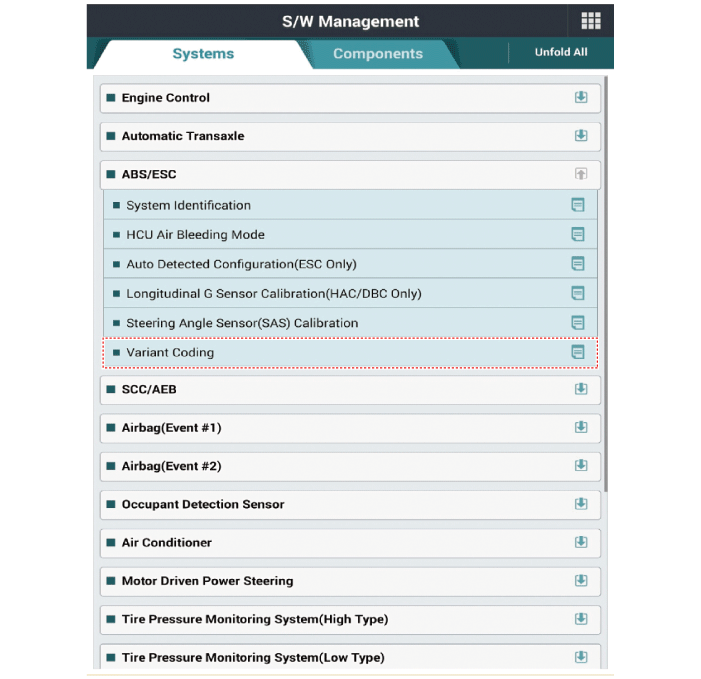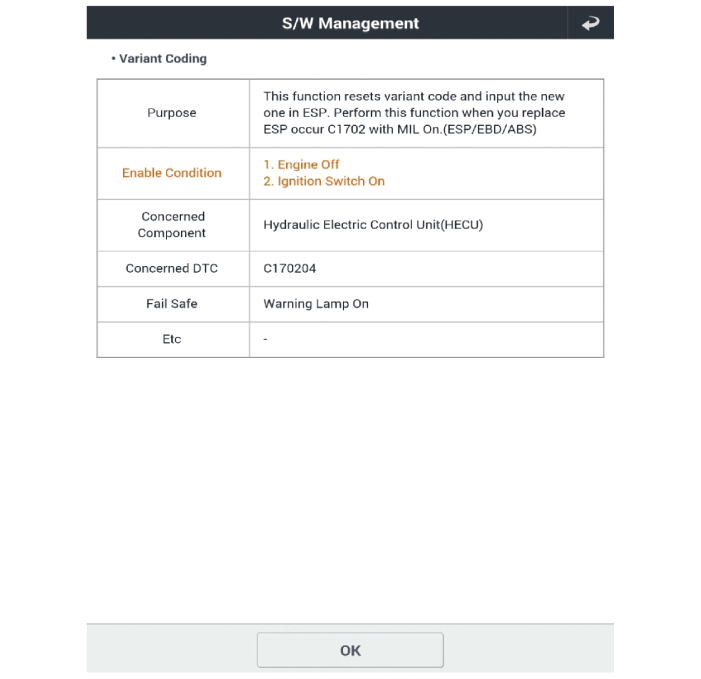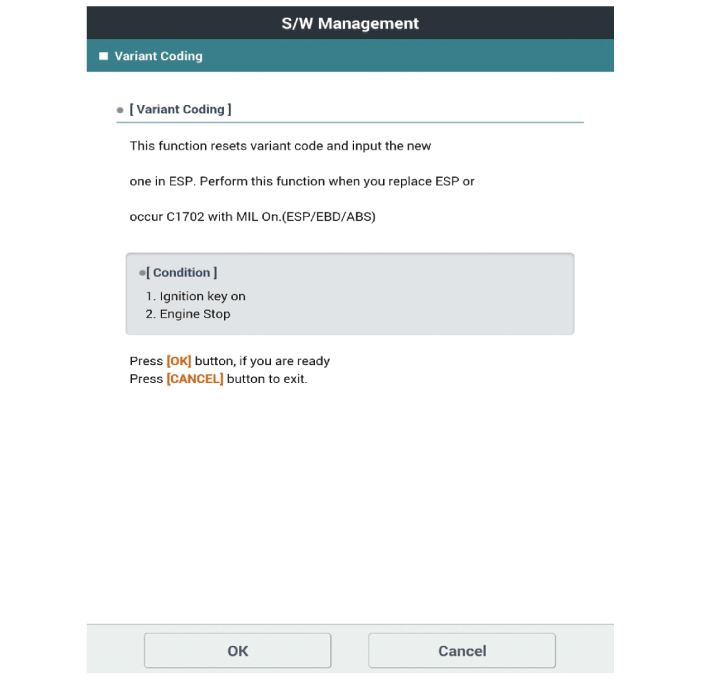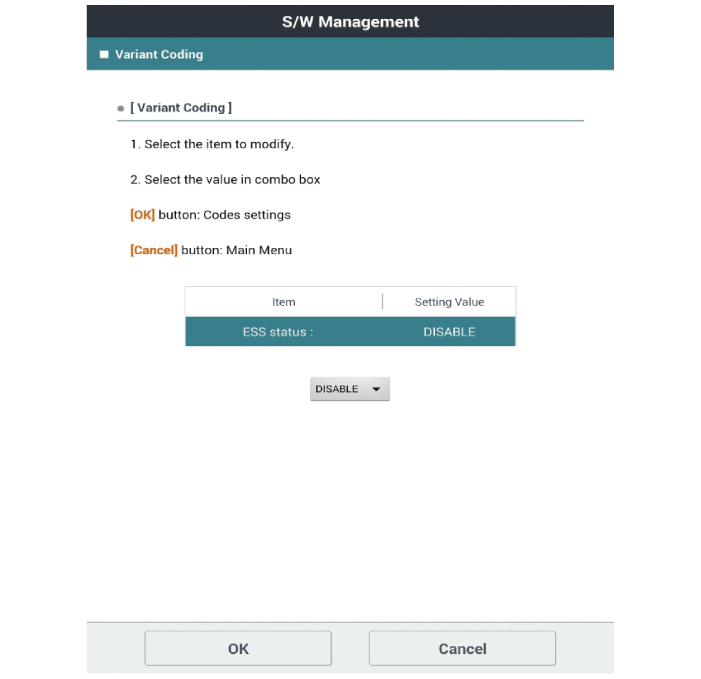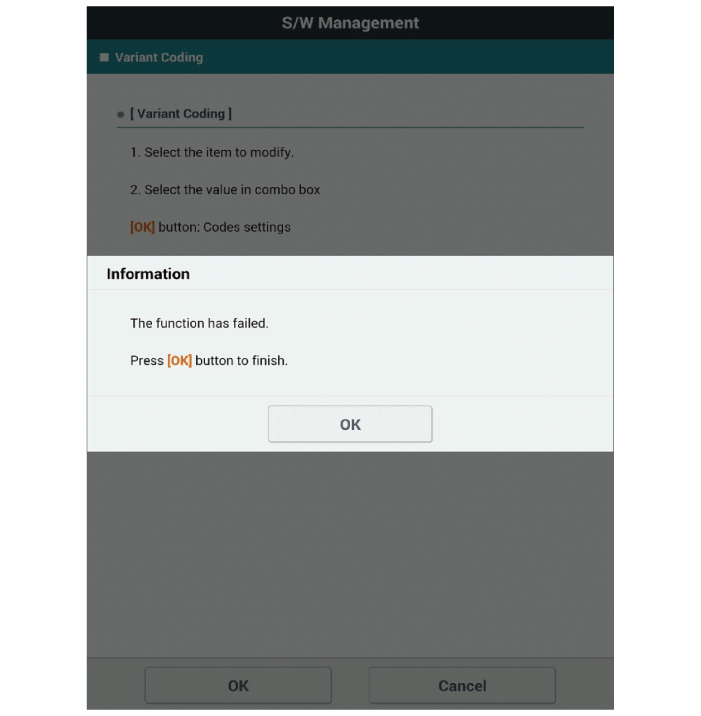 [Auto Detected Sensor Calibration]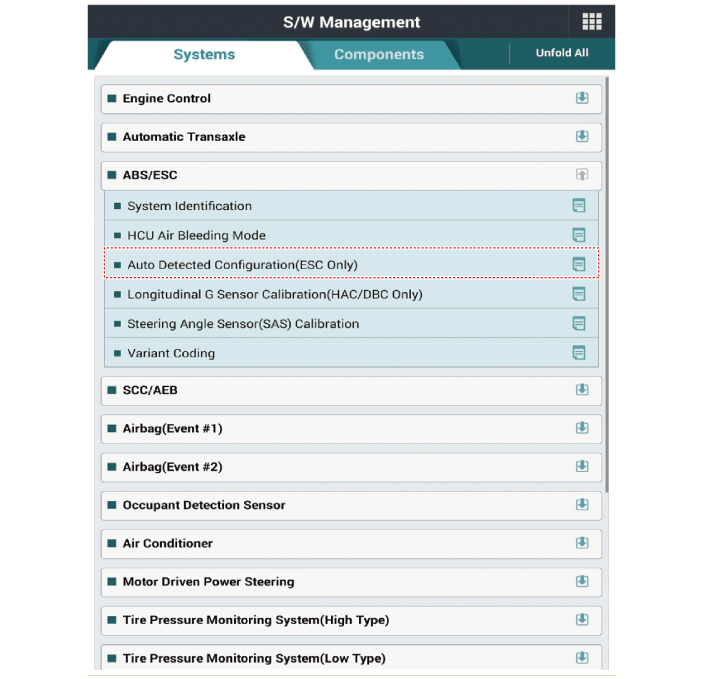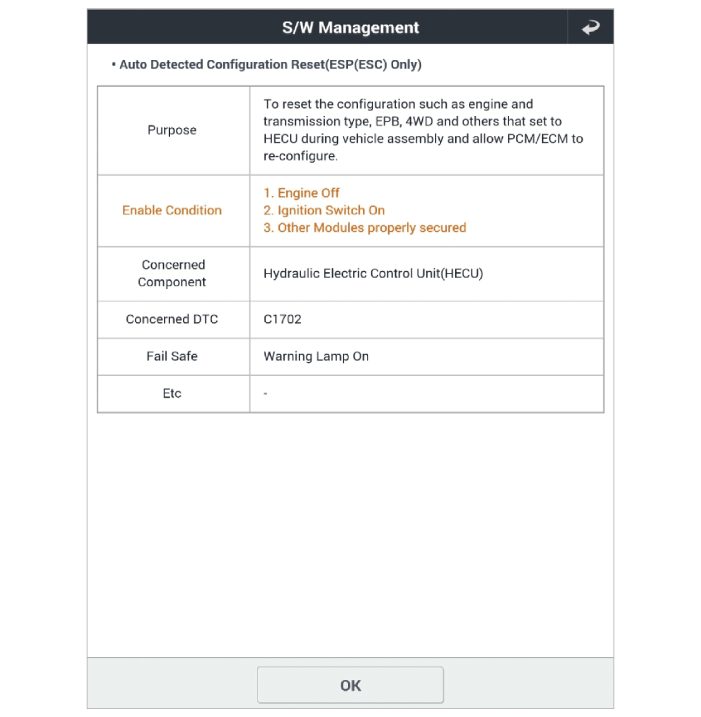 [Longitudinal G Sensor Calibration]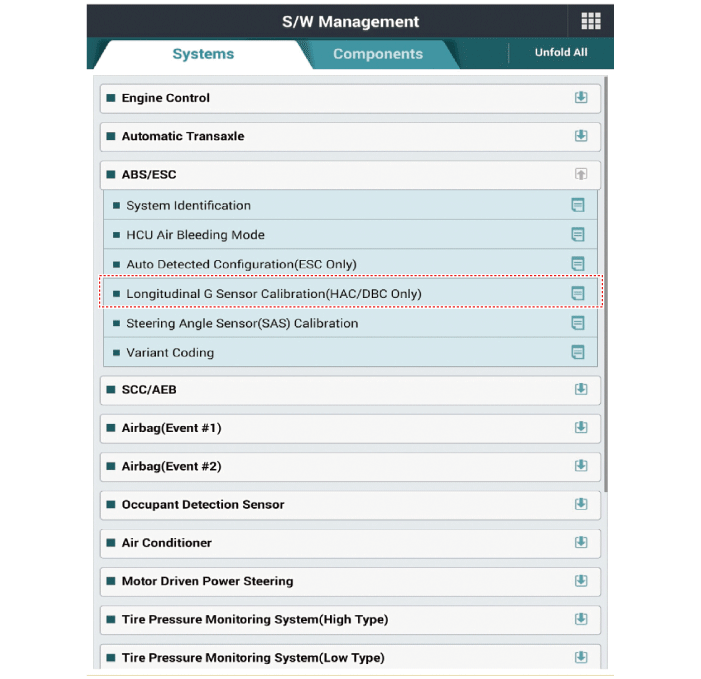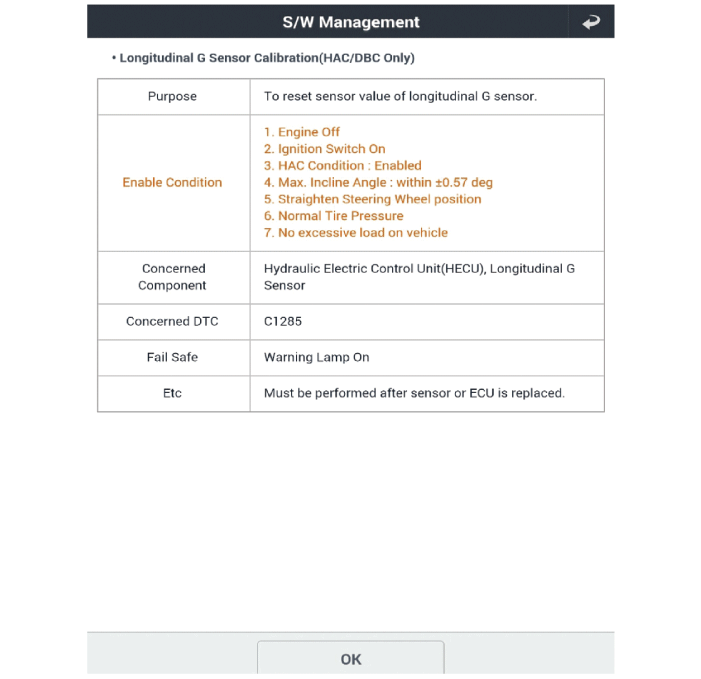 Components 1. Front - right tube 2. Rear - left tube 3. Rear - right tube 4. Front - left tube 5. MC SEC 6...
Other information:
..
Inside the fuse/relay box cover, you can find the fuse/relay label describing fuse/ relay names and ratings. Information Not all fuse panel descriptions in this manual may be applicable to your vehicle; the information is accurate at the time of printing...
Categories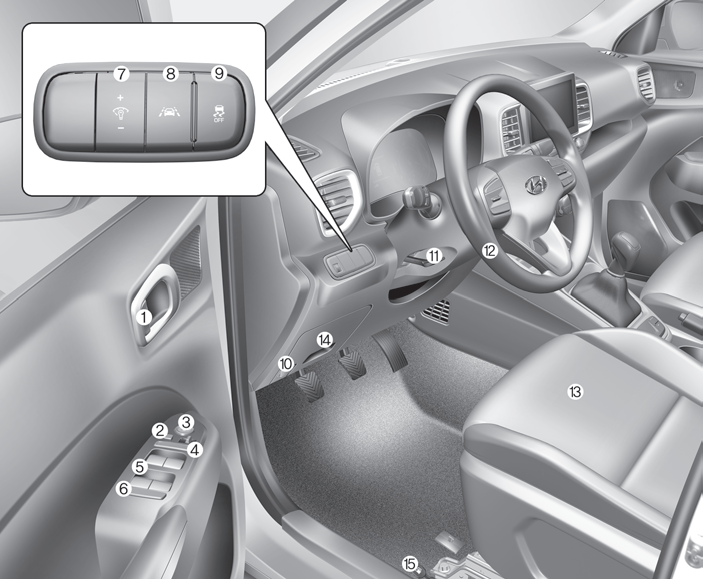 1. Door lock/unlock button
2. Outside rearview mirror control switch
3. Central door lock switch
4. Power window switches
5. Power window lock switch