Hyundai Venue: ESP(Electronic Stability Program) System / ESP Control Module. Repair procedures
| | |
| --- | --- |
| 1. | Turn ignition switch OFF and disconnect the negative (-) battery cable. |
2.

Remove the battery and battery tray.

(Refer to Engine Electrical System - "Battery")
3.

In case of diesel vehicle, remove the fuel filter.

(Refer to Engine Control / Fuel System - "Fuel Filter")
| | |
| --- | --- |
| 4. | Pull up the lock of the ABS control module connector and then disconnect the connector (A). |
5.

Separate the brake tubes from the ABS by unlocking the nuts (6-ea) couterclockwise using a spanner.

Tightening torque :

12.7 - 16.7 N.m (1.3 - 1.7 kgf.m, 9.4 - 12.3 lb-ft)

Tightening torque :

18.6 - 22.6 N.m (1.9 - 2.3 kgf.m, 13.7 - 16.6 lb-ft)
6.

Loosen the ABS control module mounting nut (A) and then remove the ESP control module from the vehicle.

Tightening torque :

16.7 - 25.5 N.m (1.7 - 2.6 kgf.m, 12.3 - 18.8 lb-ft)
| | |
| --- | --- |
| 7. | Separate the bracket (B) after remove the mounting bolt from the ABS control module (A). |
| | |
| --- | --- |
| 1. | To install, reverse the removal procedure. |
| | |
| --- | --- |
| 2. | Tighten the HECU mounting bolts and nuts to the specified torque. |
3.

After installation, bleed the brake system.

(Refer to Brake System - "Brake Bleeding Prcoedures")
| | |
| --- | --- |
| 4. | Conduct the Variant coding. |
| | |
| --- | --- |
| 5. | Conduct the Auto Detected Sensor Calibration. |
| | |
| --- | --- |
| 6. | Conduct the Longitudinal G Sensor Calibration. |
Diagnosis procedure by using diagnostic device
As manual for diagnosis methods by using diagnosis device, the main contents are as follows :
Connect self-diagnosis connector (16pins) located in the lower of driver side crash pad to self-diagnosis device, and then turn the self-diagnosis device after key is ON.
Select the "vehicle model" and "ABS/ESC" on diagnostic tool vehicle selection screen, then select OK.
[Variant Code Reset]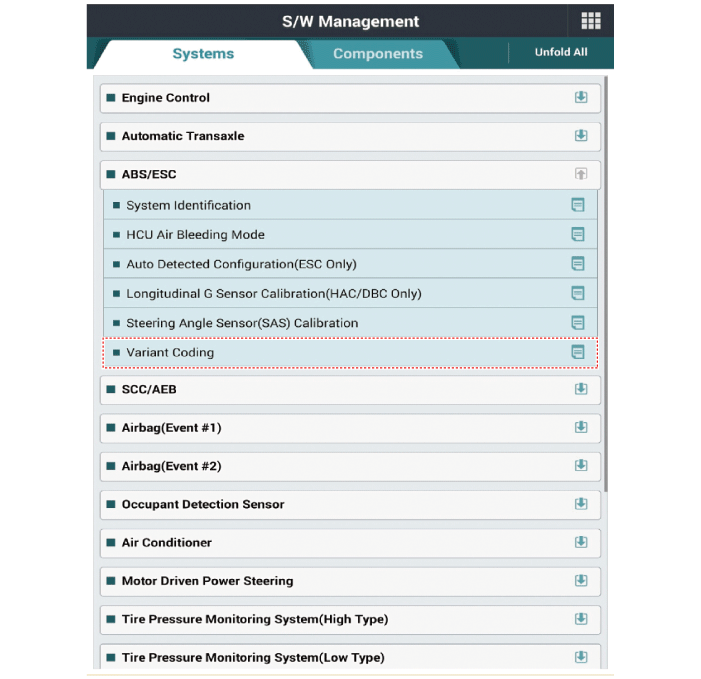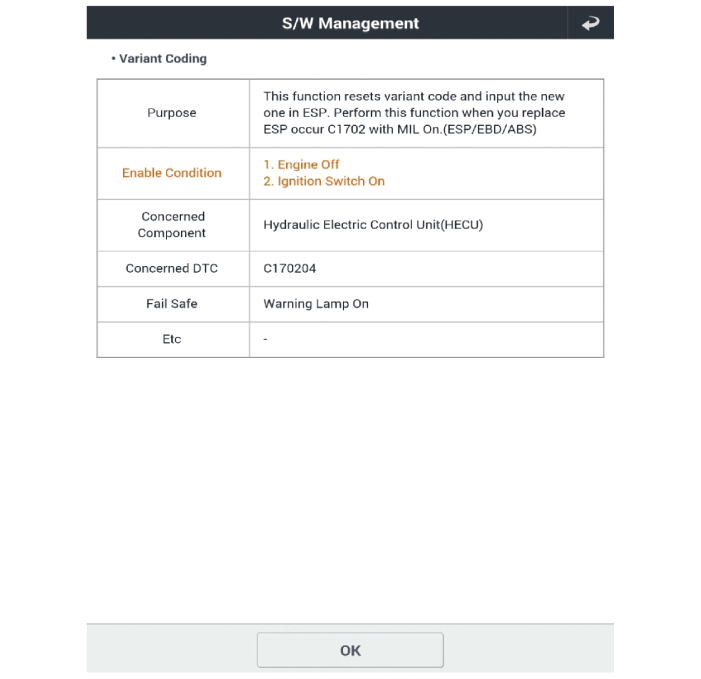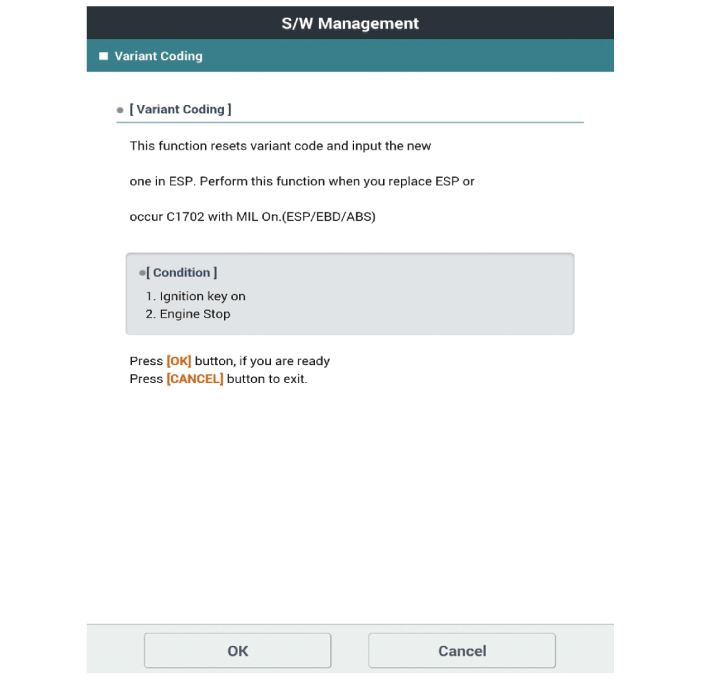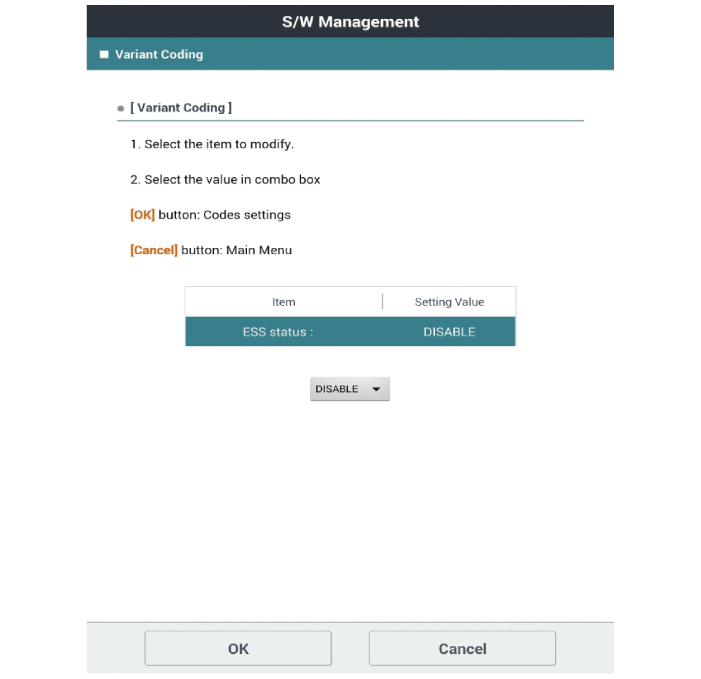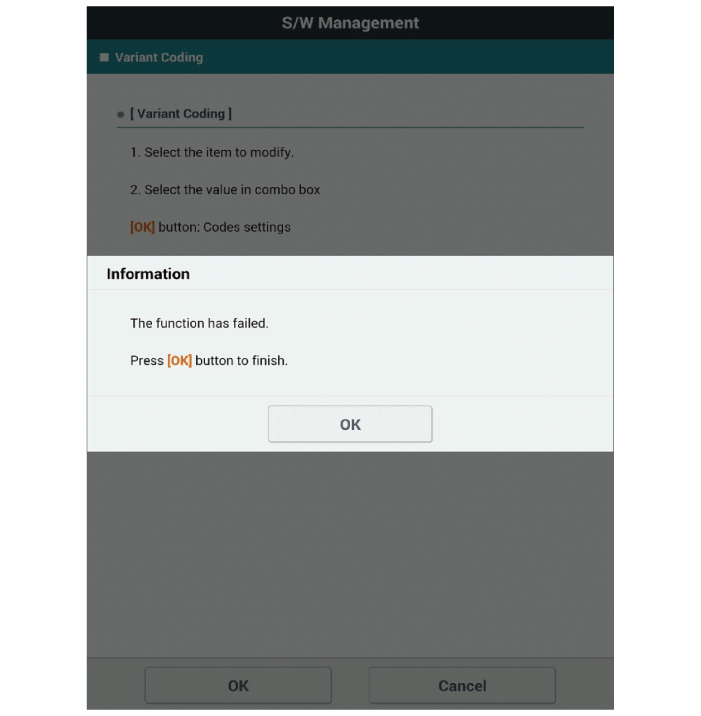 [Auto Detected Sensor Calibration]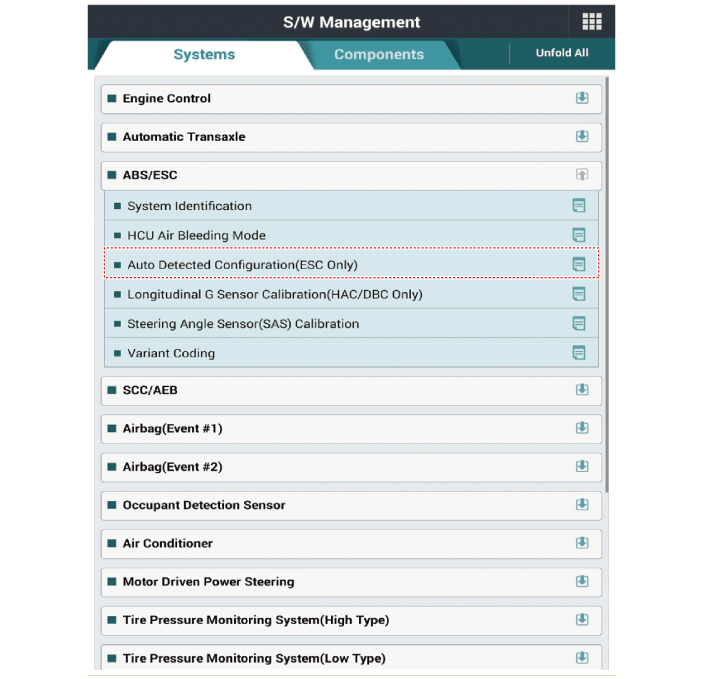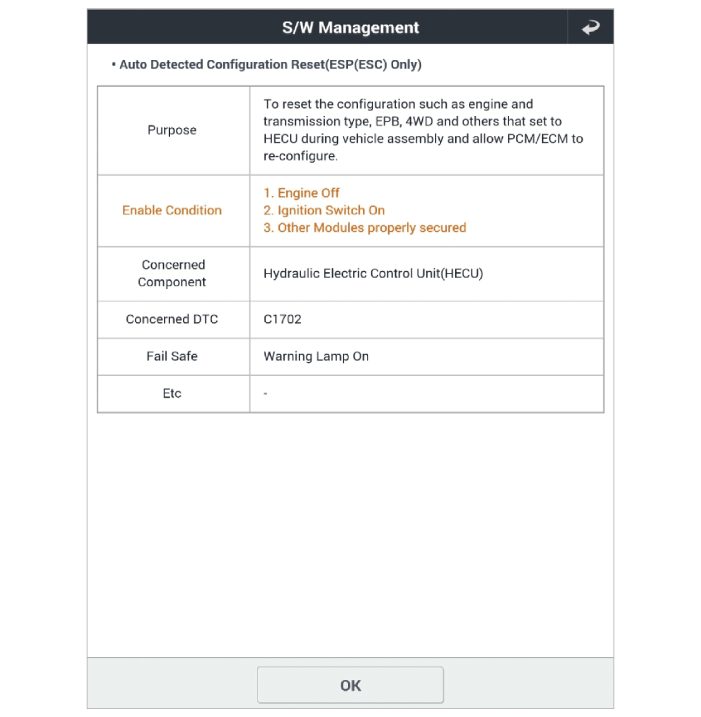 [Longitudinal G Sensor Calibration]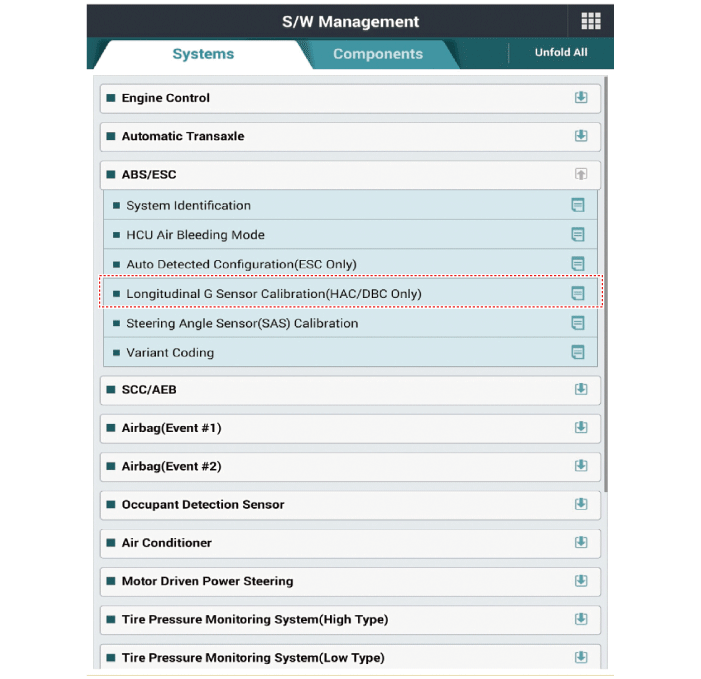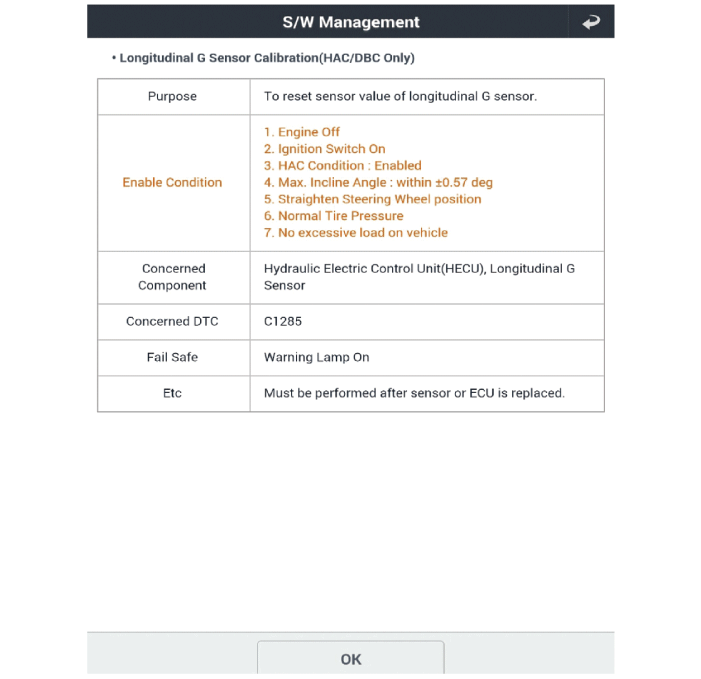 Components 1. Front - right tube 2. Rear - left tube 3. Rear - right tube 4. Front - left tube 5. MC SEC 6...
Other information:
Turn the knob to the right to increase the fan speed and airflow. Turn the knob to the left to decrease fan speed and airflow. Setting the fan speed control knob to the "0" position turns off the fan. NOTICE Operating the fan speed when the ignition switch is in the ON position could cause the battery to discharge...
..
Categories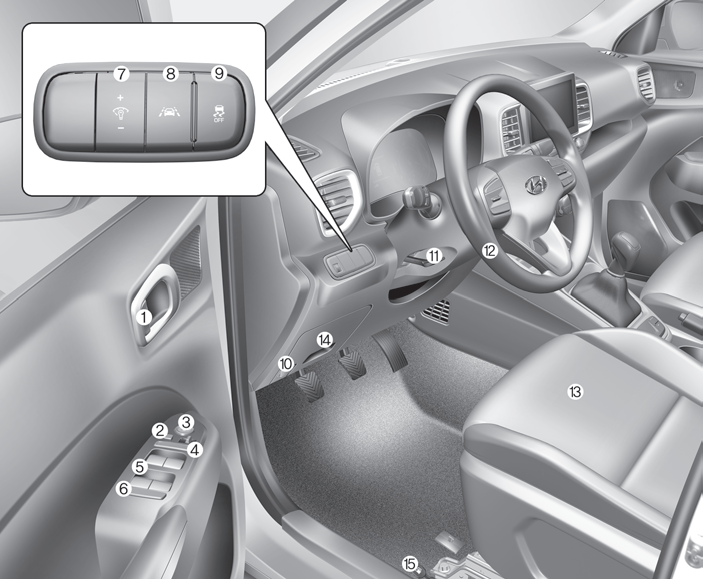 1. Door lock/unlock button
2. Outside rearview mirror control switch
3. Central door lock switch
4. Power window switches
5. Power window lock switch