Hyundai Venue: Heater / Evaporator Core. Repair procedures
| | |
| --- | --- |
| 1. | Disconnect the negative (-) battery terminal. |
2.

Remove the heater unit assembly.

(Refer to Heater - "Heater Unit")
| | |
| --- | --- |
| 3. | Separate the evaporator temperature sensor connector (A), loosen the mounting screws and remove the evaporator core cover (B). |
| | |
| --- | --- |
| 4. | Pull out the evaporator core (A) from the heater unit. |
| | |
| --- | --- |
| 5. | Remove the evaporator temperature sensor (A). |
6.

To install, reverse the removal procedure.

| | |
| --- | --- |
| • | If you're installing a new heater core, add refrigerant oil (PAG OIL). |

| | |
| --- | --- |
| • | Replace the O-rings with new ones at each fitting, and apply a thin coat of refrigerant oil before installing them. Be sure to use the right O-rings for R - 134a to avoid leakage. |

| | |
| --- | --- |
| • | Immediately after using the oil, replace the cap on the container, and seal it to avoid moisture absorption. |

| | |
| --- | --- |
| • | Do not spill the refrigerant oil on the vehicle; it may damage the paint; if the refrigerant oil contacts the paint, wash it off immediately. |

| | |
| --- | --- |
| • | Apply sealant to the grommets. |

| | |
| --- | --- |
| • | Make sure that there is no air leakage. |

| | |
| --- | --- |
| • | Charge the system and test its performance. |

| | |
| --- | --- |
| • | Do not interchange the inlet and outlet heater hoses and install the hose clamps securely. |
Inspection Operating Logic Test (Manual only) Inspect the PTC operation by confirmation logic as follows; 1. Entering (1) Set the Floor mode and maximum heating position...
Other information:
Components Location 1. Solenoid valve support bracket 2. Solenoid valve support bracket (Directly solenoid) 3. Line Pressure Control Solenoid Valve 4. Torque Convert Control Solenoid Valve (T/CON) 5. ON/OFF solenoid valve 6...
..
Categories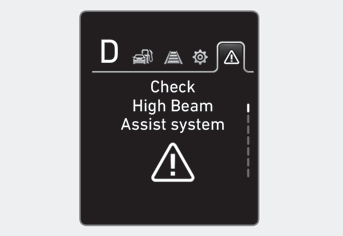 This warning light informs the driver the following situations.
-- Forward Collision-Avoidance Assist system malfunction (if equipped)
-- Forward Collision-Avoidance Assist radar blocked (if equipped)
-- Blind-Spot Collision Warning system malfunction (if equipped)
-- Blind-Spot Collision Warning radar blocked (if equipped)
-- Lamp malfunction (if equipped)
-- High Beam Assist malfunction (if equipped)
-- Tire Pressure Monitoring System (TPMS) malfunction (if equipped)