Hyundai Venue: Child Restraint System (CRS) / Installing a Child Restraint System (CRS)
WARNING
Before installing your child restraint system always:
Read and follow the instructions provided by the manufacturer of the child restraint.
Read and follow the instructions regarding child restraint systems in this manual.
Failure to follow all warnings and instructions could increase the risk of the SERIOUS INJURY or DEATH if an accident occurs.
WARNING
If the vehicle head restraint prevents proper installation of a child seat (as described in the child seat system manual, the head restraint of the respective seating position shall be readjusted or entirely removed.
After selecting a proper child seat for your child, check to make sure it fits properly in your vehicle. Follow the instructions provided by the manufacturer when installing the child seat. Note these general steps when installing the seat to your vehicle:
Properly secure the child restraint to the vehicle. All child restraints must be secured to the vehicle with the lap part of a lap/shoulder belt or with the LATCH system. If using the lap/shoulder belt for your child restraint, the convertible locking retractor should be pulled all the way out to engage the "automatic locking" mode. (See page 3-29)
Make sure the child restraint is firmly secured. After installing a child restraint to the vehicle, push and pull the seat forward-and-back and side-to-side to verify that it is securely attached to the seat. A child restraint secured with a seat belt should be installed as firmly as possible. However, some side-to-side movement can be expected.
Secure the child in the child restraint. Make sure the child is properly strapped in the child restraint according to the manufacturer instructions.
CAUTION
A child restraint in a closed vehicle can become very hot. To prevent burns, check the seating surface and buckles before placing your child in the child restraint.
When selecting a CRS for your child, always: Make sure the CRS has a label certifying that it meets applicable Federal Motor Vehicle Safety Standards (FMVSS 213)...
The LATCH system holds a child restraint during driving and in an accident. This system is designed to make installation of the child restraint easier and reduce the possibility of improperly installing your child restraint...
Other information:
Specification Air Conditioner item Specification Compressor Type DVE12N Oil type & Capacity PAG 30 120 ± 10cc (4.23 ± 0.34oz.) Displacement 122 cc / rev Expansion valve Type Block type Refrigerant Type R - 134a Capacity 470 ± 25g (16...
..
Categories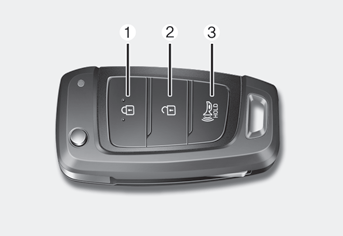 Your HYUNDAI uses a remote key, which you can use to lock or unlock the driver and passenger doors or the rear liftgate.
(1) Door Lock
(2) Door Unlock
(3) Panic
Locking Your Vehicle
To lock your vehicle:
1. Make sure all doors, the engine hood and the liftgate are closed.