Hyundai Venue: Heater / Mode Control Actuator. Repair procedures
| | |
| --- | --- |
| 1. | Turn the ignition switch OFF. |
| | |
| --- | --- |
| 2. | Disconnect the mode control actuator connector. |
3.

Verify that the mode control actuator operates to the defrost mode when connecting 12V to terminal 3 and grounding terminal 4.

Verify that the mode control actuator operates to the vent mode when connected in reverse.

1. -
2. -
3. Defrost mode
4. Vent mode

5. Sensor ground
6. Feedback signal
7. Sensor (+ 5V)




| | |
| --- | --- |
| 4. | Connect the mode control actuator connector. |
| | |
| --- | --- |
| 5. | Turn the ignition switch ON. |
6.

Check the voltage between terminal 6 and 5.

| | |
| --- | --- |
| • | It will feedback the current position of the actuator to controls. |

Specification

| | | |
| --- | --- | --- |
| Door position | Voltage (V) | Error detecting |
| Vent | 0.5 ± 0.15 | Low voltage : 0.1V or less |
| Defrost | 4.5 ± 0.15 | High voltage : 4.9V or more |



| | |
| --- | --- |
| 7. | If the measured voltage is not within specification, check the operation by replacing the existing mode control actuator with a new genuine part. After that, determine whether replacement of the mode control actuator is required or not. |
1.

The heating, ventilation and air conditioning can be quickly diagnosed failed parts with vehicle diagnostic system (GDS).

※ The diagnostic system (GDS) provides the following information.

(1) Self diagnosis : Checking the failure code (DTC) and display.

(2) Current data : Checking the system input/output data state.

(3) Actuation test : Checking the system operation condition.

(4) Additional function : Other controlling such as he system option and zero point adjustment.
| | |
| --- | --- |
| 2. | Select the 'Car model' and the system to be checked in order to check the vehicle with the tester. |
3.

Select the 'Current data' menu to search the current state of the input/output data.

The input/output data for the sensors corresponding to the Mode Control Actuator can be checked.
| | |
| --- | --- |
| 4. | To perform compulsory operation on Mode Control Actuator input factors, select "ACTUATION TEST". |
| | |
| --- | --- |
| 1. | Disconnect the negative (-) battery terminal. |
2.

Remove the main crash pad assembly.

(Refer to Body - "Main Crash Pad Assembly")
| | |
| --- | --- |
| 3. | Separate the connector (A) and loosen the mounting screws and remove the mode control actuator (B). |
4.

To install, reverse the removal procedure.

| | |
| --- | --- |
| • | Make sure the connector is connected in properly. |

| | |
| --- | --- |
| • | Replace any damaged clips. |
Description The mode control actuator is located at the heater unit. It adjusts the position of the mode door by operating the mode control actuator based on the signal of the A/C control unit...
Other information:
The Electronic Stability Control (ESC) system helps to stabilize the vehicle during cornering maneuvers. ESC checks where you are steering and where the vehicle is actually going. ESC applies braking pressure to any one of the vehicle's brakes and intervenes in the engine management system to assist the driver with keeping the vehicle on the intended path...
Temperature control (2) Turn the knob to the right to increase the temperature. Turn the knob to the left to decrease temperature. The temperature will increase or decrease by 1°F/0.5°C for each incremental location. When set to the lowest temperature setting, the air conditioning will operate continuously...
Categories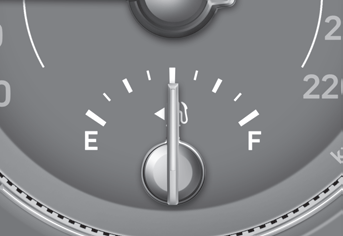 This gauge indicates the approximate amount of fuel remaining in the fuel tank.
Information
The fuel tank capacity is given in chapter 2. The fuel gauge is supplemented by a low fuel warning light, which will illuminate when the fuel tank is nearly empty. On inclines or curves, the fuel gauge pointer may fluctuate or the low fuel warning light may come on earlier than usual due to the movement of fuel in the tank.