Hyundai Venue: Starter / Repair procedures
| | |
| --- | --- |
| 1. | Turn the ignition switch OFF and disconnect the battery negative (-) terminal. |
2.

Remove the air cleaner assembly.

(Refer to Engine Mechanical System - "Air Cleaner")
| | |
| --- | --- |
| 3. | Disconnect the starter cable (B) from the B - terminal on the solenoid and the connector (A) from the S terminal. |
4.

Remove the starter bolt (A).

Starter installation bolt :

49.0 - 63.7 N.m (5.0 - 6.5 kgf.m, 36.2 - 47.0 lb-ft)
| | |
| --- | --- |
| 1. | Install in the reverse order of removal. |
| | |
| --- | --- |
| 1. | Disconnect the M-terminal (A) on the magnet switch assembly. |
| | |
| --- | --- |
| 2. | After loosening the screws (A), detach the magnet switch ssembly (B). |
| | |
| --- | --- |
| 3. | Loosen the brush mounting screw (A) and through bolts (B). |
| | |
| --- | --- |
| 4. | Remove the rear bracket (A) brush holder assembly (B). |
| | |
| --- | --- |
| 5. | Remove the yoke (A). |
| | |
| --- | --- |
| 6. | Remove the packing (A), lever plate (B), lever (C) and the rmature (D). |
| | |
| --- | --- |
| 7. | Press the stopper (A) using a socket (B). |
| | |
| --- | --- |
| 8. | After removing the stop ring (A) using stop ring pliers (B). |
9.

Disconnect the stop ring (B), stopper (A), overrunning clutch (C) and armature (D).

| | |
| --- | --- |
| • | Using a suitable pulling tool (A), pull the overrunning clutch stopper (C) over the stop ring (B). |
| | |
| --- | --- |
| 10. | Reassembly is the reverse of disassembly. |
| | |
| --- | --- |
| 1. | Reassemble in the reverse order of disassembly. |
Starter Solenoid Inspection
| | |
| --- | --- |
| 1. | Disconnect the lead wire from the M-terminal of solenoid switch. |
2.

Connect the battery as shown. If the starter pinion pops out, it is working properly.

| | |
| --- | --- |
| • | To avoid damaging the starter, do not leave the battery connected for more than 10 seconds. |
3.

Disconnect the battery from the M terminal.

If the pinion does not retract, the hold-in coil is working properly.

| | |
| --- | --- |
| • | To avoid damaging the starter, do not leave the battery connected for more than 10 seconds. |
4.

Disconnect the battery also from the body. If the pinion retracts immediately, it is working properly.

| | |
| --- | --- |
| • | To avoid damaging the starter, do not leave the battery connected for more than 10 seconds. |
| | |
| --- | --- |
| 1. | Place the starter motor in a vise equipped with soft jaws and connect a fully-charged 12-volt battery to starter motor as follows. |
| | |
| --- | --- |
| 2. | Connect a test ammeter (150-ampere scale) and carbon pile rheostats shown is the illustration. |
| | |
| --- | --- |
| 3. | Connect a voltmeter (15-volt scale) across starter motor. |
| | |
| --- | --- |
| 4. | Rotate carbon pile to the off position. |
| | |
| --- | --- |
| 5. | Connect the battery cable from battery's negative post to the starter motor body. |
| | |
| --- | --- |
| 6. | Adjust until battery voltage shown on the voltmeter reads 11.5volts. |
7.

Confirm that the maximum amperage is within the specifications and that the starter motor turns smoothly and freely.

| | |
| --- | --- |
| Items | Specification |
| Current (A) | Max. 60 |
| Speed (rpm) | Min. 5,500 |



Armature Inspection and Test
| | |
| --- | --- |
| 2. | Disassemble the starter as shown at the beginning of this procedure. |
| | |
| --- | --- |
| 3. | Inspect the armature for wear or damage from contact with the permanent magnet. If there is wear or damage, replace the armature. |
| | |
| --- | --- |
| 4. | Check the commutator (A) surface. If the surface is dirty or burnt, resurface with emery cloth or a lathe within the following specifications, or recondition with #500 or #600 sandpaper (B). |
5.

Check the commutator diameter. If the diameter is below the service limit, replace the armature.

Commutator diameter

Standard (New) : 27.0 mm (1.06 in.)

Service limit : 26.0 mm (1.02 in.)
6.

Measure the commutator (A) runout.

| | |
| --- | --- |
| • | If the commutator runout is within the service limit, check the commutator for carbon dust or brass chips between the segments. |

| | |
| --- | --- |
| • | If the commutator run out is not within the service limit, replace the armature. |

Commutator runout

Standard (New) : 0.05 mm (0.0019 in.) max

Service limit : 0.08 mm (0.0031 in.)
7.

Check the mica depth (A). If the mica is too high (B), undercut the mica with a hacksaw blade to the proper depth. Cut away all the mica (C) between the commutator segments. The undercut should not be too shallow, too narrow, or v-shaped (D).

Commutator mica depth

Standard (New) : 0.8 mm (0.0314 in.)

Limit : 0.2 mm (0.0079 in.)
| | |
| --- | --- |
| 8. | Check for continuity between the segments of the commutator. If an open circuit exists between any segments, replace the armature. |
| | |
| --- | --- |
| 9. | Check with an ohmmeter that no continuity exists between the commutator (A) and armature coil core (B), and between the commutator and armature shaft (C). If continuity exists, replace the armature. |
Inspect Starter Brush
Brushes that are worm out, or oil-soaked, should be replaced.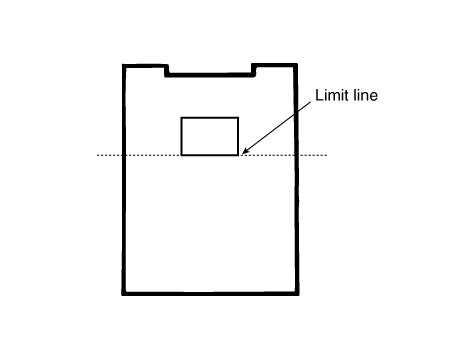 Starter Brush Holder Test
Make sure there is no continuity between the (+) brush holder (A) and (-) plate (B). If there is continuity, replace the brush holder assembly.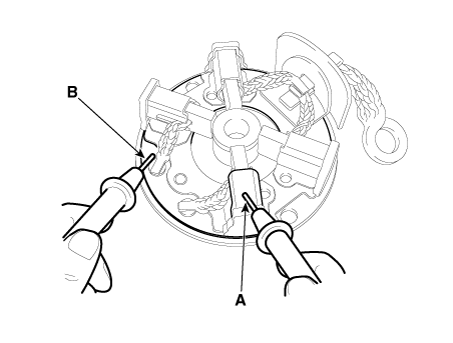 Overrunning Clutch
1.

Slide the overrunning clutch along the shaft.

Replace it if does not slide smoothly.
2.

Rotate the overrunning clutch both ways.

Does it lock in one direction and rotate smoothly in reverse? If it does not lock in either direction or it locks in both directions, replace it.
3.

If the starter drive gear is worn or damaged, replace the overrunning clutch assembly. (the gear is not available separately).

Check the condition of the flywheel or torque converter ring gear if the starter drive gear teeth are damaged.
1.

Do not immerse parts in cleaning solvent.

Immersing the yoke assembly and/or armature will damage the insulation wipe these parts with a cloth only.
2.

Do not immerse the drive unit in cleaning solvent.

The overrun clutch is pre-lubricated at the factory and sol-vent will wash lubrication from the clutch.
| | |
| --- | --- |
| 3. | The drive unit may be cleaned with a brush moistened with cleaning solvent and wiped dry with a cloth. |
Inspection 1. Disconnect the battery negative terminal. 2. Remove the fuse box cover. 3...
Other information:
Replacement • Put on gloves to prevent hand injuries. • When removing with a flat-tip screwdriver or remover, wrap protective tape around the tools to prevent damage to components...
Removal 1. Turn the ignition switch OFF, and then remove battery (-) cable. 2. Release the residual pressure in fuel line. (Refer to Fuel Delivery System - "Release Residual Pressure in Fuel Line") 3...
Categories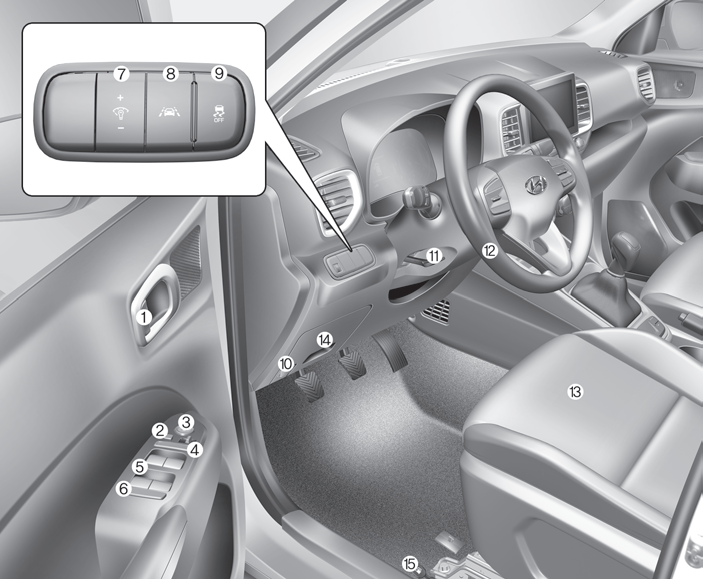 1. Door lock/unlock button
2. Outside rearview mirror control switch
3. Central door lock switch
4. Power window switches
5. Power window lock switch