Hyundai Venue: Tail Gate Window Glass / Repair procedures
| | |
| --- | --- |
| • | Put on gloves to prevent hand injuries. |
| | |
| --- | --- |
| • | Use seat covers to avoid damaging any surfaces. |
1.

Remove the tailgate trim.

(Refer to Tailgate - "Tailgate Trim")
2.

Remove the rear wiper.

(Refer to Body Electrical System - "Rear Wiper")
3.

Remove the high mounted stop lamp

(Refer to Body Electrical System - "High Mounted Stop Lamp")
| | |
| --- | --- |
| 4. | Disconnect the hot wire connector (A). |
5.

Cut off the sealant on the edge (B) while pulling the piano wire (A) to the left and right.

| | |
| --- | --- |
| • | Put on gloves to protect your hands. |

| | |
| --- | --- |
| • | Heat may occur when working on the wires. Be careful not to burn your hands. |

| | |
| --- | --- |
| • | Be careful not to disconnect the piano wire. |
| | |
| --- | --- |
| 6. | Put in a piano wire (A) through the corner of the tailgate window glass and insert wire grips into both ends of the wire. |
7.

Cut off the sealant on (A-A), (B-B), (C-C), while pulling a piano wire (A) to the left and right.

| | |
| --- | --- |
| • | Put on gloves to protect your hands. |

| | |
| --- | --- |
| • | Heat may occur when working on the wires. Be careful not to burn your hands. |

| | |
| --- | --- |
| • | Be careful not to disconnect the piano wire. |
| | |
| --- | --- |
| 8. | Remove the tailgate window glass (A). |
1.

Using a cutting knife (A), remove the remaining sealant (B) on the body panel.

| | |
| --- | --- |
| • | Put on gloves to protect your hands. |
2.

Apply the body primer to the bonding surface of body panel.

| | |
| --- | --- |
| • | Be careful not to touch the surface covered with the primer because touching it may lead to water leaks after installing the tailgate window glass. |

| | |
| --- | --- |
| • | Do not apply the body primer to the glass. |

| | |
| --- | --- |
| • | Remove any foreign materials from the primer-covered surface. |
3.

Apply the glass primer to the outer edge of tailgate window glass.

| | |
| --- | --- |
| • | Be careful not to touch the surface covered with the primer because touching it may lead to water leaks after installing the tailgate window glass. |

| | |
| --- | --- |
| • | Remove any foreign materials from the primer-covered surface. |
| | |
| --- | --- |
| 4. | Using a sealant gun, apply the sealant (B) to the edge of rear tailgate window glass (A). |
5.

Using the glass holder, adjust the tailgate window glass (A) to fit the alignment marks (B) on the body and lightly push the tailgate window glass to make the edges fully seated on the bonding surface of body.

| | |
| --- | --- |
| • | When installing the tailgate window glass (B), be sure to fit the protruding part (C) on the reverse side of the glass into the groove on the body frame. |
6.

To make sure that the applied sealant is completely hardened, leave the car on a flat surface for at least 3 to 4 hours after installing the tailgate window glass.

| | |
| --- | --- |
| • | If driving the car is inevitable, drive at a low speed for at least 8 hours. |

| | |
| --- | --- |
| • | Advise the driver to avoid aggressive driving or driving on rough roads for 2-3 days after installing the tailgate window glass. |
7.

Conduct a leak testing.

| | |
| --- | --- |
| • | The leak testing shall be conducted at least 4 hours after the tailgate window glass installation is completed. |

| | |
| --- | --- |
| • | Do not directly spray the high-pressure water to the joint area. |
8.

Remove the rear wiper.

(Refer to Body Electrical System - "Rear Wiper")
9.

Remove the high mounted stop lamp

(Refer to Body Electrical System - "High Mounted Stop Lamp")
10.

Install the tailgate trim.

(Refer to Tailgate - "Tailgate Trim")
Other information:
The driver can change LKA to Lane Departure Warning system or change LKA system mode between Standard LKA and Active LKA from the LCD display. Go to the 'User Settings → Driver Assistance → Active Lane Keeping Assist/Lane Keeping Assist/Lane Departure Warning...
..
Categories
Seat belt warning light (for driver's seat)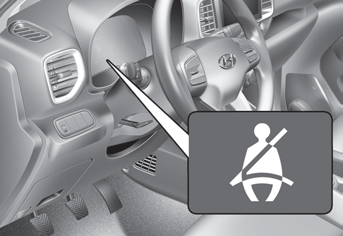 As a reminder to the driver, the seat belt warning light will illuminate for approximately 6 seconds each time you place the ignition switch to the ON position regardless of belt fastening. However, if the seat belt is unfasted, a warning chime will sound for approximately 6 seconds.