Hyundai Venue: ESP(Electronic Stability Program) System / Schematic diagrams

| | | | | |
| --- | --- | --- | --- | --- |
| Pin No | Description | Current (AMPS) | Resistance (mΩ) | Remark |
| 1 | POS. BATTERY 2. (MOTOR) | 40A | 10 | |
| 2 | - | | | |
| 3 | - | | | |
| 4 | C-CAN Low | 100 mA | 250 | |
| 5 | C-CAN High | 100 mA | 250 | |
| 6 | - | | | |
| 7 | P-CAN Low | 100 mA | 250 | |
| 8 | P-CAN High | 100 mA | 250 | |
| 9 | SENSOR REAR LEFT POWER | 150 mA | 250 | |
| 10 | SENSOR REAR RIGHT POWER | 150 mA | 250 | |
| 11 | SENSOR FRONT RIGHT POWER | 150 mA | 250 | |
| 12 | SENSOR FRONT LEFT POWER | 150 mA | 250 | |
| 13 | PUMP MOTOR GROUND | 40A | 10 | |
| 14 | - | | | |
| 15 | CLUTCH SWITCH SIGNAL | 1.2 mA | 250 | |
| 16 | - | | | |
| 17 | ESP ON / OFF SWITCH SIGNAL | 1.2 mA | 250 | |
| 18 | - | | | |
| 19 | PARKING BRAKE SWITCH | 1.2 mA | 250 | |
| 20 | - | | | |
| 21 | SENSOR REAR LEFT GROUND | 40 mA | 250 | |
| 22 | SENSOR REAR RIGHT GROUND | 40 mA | 250 | |
| 23 | SENSOR FRONT RIGHT GROUND | 40 mA | 250 | |
| 24 | SENSOR FRONT LEFT GROUND | 40 mA | 250 | |
| 25 | BATTERY (+) : SOLENOID | 30A | 10 | |
| 26 | - | | | |
| 27 | - | | | |
| 28 | - | | | |
| 29 | - | | | |
| 30 | BRAKE LIGHT SWITCH | 1.2 mA | 250 | |
| 31 | - | | | |
| 32 | IGN | 10 mA | 50 | |
| 33 | - | | | |
| 34 | HAC/BLA SiGNAL OUTPUT | 1.2 mA | 250 | |
| 35 | ESS SINGLA OUTPUT | 1.2 mA | 250 | |
| 36 | - | | | |
| 37 | SENSOR FRONT RIGHT OUTPUT | 50 mA | 250 | |
| 38 | GROUND | 30A | 10 | |
Description of ESP Optimum driving safety now has a name : ESP, the Electronic Stability Program. ESP recognizes critical driving conditions, such as panic reactions in dangerous situations, and stabilizes the vehicle by wheel-individual braking and engine control intervention...
Components 1. Front - right tube 2. Rear - left tube 3. Rear - right tube 4. Front - left tube 5. MC SEC 6...
Categories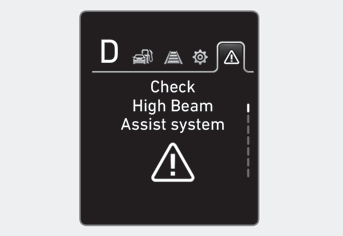 This warning light informs the driver the following situations.
-- Forward Collision-Avoidance Assist system malfunction (if equipped)
-- Forward Collision-Avoidance Assist radar blocked (if equipped)
-- Blind-Spot Collision Warning system malfunction (if equipped)
-- Blind-Spot Collision Warning radar blocked (if equipped)
-- Lamp malfunction (if equipped)
-- High Beam Assist malfunction (if equipped)
-- Tire Pressure Monitoring System (TPMS) malfunction (if equipped)