Hyundai Venue: Heating, Ventilation and Air Conditioning / Specifications
Air Conditioner
item

Specification

Compressor

Type

DVE12N

Oil type & Capacity

PAG 30 120 ± 10cc (4.23 ± 0.34oz.)

Displacement

122 cc / rev

Expansion valve

Type

Block type

Refrigerant

Type

R - 134a

Capacity

470 ± 25g (16.6 ± 0.88oz)

Blower Unit
Item

Specification

Fresh and recirculation

Operating method

Actuator

Blower

Type

Sirocco pan

Speed step

Auto + 8 speed (Automatic), 1 - 4 speed (Manual)

Speed control

Power mosfet (Automatic), Resistor (Manual)

Air filter

Type

Particle filter

Heater and Evaporator Unit
Item

Specification

Heater

Type

Fin & Tube type

Type

Tube - Fin 1Way

Mode operating method

Actuator

Temperature operating method

Actuator

Evaporator

Temperature control type

Evaporator temperature sensor

Blower singular

A/C Output OFF Temperature

A/C Output ON Temperature

Manual control

0.5 °C (32.9 °F)

1.5 °C (34.7 °F)

Dual control

0.5 °C (32.9 °F)

1.5 °C (34.7 °F)

Manufacturer

DOOWON

Items

N.m

kgf.m

lb-ft

Compressor

20.0 - 32.95

2.04 - 3.36

14.75 - 24.30

Condenser - Discharge hose

8.8 - 13.7

0.9 - 1.4

6.5 - 10.1

Condenser - Liquid tube

Compressor - Discharge hose

21.6 - 32.4

2.2 - 3.3

15.9 - 23.9

Compressor - Suction hose

Expansion valve - Evaporator

8.8 - 13.7

0.9 - 1.4

6.5 - 10.1

Troubleshooting Problem Symptoms Table Before replacing or repairing air conditioning components, first determine if the malfunction is due to the refrigerant charge, air flow or compressor...
Other information:
Type A (1) Headlamp (High/Low) (2) Parking lamp (3) Turn signal lamp (4) Side marker Headlamp and parking lamp WARNING Handle halogen bulbs with care. Halogen bulbs contain pressurized gas that will produce flying pieces of glass that could cause injuries if broken...
..
Categories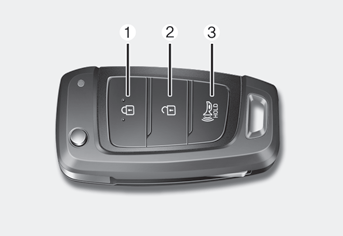 Your HYUNDAI uses a remote key, which you can use to lock or unlock the driver and passenger doors or the rear liftgate.
(1) Door Lock
(2) Door Unlock
(3) Panic
Locking Your Vehicle
To lock your vehicle:
1. Make sure all doors, the engine hood and the liftgate are closed.