Hyundai Venue: Alternator / Specifications
Alternator
Item

Specification

Rated voltage

13.5V, 120A

Speed in use

1,000 - 18,000 rpm

Voltage regulator

IC Regulator built-in type

Regulator Setting Voltage

External mode

Refer to below graph

Internal mode

14.55 ± 0.3V

Temperature Gradient

External mode

0 ± 3 mV / °C

Internal mode

-3.5 ± 2mV / °C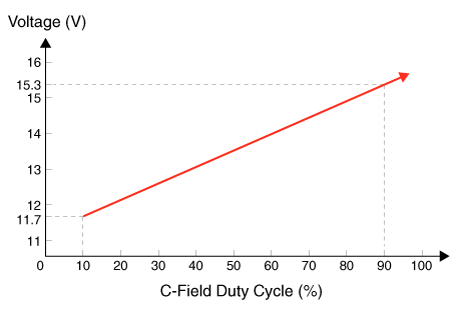 ※ Regulator Setting Voltage (External mode)
Description The Alternator has eight built-in diodes, each rectifying AC current to DC current. Therefore, DC current appears at alternator "B" terminal...
Components 1. Pulley 2. Front housing 3. Front bearing 4. Stator 5. Rotor 6. Rear bearing 7. Rear housing 8...
Other information:
Description An ignition coil is an induction coil in an engine's ignition system which transforms the battery's low voltage to the high voltage needed to create an electric spark in the spark plugs to ignite the fuel. Coils have an internal resistor while others rely on a resistor wire or an external resistor to limit the current flowing into the coil from the battery 12 V supply...
..
Categories
WARNING
To reduce the risk of an air bag deploying unexpectedly and causing serious injury or death:
Do not hit or allow any objects to impact the locations where air bags or sensors are installed. Do not perform maintenance on or around the air bag sensors. If the location or angle of the sensors is altered, the air bags may deploy when they should not or may not deploy when they should. Do not install bumper guards or replace the bumper with a nongenuine HYUNDAI parts. This may adversely affect the collision and air bag deployment performance. Place the ignition switch in the LOCK/OFF or ACC position when the vehicle is being towed to prevent inadvertent air bag deployment. Have all air bag repairs conducted by an authorized HYUNDAI dealer.