Hyundai Venue: Audio / Audio Unit. Components and components location
[Compact Audio]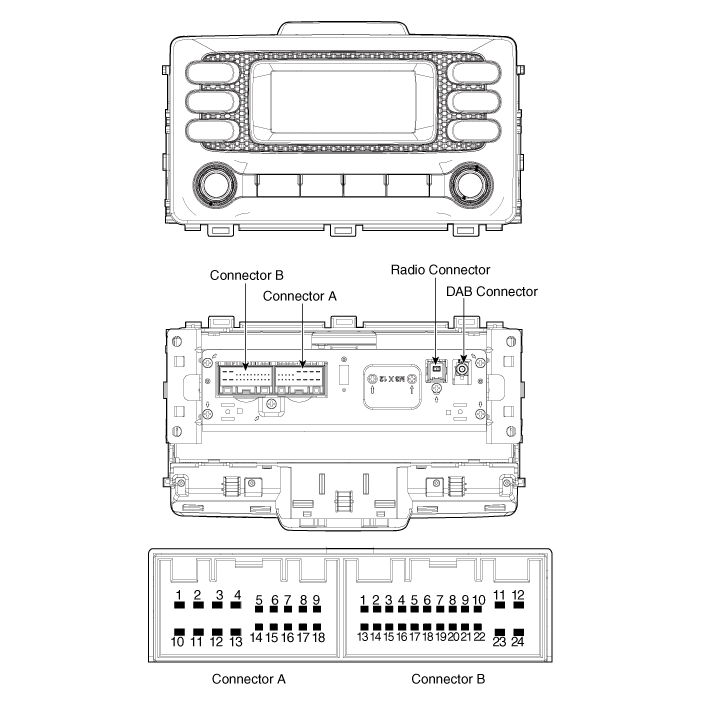 Connector Pin Information
NO

Connector A

Connector B

1

Rear left speaker (+)

MM CAN (DP)

2

Front left speaker (+)

-

3

Front right speaker (+)

-

4

Rear right speaker (+)

Steering wheel key

5

-

-

6

Door Open

USB DP

7

IGN 1

USB 5V

8

ILL (+)

-

9

-

-

10

Rear left speaker (-)

MIC signal (+)

11

Front left speaker (-)

ACC

12

Front right speaker (-)

Battery (+)

13

Rear right speaker (-)

MM CAN (DN)

14

-

-

15

-

-

16

-

Speed

17

ILL (-)

Steering wheel key GND

18

Antenna remote

USB DN

19



USB GND

20

-

21

-

22

MIC signal (-)

23

-

24

GND

[Display Audio]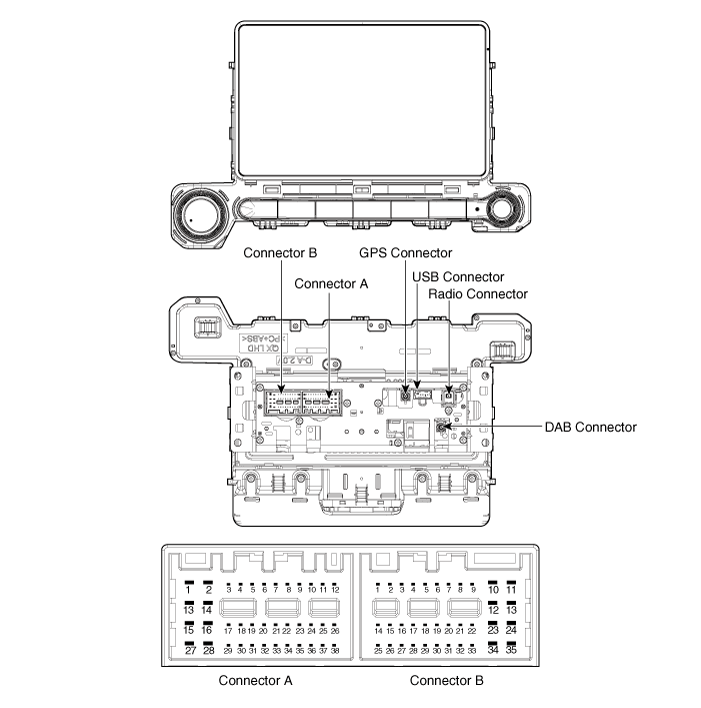 Connector Pin Information
NO

Connector A

Connector B

1

Rear left speaker (+)

-

2

Rear left speaker (-)

MIC (+)

3

-

-

4

-

-

5

-

-

6

With Camera : Camera Power, Without Camera : -

ILL (+)

7

With Camera : Camera Video, Without Camera : -

MM CAN (HI)

8

-

-

9

-

Engine Run State

10

-

Battery (+)

11

Multi Jack_DTC

Battery (+)

12

Steering wheel key

GND

13

Front left speaker (+)

GND

14

Front left speaker (-)

-

15

Front right speaker (-)

MIC (-)

16

Front right speaker (+)

-

17

-

-

18

-

-

19

-

ILL (-)

20

With Camera : Camera Power GND, Without Camera : -

MM CAN (LOW)

21

With Camera : Camera Video GND, Without Camera : -

-

22

-

ACC

23

-

-

24

-

-

25

-

Reverse

26

Steering wheel key GND

Door open

27

Rear right speaker (-)

Door unlock

28

Rear right speaker (+)

Parking brake

29

-

P position

30

-

AV tail (Auto light)

31

-

-

32

With Camera : -, Without Camera : GND

-

33

With Camera : Camera sheld GND, Without Camera : -

IGN1

34

-

-

35

-

-

36

-



37

-

38

Speed

Component Location 1. Audio unit 2. Tweeter speaker 3. Roof antenna (Radio) 4. Front door speaker 5. Rear door speaker 6...
Removal 1. Disconnect the negative (-) battery terminal. 2. Remove the center fascia panel...
Other information:
Special Service Tools Tool (Number and name) Illustration Use Crankshaft front oil seal installer (09455-21200) Installation of the front oil seal Valve stem oil seal installer (09222-2B100) Installation of the valve stem oil seal Valve spring compressor and holder A : (09222-3K000) B : (09222-3K100) Removal and installation of the intake or exhaust valve Crankshaft rear oil seal installer A : (09231-H1100) B : (09231-2B200) Installation of the crankshaft rear oil seal Ring gear stoppper A : (09231-3N100) B : (09231-2B100) Removal and installation of crankshaft pulley bolt...
..
Categories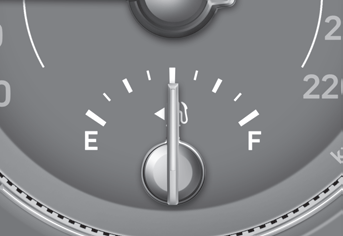 This gauge indicates the approximate amount of fuel remaining in the fuel tank.
Information
The fuel tank capacity is given in chapter 2. The fuel gauge is supplemented by a low fuel warning light, which will illuminate when the fuel tank is nearly empty. On inclines or curves, the fuel gauge pointer may fluctuate or the low fuel warning light may come on earlier than usual due to the movement of fuel in the tank.