Hyundai Venue: Manual Transmission / Good Driving Practices
Never take the vehicle out of gear and coast down a hill. This is extremely dangerous.
Don't "ride" the brakes. This can cause the brakes and related parts to overheat and malfunction. When you are driving down a long hill, slow down and shift to a lower gear. Engine braking will help slow down the vehicle.
Slow down before shifting to a lower gear. This will help avoid over-revving the engine, which can cause damage.
Slow down when you encounter cross winds. This gives you much better control of your vehicle.
Be sure the vehicle is completely stopped before you shift into R (Reverse) to prevent damage to the transmission.
Exercise extreme caution when driving on a slippery surface. Be especially careful when braking, accelerating or shifting gears. On a slippery surface, an abrupt change in vehicle speed can cause the drive wheels to lose traction and may cause loss of vehicle control resulting in an accident.
WARNING
Do not use aggressive engine braking (shifting from a higher gear to a lower gear) on slippery roads. This could cause the tires to slip and may result in an accident.
WARNING
To reduce the risk of SERIOUS INJURY or DEATH:
ALWAYS wear your seat belt. In a collision, an unbelted occupant is significantly more likely to be seriously injured or killed than a properly belted occupant.
Avoid high speeds when cornering or turning.
Do not make quick steering wheel movements, such as sharp lane changes or fast, sharp turns.
The risk of rollover is greatly increased if you lose control of your vehicle at highway speeds.
Loss of control often occurs if two or more wheels drop off the roadway and the driver over steers to reenter the roadway.
In the event your vehicle leaves the roadway, do not steer sharply. Instead, slow down before pulling back into the travel lanes.
HYUNDAI recommends you follow all posted speed limits.
The manual transmission has 6 forward gears. The transmission is fully synchronized in all forward gears so shifting to either a higher or a lower gear can be easily accomplished...
Other information:
After a frontal or side air bag inflates, it will deflate very quickly. Air bag inflation will not prevent the driver from seeing out of the windshield or being able to steer. Curtain air bags may remain partially inflated for some time after they deploy...
Air Pressure The amount of air inside the tire pressing outward on the tire. Air pressure is expressed in pounds per square inch (psi) or kilopascal (kPa). Accessory Weight This means the combined weight of optional accessories. Some examples of optional accessories are automatic transmission, power seats, and air conditioning...
Categories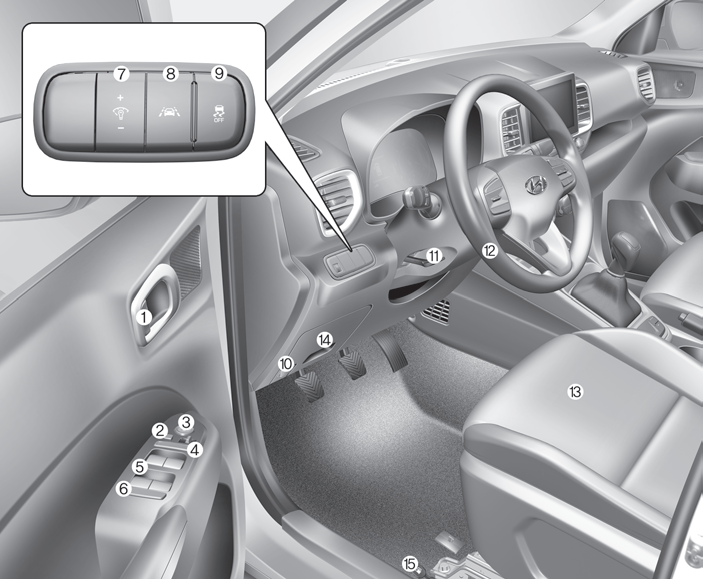 1. Door lock/unlock button
2. Outside rearview mirror control switch
3. Central door lock switch
4. Power window switches
5. Power window lock switch