Hyundai Venue: Steering wheel / Heated Steering wheel. Repair procedures
[Heated steering wheel switch]
| | |
| --- | --- |
| 1. | Disconnect the negative (-) battery terminal. |
2.

Remove the floor console upper cover.

(Refer to Body - "Floor Console Assembly")
| | |
| --- | --- |
| 3. | Remove the heated steering wheel switch (A) from floor console upper cover. |
[Heated Control Unit (Integrated Body Control Unit (IBU)]
| | |
| --- | --- |
| 1. | Disconnect the negative (-) battery terminal. |
2.

Remove the glove box.

(Refer to Body - "Glove Box Housing")
| | |
| --- | --- |
| 3. | Disconnect the IBU connectors. |
| | |
| --- | --- |
| 4. | Remove the integrated body control unit (A) after loosening the nuts. |
| | |
| --- | --- |
| 5. | Remove the integrated body control unit the connectors (A). |
1.

Measure a resistance of NTC and Heated pad.

–

NTC resistance -10.0 kΩ ± 3% (25°C)

8.875 ~ 11.27 kΩ (23°C ~ 27°C)

| | |
| --- | --- |
| – | Heated pad resistance - 1.90 Ω ~ ± 0.2 Ω (22°C) |
2.

Measure a temperature.

| | |
| --- | --- |
| – | The temperature of wheel surface grip must rise from -20°C to 20°C within 6 minute. |

| | |
| --- | --- |
| – | The temperature of wheel surface grip must keep 38°C ± 4°C after 25 minute . |

| | |
| --- | --- |
| – | 1 to 8 All measuring points. |
| | |
| --- | --- |
| 3. | Check for continuity between the terminals in each heated steering switch. |
| | |
| --- | --- |
| 1. | To install, reverse the removal procedure. |
Other information:
Removal and Installation 1. Remove the drive belt. (Refer to Timing System - "Dreve Belt") 2. Remove the alternator. (Refer to Engine Electrical System - "Alternator") 3...
Manual transmission shift indicator (if equipped) This indicator informs which gear is desired while driving to save fuel. Shifting up : ▲2, ▲3, ▲4, ▲5, ▲6 Shifting down : ▼1, ▼2, ▼3, ▼4, ▼5 For example : Indicates that shifting up to the 3rd gear is desired (currently, the shift lever is in the 2nd or 1st gear)...
Categories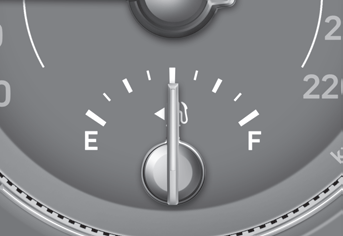 This gauge indicates the approximate amount of fuel remaining in the fuel tank.
Information
The fuel tank capacity is given in chapter 2. The fuel gauge is supplemented by a low fuel warning light, which will illuminate when the fuel tank is nearly empty. On inclines or curves, the fuel gauge pointer may fluctuate or the low fuel warning light may come on earlier than usual due to the movement of fuel in the tank.