Hyundai Venue: Parking Brake System / Parking Brake Lever. Repair procedures
| | |
| --- | --- |
| 1. | Disconnect the negative (-) battery cable. |
| | |
| --- | --- |
| 2. | Release the parking brake. |
3.

Remove the floor console assembly.

(Refer to Body - "Floor Console")
| | |
| --- | --- |
| 4. | Disconnect the parking brake switch connector (A). |
| | |
| --- | --- |
| 5. | Separate the parking brake cable(B) from the Equalizer assembly (A). |
| | |
| --- | --- |
| 6. | Remove the parking brake lever assembly (A) after loosening the bolts. |
1.

Install the parking brake lever assembly.

Tightening torque :

19.6 - 29.4 N.m (2.0 - 3.0 kgf.m, 14.5 - 21.7 lb-ft)
| | |
| --- | --- |
| 2. | Install the parking brake cable (B) to the equalizer assembly (A). |
3.

Apply a coating of the specified grease to each sliding parts (A) of the ratchet plate or the ratchet pawl.

Specified grease : CASMOLY 623
4.

Install the parking brake cable adjuster, then adjust the parking brake lever stroke by turning adjusting nut (A).

Parking brake lever stroke :

5 - 7 clicks (Pull the lever with 196N (20 kgf, 44 lbf)
| | |
| --- | --- |
| 5. | Connect the parking brake switch connector (A). |
6.

Install the floor console assembly.

(Refer to Body - "Floor Console")
1.

Remove the floor console assembly.

(Refer to Body - "Floor Console")
| | |
| --- | --- |
| 2. | Apply the brake pedal 20 times with the force of 10kgf after bleeding. Then, for the cable to settle in, apply the parking brake full stroke more than 3 times. |
3.

Install the parking brake cable adjuster, then adjust the parking brake lever stroke by turning adjusting nut (A).

5 - 7 clicks (Pull the lever with 196N (20 kgf, 44 lbf))
4.

Tension the parking brake cable by tightening the adjusting nut, until the operating levers on both calipers lift from the stop, up to a distance of (A) and (D) between operating lever (B) and stopper (C).

Distance (A + D) : Max. 3 mm (0.12 in)
| | |
| --- | --- |
| 5. | Release the parking brake lever fully, and check that parking brakes do not drag when the rear wheels are turned. Readjust if necessary. |
| | |
| --- | --- |
| 6. | Make sure that the parking brakes are fully applied when the parking brake lever is pulled up fully. |
7.

Install the floor console.

(Refer to Body - "Floor Console")
Removal 1. Turn ignition switch OFF and disconnect the negative (-) battery cable. 2. Release the parking brake...
Other information:
Description The temperature control actuator is located at the heater unit. It regulates the temperature by the procedure as follows. The signal from the control unit adjusts the position of the temperature door by operating the temperature switch...
Specification Item Specification Power source 3V Operating temperature -10°C to +60°C (14°F to +140°F) RF Modulation FSK LF Modulation ASK RF frequency 433...
Categories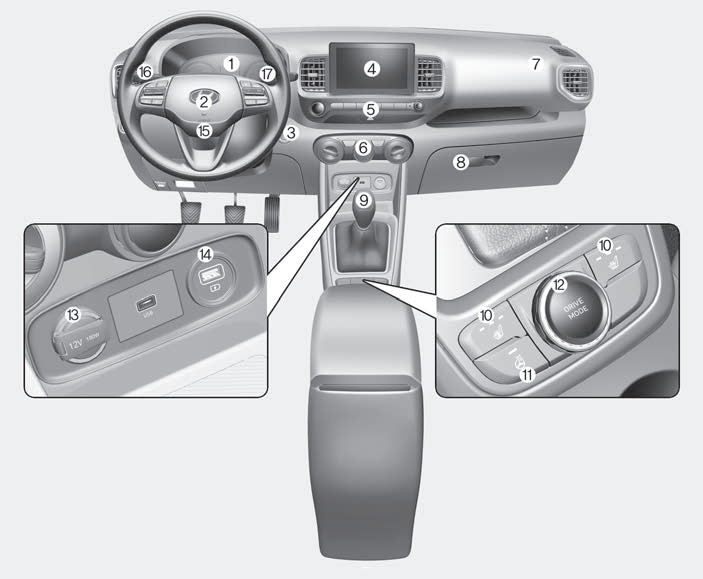 1. Instrument cluster
2. Horn
3. Key ignition switch/ Engine Start/Stop button
4. Infotainment system
5. Hazard warning flasher switch