Hyundai Venue: Windshield Glass / Repair procedures
[Removal]
| | |
| --- | --- |
| • | Put on gloves to prevent hand injuries. |
| | |
| --- | --- |
| • | Use seat covers to avoid damaging any surfaces. |
1.

Remove the roof side molding.

(Refer to Interior Trim - "Roof Side Molding")
2.

Remove the inside rear view mirror assembly.

(Refer to Mirror - "Inside Rear View Mirror")
3.

Remove the front pillar trim.

(Refer to Interior Trim - "Front Fillar Trim")
4.

Remove the cowl top cover.

(Refer to "Cowl Top Cover")
5.

Using a cutter (A) knife, carefully remove the windshield glass molding.

| | |
| --- | --- |
| • | Use the cutter with a 20 to 30 cm-long blade. |
6.

Cut off the sealant on the edge (B) while pulling the piano wire (A) to the left and right.

| | |
| --- | --- |
| • | Put on gloves to protect your hands. |

| | |
| --- | --- |
| • | Heat may occur when working on the wires. |

| | |
| --- | --- |
| • | Be careful not to burn your hands. |

| | |
| --- | --- |
| • | Be careful not to disconnect the piano wire. |
7.

Cut off the sealant on (A-A), (B-B), (C-C), while pulling a piano wire (A) to the left and right.

| | |
| --- | --- |
| • | Put on gloves to protect your hands. |

| | |
| --- | --- |
| • | Heat may occur when working on the wires. Be careful not to burn your hands. |

| | |
| --- | --- |
| • | Be careful not to disconnect the piano wire. |
| | |
| --- | --- |
| 8. | Remove the windshield glass (B) carefully using the glass holder (A). |
[Installtion]
1.

Using a knife, scrape the remaining sealant around the body panel leaving about 2mm-thick sealant (0.0079 in.) on the bonding surface. If installing a new windshield glass, make alignment marks on the windshield glass and the body.

| | |
| --- | --- |
| • | Be careful not to damage the painted surface of the body. |

| | |
| --- | --- |
| • | If the surface is damaged, apply paint or rust inhibitor for maintenance. |
| | |
| --- | --- |
| 2. | Clean the edges of body panel and windshield glass with alcohol. Apply glass primer to the edges of windshield glass. |
3.

Apply the body primer to the bonding surface of body panel.

| | |
| --- | --- |
| • | Be careful not to touch the surface covered with the primer because touching it may lead to water leaks after installing the windshield glass. |

| | |
| --- | --- |
| • | Do not apply the body primer to the glass. |

| | |
| --- | --- |
| • | Remove any foreign materials from the primer-covered surface. |
4.

Apply the glass primer to the outer edge of windshield glass.

| | |
| --- | --- |
| • | Be careful not to touch the surface covered with the primer because touching it may lead to water leaks after installing the windshield glass. |

| | |
| --- | --- |
| • | Do not apply the body primer to the glass. |

| | |
| --- | --- |
| • | Remove any foreign materials from the primer-covered surface. |

| | |
| --- | --- |
| • | Apply the sealant within 5 minutes of applying the primer. |
| | |
| --- | --- |
| 5. | Apply a bead of sealant (B) around the windshield glass (A). |
| | |
| --- | --- |
| 6. | Using the glass holder (A), adjust the windshield glass (B) to fit the alignment marks (C) on the body and lightly push the windshield glass to make the edges fully seated on the bonding surface of body. |
7.

To make sure that the applied sealant is completely hardened, leave the car on a flat surface for at least 4 hours after installing the windshield glass.

| | |
| --- | --- |
| • | If driving the car is inevitable, drive at a low speed for at least 8 hours. |

| | |
| --- | --- |
| • | Advise the driver to avoid ag gressive driving or driving on rough roads for 2-3 days after installing the windshield glass. |
8.

Conduct a leak testing.

| | |
| --- | --- |
| • | The leak testing shall be conducted at least 4 hours after the windshield glass installation is completed. |

| | |
| --- | --- |
| • | Do not directly spray the high-pressure water to the joint area. |
9.

Install the cowl top cover.

(Refer to "Cowl Top Cover")
10.

Install the roof side molding.

(Refer to Interior Trim - "Roof Side Molding")
11.

Install the inside rear view mirror assembly.

(Refer to Mirror - "Inside Rear View Mirror")
12.

Install the front pillar trim.

(Refer to Interior Trim - "Front Pillar Trim")
Other information:
WARNING Improperly positioned seat belts may increase the risk of serious injury in an accident. Take the following precautions when adjusting the seat belt: Position the lap portion of the seat belt as low as possible across your hips, not on your waist, so that it fits snugly...
Towing If the vehicle needs to be towed, call a professional towing service. It is very dangerous to tow a vehicle with just a rope or chain. Emergency Towing There are three popular methods of towing a vehicle : – Flat-bed Towing The operator loads the vehicle on the back of truck...
Categories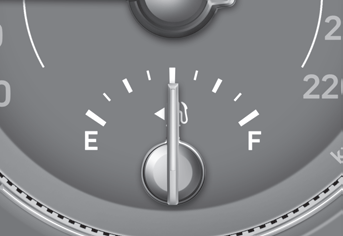 This gauge indicates the approximate amount of fuel remaining in the fuel tank.
Information
The fuel tank capacity is given in chapter 2. The fuel gauge is supplemented by a low fuel warning light, which will illuminate when the fuel tank is nearly empty. On inclines or curves, the fuel gauge pointer may fluctuate or the low fuel warning light may come on earlier than usual due to the movement of fuel in the tank.