Hyundai Venue: Manual Transaxle System / Specifications
Transaxle type

M6CF1

Engine type

Gasoline 1.6 MPI

Gear ratio

1st

3.769

2nd

2.045

3rd

1.370

4th

1.036

5th

0.794

6th

0.688

Reverse

3.700

Final gear ratio

Tire (15 inch)

4.267

Low octain/ high mountain & tire 15, 17 inch

4.563

Items

N.m

kgf.m

lb-ft

Oil drain plug

58.9 - 78.5

6.0 - 8.0

43.4 - 57.8

Oil filler plug

58.9 - 78.5

6.0 - 8.0

43.4 - 57.8

Shift lever assembly bolt

8.8 - 13.7

0.9 - 1.4

6.5 - 10.1

Control cable retainer

11.8 - 14.7

1.2 - 1.5

8.7 - 10.8

Back up lamp switch

39.2 - 58.8

4.0 - 6.0

28.9 - 43.4

Neutral swtich

39.2 - 58.8

4.0 - 6.0

28.9 - 43.4

Control shaft complete

19.6 - 26.5

2.0 - 2.7

14.5 - 19.5

Control cable bracket

14.7 - 21.6

1.5 - 2.2

10.9 - 15.9

Transaxle bracket mounting bolt

88.3 - 107.9

9.0 - 11.0

65.1 - 79.8

Transaxle support bracket mounting bolt

58.9 - 78.5

6.0 - 8.0

43.4 - 57.8

Roll rod bracket bolt

49.0 - 63.7

5.0 - 6.5

36.2 - 47.0

107.9 - 127.5

11.0 - 13.0

79.6 - 94.1

Roll rod support bracket bolt

49.0 - 68.6

5.0 - 7.0

36.2 - 50.6

Start motor mounting bolt

49.0 - 63.7

5.0 - 6.5

36.2 - 47.0

Transaxle upper mounting bolt (TM=>ENG)

42.2 - 53.9

4.3 - 5.5

31.1 - 39.8

Transaxle lower mounting bolt (ENG=>TM)

42.2 - 48.1

4.3 - 4.9

31.1 - 35.4

42.2 - 53.9

4.3 - 5.5

31.1 - 39.8

Items

Recommnend lubricant

Quantity

Transaxle gear oil

API Service GL-4, SAE 70W
• Recommended oil


| | |
| --- | --- |
| – | SHELL : SPIRAX S6 GHME 70W MTF |

| | |
| --- | --- |
| – | GS CALTEX : GS MTF HD 70W |

1.5 - 1.6 L
(0.40 -0.42 U.S.gal., 1.58 - 1.69 U.S.qt., 1.32- 1.40 lmp qt.)

| | |
| --- | --- |
| Items | Specified sealant |
| Control shaft assembly | MS721-40 or MS721-38 |
Special Service Tools Tool (Number and name) Illustration Use 09200-3N000 Engine support fixture (Beam) Removal and installation of the transaxle...
Other information:
Removal • Disassembly of the thermostat would have an adverse effect, causing a lowering of cooling efficiency. 1...
D..
Categories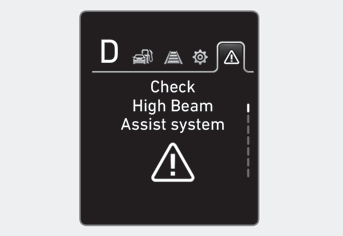 This warning light informs the driver the following situations.
-- Forward Collision-Avoidance Assist system malfunction (if equipped)
-- Forward Collision-Avoidance Assist radar blocked (if equipped)
-- Blind-Spot Collision Warning system malfunction (if equipped)
-- Blind-Spot Collision Warning radar blocked (if equipped)
-- Lamp malfunction (if equipped)
-- High Beam Assist malfunction (if equipped)
-- Tire Pressure Monitoring System (TPMS) malfunction (if equipped)