Hyundai Venue: Steering System / Specifications
Item

Specification

Type

Electric Power Steering System

Steering gear

Type

Rack & Pinion

Rack stroke

150 mm (5.90 in.) ± 1 (0.3937 in)

Steering angle (Max.)

Inner

38.9° (+0.5° / -1.5°)

Outer

32.6°

Item

Tightening torque (kgf.m)

N.m

kgf.m

lb-ft

Hub nuts

107.9 - 127.5

11.0 - 13.0

79.6 - 94.0

Steering wheel lock bolt

44.1 - 49.0

4.5 - 5.0

32.5 - 36.2

Steering column mounting

Bolt

53.9 - 58.8

5.5 - 6.0

39.8 - 43.4

Nuts

25.0 - 29.4

2.5 - 3.0

14.5 - 21.7

teering column to Universal joint (M8 BOLT)

32.4 - 38.3

3.3 - 3.8

23.9 - 27.5

Steering column to Universal joint (M10 BOLT)

49.0 - 58.8

5.0 - 6.0

36.2 - 43.4

Bolt connecting universal joint to pinion

32.4 - 38.3

3.3 - 3.8

23.9 - 27.5

Tie rod end castle nut

24.5 - 34.3

2.5 - 3.5

18.1 - 25.3

Lower arm to front axle

58.8 - 70.6

6.0 - 7.2

43.4 - 52.1

Steering gear box to sub frame

88.3 - 107.9

9.0 - 11.0

65.1 - 79.6

Stabilizer link nut

98.1 - 117.7

10.0 - 12.0

72.3 - 86.8

Sub frame mounting bolts & nuts

156.9 - 176.5

16.0 - 18.0

115.7 - 130.2

Other information:
Specifications Item Specification Clutch operation method Hydraulic type Clutch cover assembly Type Diaphragm spring strap Clutch disc Type Single dry with diaphragm Facing diameter (Outer × inner) Ø210 ± 1 × Ø140 ± 1(Ø8...
Removal • Disassembly of the thermostat would have an adverse effect, causing a lowering of cooling efficiency. 1...
Categories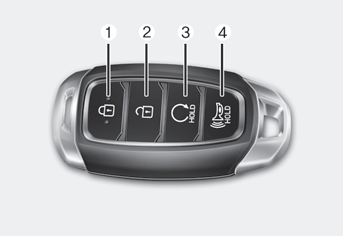 Your HYUNDAI uses a Smart Key, which you can use to lock or unlock the driver and passenger doors or the rear liftgate.
1. Door Lock
2. Door Unlock
3. Remote start