Hyundai Venue: Steering System / Specifications
Item

Specification

Type

Electric Power Steering System

Steering gear

Type

Rack & Pinion

Rack stroke

150 mm (5.90 in.) ± 1 (0.3937 in)

Steering angle (Max.)

Inner

38.9° (+0.5° / -1.5°)

Outer

32.6°

Item

Tightening torque (kgf.m)

N.m

kgf.m

lb-ft

Hub nuts

107.9 - 127.5

11.0 - 13.0

79.6 - 94.0

Steering wheel lock bolt

44.1 - 49.0

4.5 - 5.0

32.5 - 36.2

Steering column mounting

Bolt

53.9 - 58.8

5.5 - 6.0

39.8 - 43.4

Nuts

25.0 - 29.4

2.5 - 3.0

14.5 - 21.7

teering column to Universal joint (M8 BOLT)

32.4 - 38.3

3.3 - 3.8

23.9 - 27.5

Steering column to Universal joint (M10 BOLT)

49.0 - 58.8

5.0 - 6.0

36.2 - 43.4

Bolt connecting universal joint to pinion

32.4 - 38.3

3.3 - 3.8

23.9 - 27.5

Tie rod end castle nut

24.5 - 34.3

2.5 - 3.5

18.1 - 25.3

Lower arm to front axle

58.8 - 70.6

6.0 - 7.2

43.4 - 52.1

Steering gear box to sub frame

88.3 - 107.9

9.0 - 11.0

65.1 - 79.6

Stabilizer link nut

98.1 - 117.7

10.0 - 12.0

72.3 - 86.8

Sub frame mounting bolts & nuts

156.9 - 176.5

16.0 - 18.0

115.7 - 130.2

Other information:
You will find many safety precautions and recommendations throughout this section, and throughout this manual. The safety precautions in this section are among the most important. Always Wear Your Seat Belt A seat belt is your best protection in all types of accidents...
Removal 1. Loosen the wheel nuts slightly. Raise the vehicle, and make sure it is securely supported. 2. Remove the front wheel and tire (A) from front hub. Tightening torque : 107...
Categories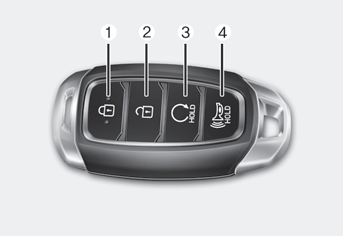 Your HYUNDAI uses a Smart Key, which you can use to lock or unlock the driver and passenger doors or the rear liftgate.
1. Door Lock
2. Door Unlock
3. Remote start