Hyundai Venue: Steering System / Troubleshooting
Trouble Symptom

Cause of the symptom

Remedy

Excessive play in steering

Loose U-joint bolt

Retighten or replace as necessary

Loose yoke plug

Retighten

Loose steering gear mounting bolts

Retighten

Loose or worn tie rod end

Retighten or replace as necessary

Steering wheel does not return to its original position

Excessive turning resistance of tie rod end

Replace

Yoke plug excessively tight

Adjust

Tie rod and / or ball joint cannot turn smoothly

Replace

Loose mounting of gear box at the subframe

Retighten

Worn steering shaft joint and/or body grommet

Correct or replace

Distorted rack

Replace

Rattling or chucking noise in the rack and pinion

Loose steering gear box mounting

Reposition

Loose tie rod end and/or ball joint

Repace

Worn tie rod and/or ball joint

Repace

Loose yoke plug

Replace

Specifications Item Specification Type Electric Power Steering System Steering gear Type Rack & Pinion Rack stroke 150 mm (5...
Inspection Steering Wheel Play Inspection 1. Turn the steering wheel so that the front wheels can face straight ahead...
Other information:
In this mode, you can change the settings of the instrument cluster, doors, lamps, etc. 1. Driver assistance 2. Door 3. Lights 4. Convenience 5. Service interval 6. Other 7. Language 8. Reset Edit settings after shifting to P This warning message appears if you try to adjust the User Settings while driving...
..
Categories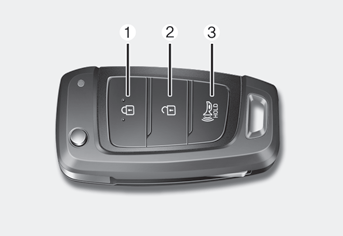 Your HYUNDAI uses a remote key, which you can use to lock or unlock the driver and passenger doors or the rear liftgate.
(1) Door Lock
(2) Door Unlock
(3) Panic
Locking Your Vehicle
To lock your vehicle:
1. Make sure all doors, the engine hood and the liftgate are closed.