Hyundai Venue: Blind-Spot Collision Warning (BCW) / System Setting
• Setting Blind-Spot Safety function The driver can activate the system by placing the ignition switch to the ON position and by selecting 'User Settings → Driver Assistance → Blind- Spot Safety'.
-- BCW turns on and gets ready to be operated when 'Warning Only' is selected. Then, if a vehicle approaches the driver's blind spot area a warning sounds.
-- The system is deactivated and the indicator on the BCW button is extinguished when 'Off' is selected.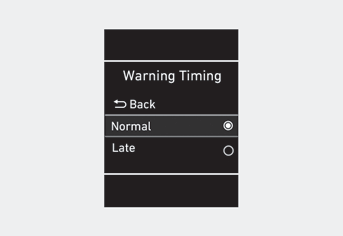 • Selecting Warning Timing
The driver can select the initial warning activation time in the User Settings in the LCD display by selecting 'User Settings → Driver Assistance → Warning Timing'.
• The options for the initial Blind- Spot Collision Warning includes the following:
-- Normal:
When this option is selected, the initial Blind-Spot Collision Warning is activated normally. If this setting feels sensitive change the option to 'Late'.
The warning activation time may feel late if a vehicle at the side or rear abruptly accelerates.
-- Late:
Select this warning activation time when the traffic is light and you are driving in a low speed.
Information
If you change the warning timing, the warning time of other systems may change. Always be aware before changing the warning timing.
Categories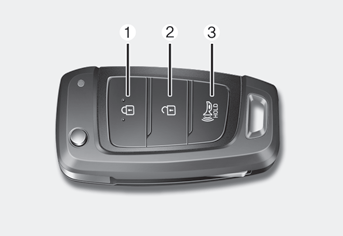 Your HYUNDAI uses a remote key, which you can use to lock or unlock the driver and passenger doors or the rear liftgate.
(1) Door Lock
(2) Door Unlock
(3) Panic
Locking Your Vehicle
To lock your vehicle:
1. Make sure all doors, the engine hood and the liftgate are closed.