Hyundai Venue: Air Conditioning System / Refrigerant Line. Repair procedures
| | |
| --- | --- |
| 1. | If the compressor is marginally operable, run the engine at idle speed, and let the air conditioning work for a few minutes, then shut the engine off. |
| | |
| --- | --- |
| 2. | Disconnect the negative (-) battery terminal. |
| | |
| --- | --- |
| 3. | Recover the refrigerant with a recovery / charging station. |
4.

Remove the engine cover.

(Refer to Engine Mechanical Assembly - "Engine Cover")
5.

Remove the cowl top cover.

(Refer to Body - "Cowl Top Cover")
6.

Remove the bolts and the expansion valve (A) from the evaporator core.

Tightening torque :

8.8 - 13.7 N.m (0.9 - 1.4 kgf.m, 6.5 - 10.1 Ib-ft)

| | |
| --- | --- |
| • | Immediately after disconnecting the line, protect the system from moisture and dust by plugging or capping. |

| | |
| --- | --- |
| • | When refitting, replace the O-ring with a new one. |
7.

Remove the 2 nuts, and then disconnect the discharge line (B) and liquid line (A) from the condenser.

Tightening torque :

8.8 - 13.7 N.m (0.9 - 1.4 kgf.m, 6.5 - 10.1 Ib-ft)
| | |
| --- | --- |
| 8. | Press the lock pin and separate the A/C pressure transducer connector (A). |
9.

Remove the bolts, then disconnect the suction line (A) and discharge line (B) from the compressor.

Tightening torque :

21.6 - 32.4 N.m (2.2 - 3.3 kgf.m, 15.9 - 23.9 Ib-ft)

| | |
| --- | --- |
| • | Immediately after disconnecting the line, protect the system from moisture and dust by plugging or capping. |
10.

Loosen the bracket mounting bolt (B) from suction& liquid assembly (A).

Tightening torque :

7.8 - 11.8 N.m (0.8 - 1.2 kgf.m, 5.8 - 8.7 Ib-ft)
| | |
| --- | --- |
| 11. | Remove the suction & liquid tube assembly (A) to the upper of engine room. |
12.

To install, reverse the removal procedure.

| | |
| --- | --- |
| • | Plug or cap the lines immediately after disconnecting them to avoid moisture and dust contamination. |

| | |
| --- | --- |
| • | Tighten the bolt or nut joint to the specified torque. |

| | |
| --- | --- |
| • | Using a gas leak detector, check for refrigerant leakage. |

| | |
| --- | --- |
| • | Evacuate air in the refrigeration system and charge system with refrigerant. |

Specified amount

R-134a : 450 ± 25g (15.9 ± 0.88oz.)

R-1234yf : 450 ± 25g (15.9 ± 0.88oz.)
Description The compressor is the power unit of the A/C system. It is located on the side of engine block and driven by a V-belt of the engine...
Other information:
Removal 1. Remove the bumper cover. (Refer to Body - "Front Bumper Cover") 2. Disconnect the connector (A) from the PDW sensor. [L - Type] Installation 1...
..
Categories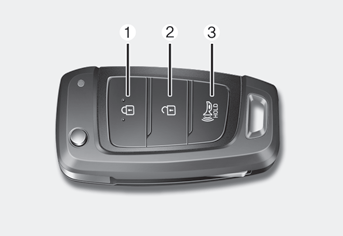 Your HYUNDAI uses a remote key, which you can use to lock or unlock the driver and passenger doors or the rear liftgate.
(1) Door Lock
(2) Door Unlock
(3) Panic
Locking Your Vehicle
To lock your vehicle:
1. Make sure all doors, the engine hood and the liftgate are closed.