Hyundai Venue: ABS(Anti-Lock Brake System) / Schematic diagrams

| | | | | |
| --- | --- | --- | --- | --- |
| Pin No | Description | Current (AMPS) | Resistance (mΩ) | Remark |
| 1 | POS. BATTERY 2. (MOTOR) | 40A | 10 | |
| 2 | - | | | |
| 3 | - | | | |
| 4 | - | | | |
| 5 | - | | | |
| 6 | - | | | |
| 7 | P-CAN Low | 100 mA | 250 | |
| 8 | P-CAN High | 100 mA | 250 | |
| 9 | SENSOR REAR LEFT POWER | 150 mA | 250 | |
| 10 | SENSOR REAR RIGHT POWER | 150 mA | 250 | |
| 11 | SENSOR FRONT RIGHT POWER | 150 mA | 250 | |
| 12 | SENSOR FRONT LEFT POWER | 150 mA | 250 | |
| 13 | PUMP MOTOR GROUND | 40A | 10 | |
| 14 | - | | | |
| 15 | - | | | |
| 16 | - | | | |
| 17 | - | | | |
| 18 | - | | | |
| 19 | - | | | |
| 20 | - | | | |
| 21 | SENSOR REAR LEFT GROUND | 40 mA | 250 | |
| 22 | SENSOR REAR RIGHT GROUND | 40 mA | 250 | |
| 23 | SENSOR FRONT RIGHT GROUND | 40 mA | 250 | |
| 24 | SENSOR FRONT LEFT GROUND | 40 mA | 250 | |
| 25 | BATTERY (+) : SOLENOID | 30A | 10 | |
| 26 | - | | | |
| 27 | - | | | |
| 28 | - | | | |
| 29 | - | | | |
| 30 | BRAKE LIGHT SWITCH | 1.2 mA | 250 | |
| 31 | - | | | |
| 32 | IGN | 10 mA | 50 | |
| 33 | - | | | |
| 34 | ESS DRIVE SIGNAL | 1.2 mA | 250 | |
| 35 | - | | | |
| 36 | - | | | |
| 37 | SENSOR FRONT RIGHT OUTPUT | 50 mA | 250 | |
| 38 | GROUND | 30A | 10 | |
Description This specification applies to HCU(Hydraulic Control Unit) and ECU(Electronic Control Unit) of the HECU.(Hydraulic and Electronic Control Unit) This specification is for the wiring design and installation of ABS/ESP ECU...
Standard Flow of Diagnostic Troubleshooting Notes With Regard To Diagnosis The phenomena listed in the following table are not abnormal. Condition Explanation System check sound When starting the engine, a thudding sound can sometimes be heard coming from inside the engine compartment...
Other information:
Removal and Installation 1. Remove the drive belt. (Refer to Timing System - "Dreve Belt") 2. Remove the engineroom under cover. 3. Remove the passenger seat RH front tire...
..
Categories
Seat belt warning light (for driver's seat)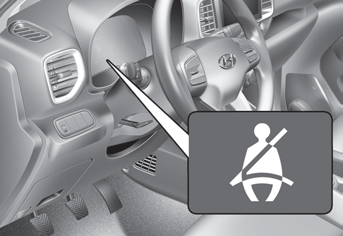 As a reminder to the driver, the seat belt warning light will illuminate for approximately 6 seconds each time you place the ignition switch to the ON position regardless of belt fastening. However, if the seat belt is unfasted, a warning chime will sound for approximately 6 seconds.