Hyundai Venue: Brake System / Specifications
Item

Specification

Master cylinder

Type

Fixed

Cylinder I.D.

22.22 mm (0.874 in)

Piston stroke

40 ± 1 mm (1.57 ± 0.039 in)

Fluid level switch

Provided

Brake booster

Type

9" Single

Boosting ratio

9.5 : 1

Front disc brake

Type

Ventilated disc

Disc O.D.

280 mm (11.02 in)

Disc thickness

23 mm (0.90 in)

Caliper piston

Single

Cylinder I.D.

Ø 57.2 mm (2.25 in)

Rear brake (Drum)

Type

Leading trailing

Drum I.D

203.2 mm (8 in)

Brake lining thickness

4.2 mm (0.16 in)

Clearance adjustment

Automatic

Rear brake (Disc)

Type

Ventilated disc

Disc O.D.

262 mm (10.31 in)

Disc thickness

10 mm (0.39 in)

Caliper piston

Single

Cylinder I.D.

Ø 33.96 mm (1.33 in)

Parking brake

Type

BIR (Ball-in-Ramp)

actuation

Lever

O.D. : Outer Diameter
I.D : Inner Diameter
Specification (ABS)
Part

Item

Standard value

Remark

HECU

System

4 Channel 4 Sensor (Solenoid)



Type

Motor, valve relay integrated type

Operating Voltage

10 - 16V

Operating Temperature

-40 - 120°C (-40 - 248°F)

Motor power

270W

Active Wheel speed sensor (ABS)

Supply voltage

DC 4.5 - 20V



Output current low

5.9 - 8.4 mA



Output current high

11.8 - 16.8 mA



Output range

1 - 2500 Hz



Tone wheel

48 teeth



Air gap

0.4 - 1.0 mm



Specification (ESP)
Part

Item

Standard value

Remark

HECU

System

4 Channel 4 Sensor (Solenoid)

Total control

Type

Motor, valve relay integrated type

(ABS, EBD, TCS, ESP)

Operating Voltage

10 - 16V

 

Operating Temperature

-40 - 120°C (-40 - 248°F)

 

Motor power

270W

 

Active Wheel speed sensor

Supply voltage

DC 4.5 - 20V

 

Output current low

5.9 - 8.4 mA

 

Output current high

11.8 - 16.8 mA

 

Output range

1 - 2500 Hz

 

Tone wheel

48 teeth

 

Air gap

0.4 - 1.0 mm

 

Service Standard
| | |
| --- | --- |
| Items | Standard value |
| Brake pedal height | 187 mm (7.36 in) |
| Brake pedal Full stroke | 120 mm (4.72) |
| Stop lamp clearance | 1.0 - 2.0 mm (0.03 - 0.08 in) |
| Brake pedal free play | 2 - 4 mm (0.08 in - 0.16 in) |
| Front brake disc pad thickness | 11.0 mm (0.43 in) |
| Front brake disc pad service limit | 2.0 mm (0.07 in) |
| Front brake disc thickness | 23 mm (0.90 in) |
| Front brake disc service limit | 21.4 mm (0.84 in) |
| Rear brake disc pad thickness | 10.0 mm (0.39 in) |
| Rear brake disc pad service limit | 2.0 mm (0.07 in) |
| Rear brake disc thickness | 10.0 mm (0.39 in) |
| Rear brake disc service limit | 8.4 mm (0.33 in) |
Tightening Torques
| | | | |
| --- | --- | --- | --- |
| Items | N.m | kgf.m | lb-ft |
| Hub nut | 107.9 - 127.5 | 11.0 - 13.0 | 79.6 - 94.0 |
| Master cylinder to brake booster | 12.7 - 16.7 | 1.3 - 1.7 | 9.4 - 12.3 |
| Brake booster mounting nuts | 16.7 - 25.5 | 1.7 - 2.6 | 12.3 - 18.8 |
| Air bleeding screw | 6.9 - 12.7 | 0.7 - 1.3 | 5.1 - 9.4 |
| Brake tube flare nuts | 12.7 - 16.7 | 1.3 - 1.7 | 9.4 - 12.3 |
| Front caliper guide rod bolts | 37.3 - 41.2 | 3.8 - 4.2 | 27.5 - 30.4 |
| Rear caliper guide rod bolts | 37.3 - 41.2 | 3.8 - 4.2 | 27.5 - 30.4 |
| Front caliper assembly to knuckle | 78.5 - 98.1 | 8.0 - 10.0 | 57.9 - 72.3 |
| Rear caliper assembly to knuckle | 63.7 - 73.5 | 6.5 - 7.5 | 47.0 - 54.2 |
| Brake hose to caliper | 24.5 - 29.4 | 2.5 - 3.0 | 18.1 - 21.7 |
| Brake pedal member bracket nuts | 16.7 - 25.5 | 1.7 - 2.6 | 12.3 - 18.8 |
| Wheel speed sensor mounting bolt | 7.8 - 11.8 | 0.8 - 1.2 | 5.8 - 8.7 |
| HECU bracket mounting bolt and nut | 16.7 - 25.5 | 1.7 - 2.6 | 12.3 - 18.8 |
Lubricants
Items

Recommended

Quantity

Brake fluid

DOT 4

As required

Brake pedal hinge contact area

PDLV-1 (MS511-65)

0.2 - 0.7g

Clevis inside

0.1 - 0.5g

Member side in spring contact surface

Pedal arm side in spring contact surface

Special Service Tools Tool (Number and Name) Illustration Use 09581-11000 Piston expander Spreading the front disc brake piston...
Other information:
Replacement • Put on gloves to prevent hand injuries. • When removing with a flat-tip screwdriver or remover, wrap protective tape around the tools to prevent damage to components...
Removal 1. Disconnect the negative (-) battery terminal. 2. Remove the center fascia panel. (Refer to Body - "Crash Pad") 3. Seperate the audio head unit from crash pad after loosening the screws (4EA)...
Categories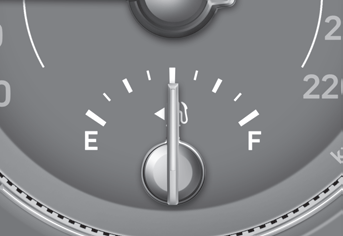 This gauge indicates the approximate amount of fuel remaining in the fuel tank.
Information
The fuel tank capacity is given in chapter 2. The fuel gauge is supplemented by a low fuel warning light, which will illuminate when the fuel tank is nearly empty. On inclines or curves, the fuel gauge pointer may fluctuate or the low fuel warning light may come on earlier than usual due to the movement of fuel in the tank.